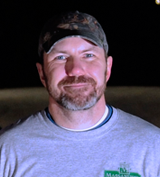 jason Seal
Massanutten, VA
Snowmaker since 2003










SAM: FAVORITE TEMPERATURE?
Jason: 10 degrees, or honestly, anything below 27.0 wetbulb.

SAM: WHAT'S YOUR LIFE PHILOSOPHY?
Jason: Always give 110 percent, and be honest. Just try to do everything to the best of your ability, that's all you can do.

SAM: WHAT WAS YOUR MOST MEMORABLE GUN RUN?
Jason: First year, I was working on a fan gun and lost track of the time. When I moved on to an air/water gun I was supposed to turn a long time earlier, there was this huge pile of snow. I was amazed, and ever since then I have been hooked.

SAM: WHAT GETS YOU FIRED UP FOR SNOWMAKING IN THE FALL?
Jason: The cooler weather and leaves falling. You know it's right around the corner, and you start getting that itch to make.

SAM: WHAT WAS YOUR "I AM" MOMENT? THE EXPERIENCE THAT MADE YOU SAY "I WANT TO BE A SNOWMAKER?"
Jason: It's like being a big kid with big kid toys. My parents used to bring me to Massanutten Resort when I was younger, and we used to watch them start up the snow guns and make snow for an hour or so. I thought it was so interesting that they could do that. I always thought it would be nice to have that at home. We could make some huge jumps to jump our sleds with. And now I am doing the job that amazed me. All it took was the first couple of weeks of making snow and I was hooked. I love the challenge it presents, with the temps, the equipment, and the personnel. We get to make snow and a lot of it. I love the massive piles of snow and just seeing the look on the first-year snowmaker's face when he cannot believe how big the pile of snow is. The enjoyment of people in the resort having fun never gets old. You can hear them when you are riding the lift to check guns, and see the smiles on all the faces.

I work nights and it's very peaceful. Just you, the mountain, and the snow. You can see the lights of the surrounding towns, and just watching the slopes transform from the start of your shift to the end is amazing.