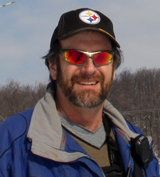 Tim Whorl
Roundtop, PA
Snowmaker since 1987
SAM: FAVORITE TEMPERATURE?
Tim: 5 degrees because that was the temperature on the day I learned to ski. Skiing was foreign to me until my older brother joined the Army and was stationed in Colorado Springs. He would tell us about the mountains, chairlifts and how skiing was as simple as "falling down the mountain." On the last day of 1976 I finally got on skis, at Ski Roundtop, and I was hooked.
SAM: WHAT'S YOUR LIFE PHILOSOPHY?
Tim: Enthusiasm is caught, not taught.
SAM: WHAT WAS YOUR MOST MEMORABLE GUN RUN?
Tim: The first really cold night of snowmaking after weeks of marginal conditions. My career path included working in a lumber mill, general construction, summer stock theater (also the influence of my older brother) and lawn care. It took ten more years to figure out that a snow career was what I wanted.

I first came to the ski area thinking I wanted to be a lift operator as it was the most obvious job to me and I thought it would be the most fun to be around people. When I stopped in to apply for the job, the mountain manager, Eric Flynn, came into the office wearing a paint-spattered shirt and said, "Have you ever made snow before?" I said no, and he asked, "How would you like to learn?" I answered, "Sure...I guess."
A few weeks later Eric called to tell me that I got a spot on the night snowmaking crew, and added, "We're going to make you the crew foreman." I replied, "Wait a minute, I've never made snow before!" Eric said, "That's OK, no one else on the crew has ever made snow, either!" That turned out not to be totally true, as a couple of the guys from the prior year came back, and they helped me get my Sorels under me, if you know what I mean.

The first couple of weeks of snowmaking for me were under marginal conditions, pretty warm for snowmaking. It seemed like all we were doing was painting the ground white, and I thought, "Wow, this is going to be a tough and tedious job." Then one night it finally got cold. I was on my first run of the night down a black diamond called Ramrod, the "Sepp" guns (named for then-GM Sepp Gmuender) were puking snow, and it was piling up. The night seemed especially dark, and I couldn't believe how great it felt to be on the mountain. The feeling is hard to explain. A person just has to come out and experience it to understand.
SAM: WHAT GETS YOU FIRED UP FOR SNOWMAKING IN THE FALL?
Tim: The anticipation of winter's arrival. I have always loved winter. As a kid in the 1960s, the dirt road in front of my house became a luge run for two and a half months a year. I remember my entire family hiking a mile up the road to church on Sunday morning pulling our Snow Kings and Lightning Gliders and then sledding all the way home. Winter social life in our neighborhood consisted of big toboggan parties that weren't complete until a bunch of us crashed into the creek. I even survived my cousin's Snurfer!


SAM: WHAT WAS YOUR "I AM" MOMENT? THE EXPERIENCE THAT MADE YOU SAY "I WANT TO BE A SNOWMAKER?"
Tim: One of my best friends, Tony Sipling, was in the paint business for many years. I told him he would like snowmaking, and finally, three years ago, he was ready to give it a try. He instantly fell in love with it and is now a fanatical snowmaker. That is what I love most about the job now—teaching others to make snow and seeing the joy on their frostbitten faces when they get to the bottom of a trail and say, "Man, it is sweet up there!" I enjoy seeing them do something that they can take pride in and getting the high 5s from our guests when they realize that the great conditions are a result of the hard work of the snowmaking and grooming teams.