SAM's Top Stories of 2017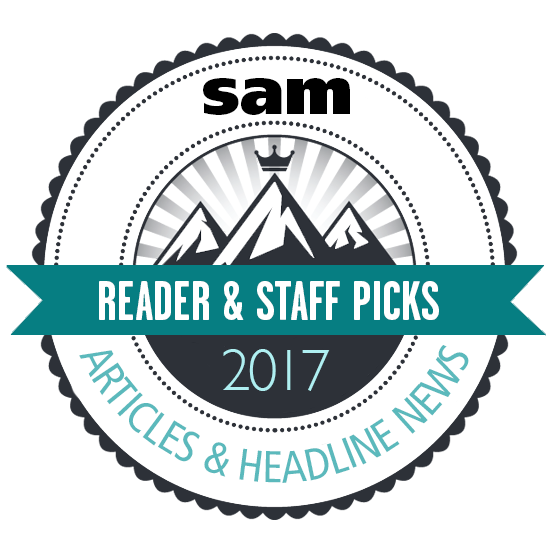 Ski Area Management magazine's 55th year in print is officially in the books, but it's too early to send all its content to the archives. To help readers catch up on articles they may have missed, we have compiled the following list.
As always, we received incredible contributions this past year from so many people who don't wear a SAM nametag—mountain resort operators, suppliers, a variety of experts in legal, risk management, and staffing, and, of course, a talented group of writers. All work to bring our readers the most useful and timely articles possible.
All of us at SAM are very proud of every article and story from this past year, so choosing a favorite is darn near impossible. That said, here are some "staff picks" for articles that stood out in the minds of each member of our team.
We are pleased to share the full stories below of articles that ran previously in SAM Magazine. If you are a subscriber, you would have enjoyed seeing these articles first in the past year. If you are not a subscriber, we hope you will consider becoming one in 2018. We will even offer you 50% off the subscription rate making this the best deal of 2018! Email sarah@saminfo.com

---

A Challenge to the Jay Way, July 2017
"My pick of the year was "A Challenge to the Jay Way." JJ Toland presented in a humorous way a first person account of the infamous day the SEC seized Jay Peak and how the resort was able to overcome adversity and forge ahead triumphantly." – Sharon Walsh
"I really liked JJ Toland's piece, "A Challenge to the Jay Way." Why? Because we don't typically run articles in the first-person, so it was a nice change to our usual pace. More impressive was JJ's tone—entertaining with a pinch of dry humor, and so engaging. I couldn't stop reading it. It kept me on the edge of my seat the entire time." — Liz Mettler
---

"I liked "Roughing It?" and September's Mountain Spy, both about glamping. It's a really fun and interesting trend that I think will see some big growth in the next couple years as people find ways to have authentic experiences with their increasingly limited vacation time. Glamping seems like a good opportunity for mountain resorts, given their naturally beautiful landscape and abundance of space." — Olivia Rowan
---
"I really liked Patrick Torsell's "Groom Safely" from the November issue. Patrick was able to say things that are seldom said—the mistakes groomers make that can end in disaster—but are rarely publicized. I liked how he called it what it is: groomers need to be aware of their surroundings, probably more now than ever before. And it's good that everyone else knows it, too. It's not just talked about among the inner circles of groomers." —Liz Mettler
---

Killing It in Summer, May 2017
"It was interesting to learn about the process that Killington went through to turn the resort from 'a summertime afterthought' into a 'warm-season hub.' It was a good tie-in to SAM's Summer Ops Camp as well." —Sharon Walsh
---

"Employee housing could be the most serious issue many resort towns face. Peter Oliver did a great job illustrating its impact and what is being done to fix it. Resorts need to be a part of the solution, and this article provides some ideas for how they can do it." — Sarah Borodaeff
---

Brand extensions can be tremendously effective when done right, and this piece is practically a guidebook for that. All a resort needs to add is its own, unique, complementary product and concept. — Rick Kahl
---

We Teach People, September 2017
"It was refreshing to read Nick Herrin's ideas about how the entire experience for first-timers (and everyone else) can be changed for the better." — Sarah Borodaeff
---

The Guest Experience Is the New Marketing, March 2017
"Scott Hannah's piece makes the dollars and cents argument for basing all operational decisions on the guest experience. We've presented many articles on the practical steps resorts can take to improve the guest experience, but this article focuses on the why." — Rick Kahl
---

Evolving Orientation, November 2017
"In my years on the resort side, I sat through and was a part of presenting dozens of staff orientations—and it's really, really difficult to make them entertaining/engaging. How can this glut of vital information be communicated effectively? Stage a game show, dress like a yeti, and hand out prizes, to start. Nice to see some resorts are putting a ton of effort into making their orientations more fun rather than a check-the-box snoozefest." —Dave Meeker
---

Revamp Your Recruiting Strategy, September 2017
I love that Katie Brinton, a 2017 SAM "10 Under 30," wrote the article about a staff recruiting program that Molly Ross, another 2017 "10 Under 30," started at Blue Hills Ski Area, Mass. It a shining example of the versatility and smarts our industry's future leaders possess, which points toward a bright future for all. And, with Molly recently being named GM at Blue Hills—at 25 years old, quite possibly the youngest GM in the industry—this makes me proud that SAM helped shine the light on their talents. — Olivia Rowan
---

Make Skiing (and Riding) Fun Again, July 2017
"The original idea for this story was to have Mermer Blakeslee write about how we, as an industry, can re-engage disenchanted moms so they stay in the sport. It turned into so much more than that. Mermer's philosophical explanation of why we should focus on the experience of skiing and riding rather than the performance aspect of it really struck a chord. This change in mindset is already helping me enjoy my time on the mountain even more." — Dave Meeker
---

Pondering NSAA's Past—and Future, News and Views, September 2017
We all really liked this one. It was a last-minute idea for the September issue to ask leaders from resorts of all sizes in all parts of the country what the yet-to-be-named NSAA president's first priority should be, and offered for their response to be anonymous. We received a variety of remarkable responses immediately, and they kept coming in, even after the magazine was sent to print.
---
Perennial Favorites
We can't present a list like this without mentioning two of our most popular perennial pieces, "Best and Worst in Marketing" and "10 Under 30," as well as our most well-loved department, "Mountain Spy." They are all available in their entirety on saminfo.com.
---
Top Headline News stories from saminfo.com
The following is the top ten most read "Headline News" stories that were posted on saminfo.com in 2017.
To see all the news, visit www.saminfo.com/headline-news
1. NSAA Names Kelly Pawlak as New President, Oct. 9 (6,963 views)
2. NSAA Names Riehle as New President, Aug. 28 (3,553 views)
3. Killington Lift Mechanic Dies After Fall from Terminal Catwalk, Jan. 9 (2,833 views)
4. Mount Snow Names Erik Barnes as New General Manager, Oct. 11 (2,383 views)
5. SNOW Operating to Operate Mountain Creek Ski Resort, Aug. 22 (2,332 views)
6. Riehle Declines NSAA Presidency; Candidate Search Resumes, Sept. 12 (2,178 views)
7. Snow People, July 2017 (2,172 views)
8. KSL/SkiCo Joint Venture to Acquire Deer Valley, Aug. 21 (2,171 views)
9. Boyne Appoints McGregor and Kelley to Expanded Roles; Scambio to Lead Loon, Aug. 31 (1,915 views)
10. KSL, Aspen Complete Intrawest, Mammoth Purchases, Name New Leaders, Aug. 1 (1,816 views)