Dan Edwards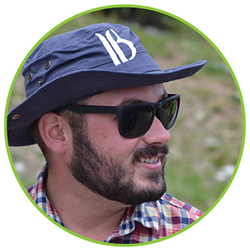 Senior Activities Manager, Breckenridge, Colo.
Age: 26
Education: B.S in Hospitality Management, concentration in Theme Parks & Attractions, University of Central Florida
First job in industry: this one! (previously theme parks and a zoo)
Six-word bio: Driven, passionate, experiencing work through play!
The Nomination:
"Dan Edwards is an extremely old 26-year-old. Sure, he's hip, and funny and "with it," but outside of his knowledge of the latest trends, you'd think he was much older upon meeting him. As senior activities manager at Breckenridge, Dan leads our entire summer operation and is on the cusp of one of the largest ski resort summer activity expansions in the history of the industry. He manages a team of 125 eager, young and sometimes challenging employees across six departments. He's dealt with the introduction of both the Segway and zip line programs. He's smart, dedicated, professional, and responsive, and we will see him lead our resort and our industry into a vastly under-served season. He's not only one to watch -- he's the one to watch."

—Morgan Bast, Senior Marketing Manager

The Interview:

How did you get into this role/industry?
I found this job posted by the International Association of Amusement Parks and Attractions (IAAPA). I volunteered for IAAPA's yearly expo in Orlando and had learned to ski at Keystone and Breck. This role marries my love of the mountains with my operational experience from the parks.

What is it that you love about working at a resort?
The people and the teamwork and positive working relationships that our resort harbors. Coming from the attraction industry, which has similar dynamics, I've been blown away by the acceptance, ability to adapt, and willingness to help cross-departmentally.

What drives you in your career?
My passion and ability to re-imagine the mountain experience as it relates to summer and winter drives me in my current role. My history with the product drives me to make it better for our guests to come.

What have been your biggest challenges?
Learning the ski side of the business, understanding winter concepts such as snow movement and what infrastructure needs to be preserved for the winter operational dynamics. And the transformation of our culture from a seasonal mindset to a true year-round business.

You manage 125 employees. How do you define your leadership strategy?
Right now, our growing summer team is split between the Alpine Coaster, Alpine Slide, guided activities, zip line, and base area activities. Many of the employees also work for us in the winter. One of my strategies is to create a summer team that has passion for our whole year-round business.

Tell us about the Epic Discovery program as it relates to Breckenridge.
Epic Discovery at Breck is still in the USFS approval process, but the goal is to use existing ski area infrastructure to offer greater accessibility to our national forests in the summer, engaging people while educating them on the unique ecosystem and wildlife.

How do you want to contribute to the future of the industry?
My goal is to continue the enhancement and integration of Breck's summer business to help elevate it to a true year-round resort. I want to see summer guests experience our mountain, the forest and outdoors, and plant a seed to take a winter trip to Breck.

If you could share one thing about the new generation of visitors with the older generation of managers, what would that be?
Our newer guests are truly looking for an authentic experience around their skiing vacation, as well as their summer trips. We need to ensure our entire mountain is working to provide the best possible service and experiences, giving them reasons to keep coming back.