David Yeagle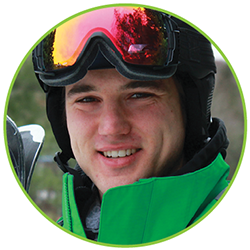 Director of Snowsports, Mohawk Mountain, Conn.
Age: 28
Education: St. Olaf College, MN
First job in industry: Ski Instructor at Afton Alps, Minn.
Six-word bio: Mountains, trails, snow, and good friends.
The Nomination:
"David joined the staff after we conducted a nationwide search, and was offered the position because he exhibited a passion for instructing, a commitment to professionalism, and a breadth of knowledge and experience that was unmatched by any of the more than 100 other candidates we reviewed. In both broad strokes and on a one-on-one basis, David's standards of excellence and professionalism have elevated his staff across the board. His well-defined and executed pre-season training program and his commitment to continuing staff development have inspired our other team leaders and department heads to raise their game. His reach extends far beyond the Snowsports Discovery Center; his teaching skills come to the fore whether he is explaining the intricacies of boot fitting to a new rental tech or showing a retail employee how to best explain new ski technology. David exemplifies what is most promising about the evolution of snowsports instruction and the ski industry, and knowing that, I am excited about what the future holds."

—Trish Morrissey, Director of Guest Services/Operations

The Interview:

How did you get into this role/industry?
I began teaching skiing to continue participating in a sport I loved and stay active while job hunting after college. What started as a fun part-time gig turned quickly into a fulltime career.

What drives you in your career?
I love the challenge of a constantly changing business. Every season is different, but seeing it all come together is exciting. There is always room to grow, both on the snow and behind the desk, and pursuing those opportunities is highly rewarding.

What do you love about working at a resort?
The culture, the cycle of the seasons, and the people who I work with. People tend to work in the industry because they've fallen in love with the outdoors and skiing/riding. Despite different backgrounds, we come together every season to share this common winter life.

As a young person in a leadership position, how do you handle working with older staff?
I listen as much as possible and learn from everyone I can. Every idea, good and bad, can help shape the decisions you make for the better. It's important to be confident in the decisions you make, while still being able to change if a better solution presents itself. In the long run, if the department runs well, age is less important.

You have increased instructor attendance in skill development classes. How did you accomplish that, and what effects emerged?
We've found that the more development opportunities we have available, the easier it is for staff, especially part-timers, to get involved. To pull them in, find out what drives them and why they teach. It just grows from there; training affects more than just those who attend. Instructors tend to share what they learn, and it's amazing to see how quickly knowledge and teaching strength spread through the staff.

What do you see as the key to getting new skiers and riders to return to the sport?
Making them feel part of the skiing/riding community. Whether it's teaching a group or family together, or introducing a new skier/rider to people already in the sport, it's all about having friends in the sport.

How do you want to contribute to the future of the industry?
How we ride the mountain has changed—from wooden skis to hot-doggers, ski ballet, snowboarding, freestyle, big mountain freeriding and even urban riding—but a passion for being on snow has remained. As long as we engage that passion, the sport will thrive.

If you could share one thing about the new generation of resort visitors with the older generation of ski industry employees, what would that be?
Find their passion. Surprise them by learning from them. The next generation is driven fundamentally by the same desires to push new boundaries that got us to where we are today. We need to tap into this same passion and follow where it leads—park, big mountain, racing, or something new.