play. discover. profit.

SAM Magazine presents a hands-on business seminar for summer operations.

EARLY BIRD RATES IN EFFECT UNTIL JULY 30TH.

Attendee inquiries e-mail: olivia@saminfo.com
Sponsorship inquiries e-mail: sharon@saminfo.com
---

Join fellow operators from across North America to explore top opportunities for summer. See and learn from experts how to create the best possible experiences for your guests. Get hands-on with cutting-edge and well-established attractions, from aerial activities to flow trails. Discover how to establish signature summer events and appeal to the entire family. Become your guest and experience the mountain environment as they do!

2016 Schedule at a Glance

| | |
| --- | --- |
| Wed, Sept 14 | |
| 10am-4pm | Registration at Grant Summit Hotel |
| 3pm-5pm | Afternoon workshops and outdoor demos |
| 3pm-5pm | Canyons Adventure Park open to attendees |
| 5:30pm - 6:30pm | Welcoming cocktail reception |
| 6:30pm | Dinner and keynote and activities to follow |
| | |
| Thurs, Sept. 15 | |
| 7am - 9am | Breakfast and Vendor Showcase with outdoor product demos |
| 9am - 12pm | Morning sessions |
| 12pm-2pm | Lunch at Park City, followed by a tour of their Adventure Park and new kid-focused activities |
| 2:30pm | Buses depart for Deer Valley |
| 3pm - 5pm | On-hill workshops at Deer Valley |
| 6pm - 7pm | Dinner at Deer Valley |
| 8pm | Buses depart for Grand Summit at Canyons |
| | |
| Fri, Sept. 16 | |
| 7am - 9am | Breakfast and Vendor Showcase with outdoor product demos |
| 9am - 12pm | Morning sessions |
| 1pm | Off-site tours to Utah Olympic Park, Sundance, Snowbird and Petzl Technical Institute |

A SNEAK PEEK OF THE 2016 PROGRAM:

(check back often as more sessions are announced)
Mountain Bike Parks: Ride Deer Valley's top- rated bike park with cutting edge flow trails, including the 3 mile "Title Wave" with over 45 features and the new novice flow trail. Explore what it takes to attract a broad audience.
Risk Management: Petzl Technical Institute will lead you through an adventure park rescue and evacuation and show how to handle the latest standards, tools, and challenges in high angle rescue, in both winter and summer.
Catering to the Family in Summer: What is the right mix of attractions and services to delight everyone from toddlers to grandparents? Playing with Park City's adventures and amusements and newly overhauled kid zone provides useful clues.
Summer Ops on the National Forest: How can you implement your vision? Key stakeholders from the Forest Service provide advice on the process, from planning and permitting to implementation. Gather intel that will save you time and money.
One location, several different venues. The Park City area is thick with first-rate summer operations beyond Park City. Tours will be available to Deer Valley for its mountain bike park, and to Sundance and its Zip Tour with 2,100 feet of vertical drop. Plunge into the Utah Olympic Park and its extreme tubing, aerial adventure parks, and free fall tower. Or sample Snowbird and its exemplary Octoberfest and extensive activites and attractions.
Strategic Capital Deployment: You've developed your master plan and identified Phase One. Now what? How do you strategically deploy your capital to keep implementation moving forward while reducing risk and maintaining flexibility in case of a bad snow year? We will examine one resort's month-by-month approach to ensure each step of the implementation process is considered for a timely startup of Summer 2017 operations. The end goal is for Summer Operations to be self-funded and quick payback of the capital investment.
Vendor Showcase: Check out the latest product offerings from over thirty five summer operation suppliers.


---


A look inside one of SAM's Summer Ops Camp...

2015 Summer Ops attendees visited Mountain Creek for an on-hill bike park tour...


Thanks to all those who have joined us over the past six years at Camp!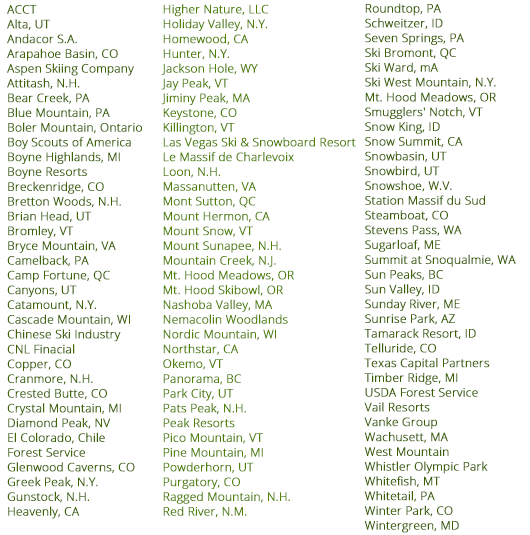 ---
SUMMER OPS CAMP 2015
SUMMER OPS CAMP 2014
SUMMER OPS CAMP 2013