---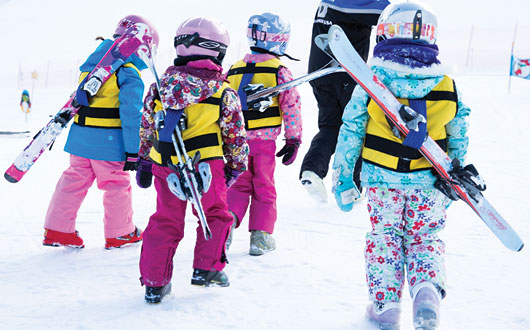 Sometimes, a seemingly novel idea has been in front us the whole time, just waiting for someone to combine familiar elements in a new way. Such is the case with terrain-based learning, which, if early success is a harbinger, might measurably increase the number of new skiers and snowboarders.
Aimed largely at first-timers, this teaching method uses small, sculpted terrain features in a dedicated area to give skiers and riders the immediate sensation of sliding on snow, without the potential fear of flying downhill à la Bode Miller in his wildest runs.
What it takes: creativity, adaptable instructors willing to buy into the program, and a motivated grooming crew at the ready.
And the resort industry is embracing it. Already, more than a dozen areas have adopted the concept, in whole or part. Dozens more are planning to follow suit.
The Complete Package
Among those at the forefront of this movement is Joe Hession. Four years ago, as the 29-year-old then-general manager of New Jersey's Mountain Creek, he applied his background in Six Sigma management methodology to analyze conversion rates. "I was annoyed that 85 percent of the people who tried the sport never came back," says Hession.
Taking a holistic view of the learn-to experience, from purchasing a lift ticket to getting on the hill, Hession and his team looked at what could be changed to make it easier and more rewarding. The ultimate goal was to increase the sheer fun of sliding on snow for the resort's newest guests. "Shouldn't we be designing an on-hill experience around the sensations beginners can have when trying skiing or snowboarding?" he asks. "That feeling like you're floating between turns, that sensation is what makes people like the sport."
The trick was figuring out how to bring those higher-level sensations to first-timers. Inspired by the terrain-based lessons at the Burton Snowboard Academy at Northstar, Hession thought about bringing a similar concept to Mountain Creek and expanding it to skiing, too.
But there were a few hurdles to overcome. The first involved lesson volume. "If you were only going to teach private lessons in a terrain–based setting, it'd be easy. But to process 1,500 lessons through it a day is more complicated," Hession says.
He spent about six months analyzing components, including lesson meeting times and rentals. To avoid clog-ups at the terrain features, Hession offered rolling start times throughout the day. This required a new way of staffing and managing instructors. The target student-to-instructor ratio was set at 8:1. Mountain Creek's rental process was rejiggered so that guests coming out of the rental shop "could automatically be pulled into a lesson," says Hession.
The ski school, too, underwent some big changes. "More than just the shaped terrain, it changed the way we taught," Hession says. "In traditional ski school, the lessons are instructor-driven, not process-driven. The lessons can vary from instructor to instructor." In Mountain Creek's beginner lessons, all instructors now follow the same process, and the same progression through a series of terrain features—though they're still free to use different teaching tools to facilitate learning.
Hession is quick to note that using terrain in teaching is no new kid on the block. "The first thing we tell people is that every instructor who's been teaching a long time has used terrain-based learning," he says. What's new, though, is using specific, sculpted terrain features to initiate newcomers. "It's not a new concept, it's how it's packaged," Hession says. "We're giving instructors tools to decrease the learning curve."
Terrain is the key tool. Since the 2011-12 season, a flat area at Mountain Creek's base has offered rollers, banked turns, and what Hession calls a "perfect slope," an 8-percent grade lined by small berms that help skiers initiate turns. All are kept in shape via nightly grooming, similar to the upkeep required for a terrain park. And all are designed to teach fundamental balancing, pressuring, steering, and edging skills as skiers and riders get used to the sensations of downhilling.
One of the most important features, says Hession, is a minipipe set across the hill, which addresses the conundrum of sliding without having to head downhill. "In order to learn how to turn or stop, you have to be moving first," he explains, "but as a beginner, you're terrified to move because you don't know how to turn or stop. With the minipipe, you start sliding, but you don't have to turn or stop. The normal terrified looks aren't there anymore."
After progressing to turn initiation within the minipipe, guests move on to the rollers. If they don't assume a balanced stance there, they'll get stuck. Next up, at about the 40-minute point in the lesson, are banked turns. "All you have to do is bend your knees, and the terrain should lead you to make turns," says Hession. "If you're not in the proper body position, it won't work."
Of course, the proof is in the numbers. Mountain Creek's conversion rate went from 18 to 34 percent in one year after terrain-based learning was introduced.
Hession is so passionate about the program he developed that he left the resort in 2012 to start his own company, Snow Operating LLC. Working with colleague Chris Hargrave, who helped develop the Burton Academy at Northstar and is a member of the PSIA-AASI Snowboard Team, Hession offers ski areas full-service design and implementation of terrain-based learning programs.
More Smiles
This past year, several areas have adopted the concept. Sister resorts Cranmore, Bromley, and Jiminy Peak all worked with Hession's Snow Operating to get programs up and running this winter. "A lot of areas around New England were starting to roll out their own variations of terrain-based learning," says Cranmore president Ben Wilcox. "We quickly said, 'we don't want to just dabble in this, we want to do it right.'"
Cranmore's snowsports school director, Karen Dolan, took the lead in partnering with Hession to develop a program, and the idea quickly spread to Bromley and Jiminy Peak.
The instructor training that Snow Operating offers was part of the appeal. "Cranmore has a rich history in ski school programs," Wilcox notes, "and we wondered how we would effectively introduce this progressive, new way of learning to 250 instructors who range from brand-new to 30 years of experience."
When Cranmore rolled out its new program right before Christmas, Wilcox was a tad nervous. "I thought, 'this is going to be a nightmare,'" he recalls, "putting all of these people on these elements and keeping the flow. But we handled it really well. If anything, the lines at the magic carpets were a lot smaller." The area offers two-hour lessons thrice daily.
Significantly, retention numbers increased, rising from about 20 percent into the mid-30s as of mid-January, Wilcox says. And, he adds, "We're seeing more smiles."
Moreover, ski school buy-in has gone well. "I have a pretty good collection of veteran snowsports instructors that I expected to be coming to me with their laundry list of what we could do better, and all they've said is, 'Wow, this is great,'" says Wilcox.
He also attributes the program's success, in part, to knowledgeable groomers. Ten years ago, Wilcox says, Cranmore had experimented with something akin to terrain-based learning, with mixed results. Upkeep was a problem. Now, with an experienced terrain park crew maintaining the learning features, upkeep is no longer a hurdle.
Snowshoe Mountain is another resort that recently hired Snow Operating to implement a terrain-based program. The impetus, says Snowshoe marketing director David Dekema, was resort president Frank DeBerry's experience of enrolling his 7-year-old daughter in beginner lessons. That reminded him first-hand how the anxiety of learning to ski can often outweigh the fun factor.
Snowshoe's terrain-based learning program launched the second week of December and has gotten off to a positive start. After six weeks, "we are seeing significant growth in first-time skiers' likelihood to return to Snowshoe, as well as to recommend Snowshoe to friends or family," says Dekema, referring to the results of post-departure surveys the resort e-mails to participants.
In addition to the terrain, Snowshoe adopted "anytime" lesson scheduling, a change that Dekema says has eliminated morning anxiety, as well as improved flow in the beginner area.
The terrain-based learning area's high visibility at the resort is also a boon. "We're getting people who are not beginners coming to see what it's all about," Dekema says. And the attention is coming from others, too: It has received coverage in newspapers in Snowshoe's drive markets, which include Washington, D.C.; Richmond, Virginia; and Pittsburgh Pa. The resort also hosted a media trip in January for family travel writers and bloggers that helped raise awareness.
The DIY Approach
Other resorts are creating their own terrain-based teaching areas, with various goals in mind. Last winter, for example, Squaw Valley and Alpine Meadows, Calif., began experimenting with a couple of dedicated areas referred to as Start Parks. These include rollers, banked turns, micropipes, and low-lying boxes that are groomed daily (Squaw/Alpine contracts with Snow Park Technologies for their terrain parks, and the same crew maintains the Start Parks.)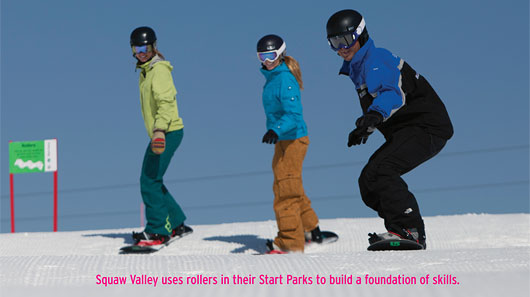 "It offered beginners an unintimidating environment where they could be proactive," says Dee Byrne, managing director of the snowsports schools and teams at both resorts. "The undulations in terrain simulate the forces they experience in higher-level turns." Another advantage: instructors can keep beginners in those learning areas for longer and build a strong skill foundation because the features keep guests interested.
This season, all beginner lessons, whether ski or snowboard, kids or adults, make use of the Start Parks. "They make it more fun and quicker to learn," says Byrne. "As such, the guest is more inclined to return and continue."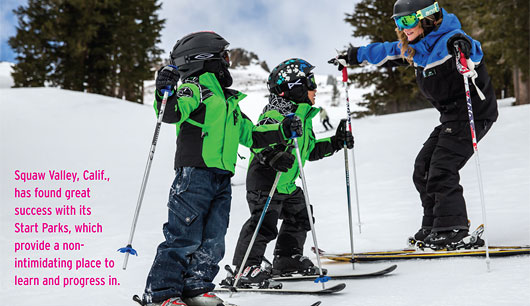 At Vail, terrain-based teaching started as a pilot program for skiers and riders two years ago at the mountain's Golden Peak base, says Jason Schetrompf, a snowboard instructor and location manager for the Golden Peak adult ski school who helped initiate the process. This winter the set-up was expanded to an area for 3- to 6-year-olds at Golden Peak, as well as one atop the Eagle Bahn gondola.
But rather than using the concept only for beginner retention, says Schetrompf, "we're using it as a lateral learning tool for levels 1 through 4. It supplements our existing teaching systems that we've honed for many years."
No matter the aim, it's proven popular, especially among kids. "It's mellow, where nothing is intimidating, but people like being able to play in terrain that's new and exciting," Schetrompf says.
A few things Schetrompf and his team have learned over the last couple of years: the features need consistent grooming, and it took some trial and error to assess which features fit best with which terrain. This season, for example, crews relocated a series of rollers lower on the hill at Golden Peak, and moved a minipipe up higher. "It's key to have an ongoing dialogue about how each feature is working," says Schetrompf. "And it requires a group effort to be effective," he adds, citing the importance of having a shared vision with snowmaking, grooming, and instructors. At this point, he adds, "we have it pretty dialed."
Aspen has incorporated two different types of terrain-based teaching in the past couple of years. At Elk Camp Meadows, a beginner area atop the gondola at Snowmass, natural small gullies and berms are supplemented by purpose-built features. "It adds to the technical input in a very experiential way," says Weems Westfeldt, a long-time Aspen instructor who also heads up the ski school at Aspen Highlands.
Westfeldt has also taken teaching by terrain a step further at Aspen Highlands, known for its steep runs and backcountry-like Highland Bowl, by creating simulated situations like a "forest" of a hundred-some bamboo poles to facilitate teaching tree skiing without the consequences. "A lot of people come over to get into the Bowl and double blacks, but they don't have the skill sets yet, and they develop defensive patterns," he says.
What Westfeldt calls a "terrain acquisition program" isolates situations like bumps or trees from each other and gets people skiing or riding more seamlessly. In addition to the bamboo forest—decked out with pine boughs and stuffed animals—some black trails are groomed for steeps without bumps, and other runs are partially groomed, leaving bumps along one side with multiple exit points. Occasionally, race-training brushes are set on steep, groomed trails, and sometimes they're offset to mimic a mogul field. Groomers even tried to create a large, cordoned-off ice patch to practice on, but this winter's frequent storms have thwarted that experiment.
"It's a process of simulation where you don't get punished for making an error," Westfeldt notes. "It's something I've wanted to do forever on a big-skiing mountain. We want to be known for having the terrain, but also for being able to take people into it in a struggle-free way."
And so, as terrain-based learning increasingly gains a foothold at resorts, the idea itself continues to evolve. A final lesson: there's always a new way of looking at things we may take for granted.
THE BACK STORY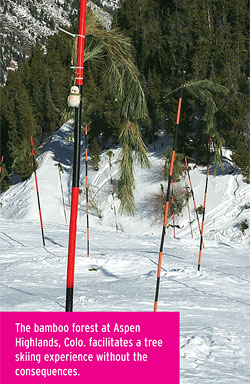 The terrain-based learning that Mountain Creek and other resorts have adopted evolved out of the Burton Snowboard Academy at Northstar, now in its sixth season. "We'd been looking to take our Learn to Ride program, which we'd been doing since 1998, to the next level," says Jeff Boliba, Burton vice president of global resorts, about the Academy. (Boliba also developed the tow system used in Burton Riglet Parks for young aspiring snowboarders.) Joe Hession, then GM at Mountain Creek, proved a willing partner.

At the Academy, first-time boarders immediately meet up with a coach, who guides them through the rental process, then takes them to the on-snow terrain features. "They don't develop bad habits," Boliba says. "And when people have success, they want to learn more and are really engaged."

Actively using terrain as a teaching tool, adds Boliba, makes learning more experiential and more fun.

Boliba calls Hession's interest in the Academy a pivotal moment, because "he showed us that this could be taken outside the boutique environment and to the masses."

But doing so requires effort. "The most important thing resorts need to realize is that they can't just throw up terrain and call it good," Boliba says. "You really need to have a plan and a solid team, and be very strategic about it."
Click Here To Order