---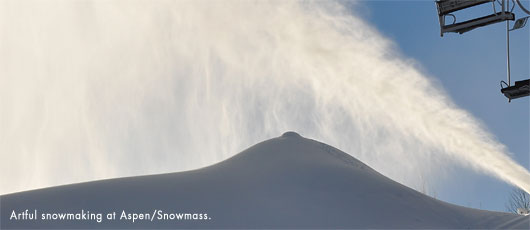 It's a simple proposition. Snowmaking is the key to making the early season—and the yearlong experience—as reliable as possible. But it's also a major expense, and the biggest consumer of power. So resorts are constantly seeking to improve their reliability while cutting the cost.
Efficiency took on even greater importance in the East this past season after resorts were hit with a double whammy: thaws were followed by extreme cold, which placed big demands on power, and caused power prices to spike.
EFFICIENCY
All this has kept efficiency at the top of resorts' wish lists. "Resorts are really craving efficiency and production, due to the increase in power cost and the limited time you have to get the job done," says Ian Jarrett of HKD.
Jarrett notes that most snowmaking systems operate at 30 to 50 percent of capacity; as a practical matter, you can't operate at 100 percent all the time. "But in a year like this, if you have 5,000 gpm capacity, and can only get to 2,500 gpm because efficiencies limit your production, you'd like to improve that. There's myriad bottlenecks that appear when you hit challenging conditions."
"Every resort has different hurdles to overcome," notes Mitch Dodson of Snow Logic. "It could be power limits, price of power, infrastructure, looking at expansions to open more terrain in a given amount of time, raise pump utilization."
One way to boost efficiency: fixed guns. "Resorts are going to more fixed-position guns, either manual or automated, so they spend less time moving guns around," says SMI president Joe VanderKelen. "Going from portable to fixed is a huge increase in effectiveness. But it can come with a significant capital cost."
"It's not just about the gun," says TechnoAlpin's Robin Smith. "True energy conservation comes from managing the whole system. We think more than 30 percent of the energy used by snowmaking is spent [i.e., wasted] by not having enough information or manpower to execute what is obvious to a computer."
SUPPLIER CONSOLIDATION
Efficiency is not just the mantra of resorts. Suppliers are also seeking efficiencies, and often in the usual corporate way: by acquiring or combining with competitors. Typically, this leads to streamlined product offerings, but also to a more well-rounded product line and improved customer service.
Take the biggest global combination, that of TechnoAlpin and MyNeige. The new TechnoAlpin has expertise in automated fan gun and low-energy air-water towers. There have been other benefits, too. "We have eliminated some administrative and support staff in the office," says Smith. "The sales and field forces are still sizeable, though. Also, supplying both fans and low-e guns allows resorts to deal with just one company."
The joining of HKD and Turbocristal, to form HKD Turbo, also united two companies with complementary strengths and technologies. And this pairing, too, led to benefits beyond a more complete and integrated product line. Those include an infusion of new, young engineering talent, expanded manufacturing capacity, and having a facility in Canada. "Resorts appreciate that they can buy from a North American manufacturer, for political reasons as well as supply and service efficiencies.
"We weren't focused on these other benefits, but they also have added value," says Jarrett.
The HTI Group has forged the new DemacLenko brand to complement its other winter sport industry suppliers Leitner, Poma, and Prinoth, making the group a one-stop shop for lifts, groomers, and snowmaking. That has its efficiencies, too: the sister companies' regional offices can provide a network of support for snowmaking gear. The Northeast staff, for example, moved into Prinoth offices in New Hampshire. "That helped on the service side," says sales manager Dennis Kinsella. "We can save money by combining resources.
"The company is benefitting from the technology advances of both companies," he adds, as well as their combined production and purchasing power. Plus, being part of the HTI Group "also provides resources for continued product development."
Similarly, the MND Group has assembled a range of products, from fencing and padding to lifts and now snowmaking. It has combined Snowstar, Areco, and Sufag into one brand—Sufag—and is consolidating technology and production. Sufag, too, will offer a streamlined product line with two production plants, in Sweden and France, each with its own R&D department.
In the short run, "Resorts' first concern is, 'can we get support for Areco machines?'" says Sufag sales director Ed Dietzel. ("Of course," he says.) And in the longer run, greater resources will mean continued product development. "Areco was a smaller company, now we have more backing, and can do more engineering," he says.
All this has solidified the major market players. "The global companies that are still standing are pretty strong," says SMI's VanderKelen. "We're bigger and stronger than we've ever been, and well positioned with our people and products to continue to take global market share."
AUTOMATION
Automation remains a big topic, and has become even more a part of resorts' long-term plans. With emphasis on the long term. In the short term, many resorts are still reluctant to make the financial commitment required.
"Automation is becoming much more widely accepted, if not yet adopted in North America," says Smith. "I think the vast majority of resorts feel snowmaking automation is in their future and are looking for an opportunity to capitalize on it."
One sticking point, according to Jarrett: "There's no way to truly calculate the return on investment. Efficiencies are related to the energy side of making snow. If you replace an old gun with a new one, the ROI can be as quick as one and a half to two seasons. When you take that gun and add automation, you get benefits of speed and productivity, but you've already recognized 90 percent of the return. Automation comes with a higher price tag and more maintenance than areas are used to. So, it's almost like looking at a high-speed quad vs. a sixpack. You really have to want it."
VanderKelen agrees. "The trend in general is toward automation, but high density snowmaking with automation can be more difficult to justify," he says. "You have to evaluate it on a case by case basis, both on operational and maintenance bases."
And that means taking a long-term view, especially for resorts that don't have the capital to take the leap at present. "Invest time and resources in planning to capture the opportunities that will present themselves five, 10 and 15 years from now," says Smith. "Replacing high energy consumption guns with low-e guns is of course important, but investing in a gun that can't be fully automated three to five years from now seems shortsighted."
PRODUCTS
Of course, equipment upgrades can also boost efficiency. Companies continue to seek ways to reduce energy consumption, increase output, and widen the range of operating temperatures for their guns.
Here's a look at what's new and/or improved from suppliers.
DEMACLENKO
The company is in the process of coalescing its line around the DemacLenko brand, which is pretty much the former Demac line: the Titan/Titan Silent (most new); Ventus and Evo. Lances included the Vis 1, Vis 2, and Vis 4 (three/three/ four stages, and up to 15 nozzles in the 4). These can be manual, automatic with separate controls, or with central control (snowVisual). The company will continue investing in research and design.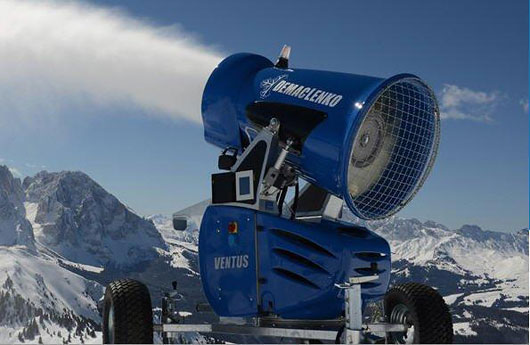 The Ventus is DemacLenko's highest-output fan gun.
HKD TURBO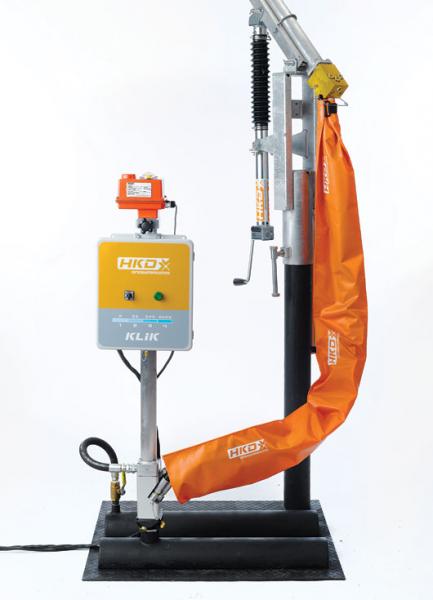 HKD's Klik hydrant can be either automatic or manual, and provides an expensive path to snowmaking automation.
HKD continually updates its guns and the Klik hydrant system. "We're constantly working on improvements; they come in many forms," says Jarrett. "They can be mechanical, to make snowmakers' lives easier. We're always looking to improve our guns' efficiency and temperature ranges.
"The things we're working on now will be backward compatible. You can't always do that, but at present, what we're working on will be. And it can make a dramatic improvement in performance."
LARCHMONT
The company has created a new high-output tower and some "medium-e" options for its ground guns.
The new tower is designed for areas of heavy wind and for covering wide and steep trails. It was developed in conjunction with Cannon Mountain, N.H. The new LE-1 ground gun reduces energy use by 35 percent compared to the older Z-1; areas can renozzle older guns with the new LE-1 gear with little effort or cost.
The new dual-head seven-foot-high sled-mounted LV-8 is a high-output or "recovery" gun, suited for situations, like base areas, where making a lot of snow in a hurry is the top priority. The gun on top is a Z1, and the lower head is an 8 nozzle intermix chamber type. "It's a bit of a hemi [engine] in a low-e world," says marketing and sales manager Tom Tropeano.
Larchmont's new 1.5-inch-diameter low energy hydrant is for guns running 20 to 50 gpm. It has a micro flow set lock system and a solid shaft from handle to base.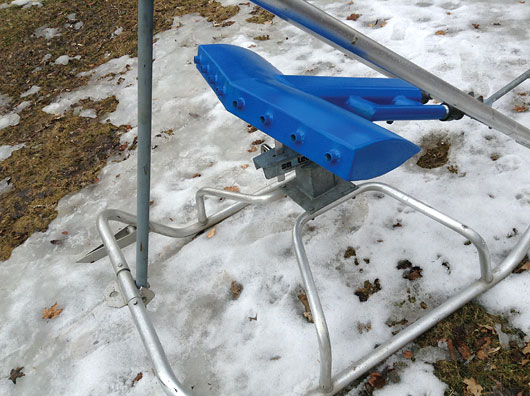 Detail of Larchmont's new LE Z V8, a high-flow gun for fast recovery and/or high-traffic areas.
RATNIK
The new Ratnik Double Baby Snow Giant II+II (shown) and Baby Snow Giant II+II cut energy use by 40 percent or more compared to their predecessors.
The company is debuting new mid-energy air water towers that make snow at marginal conditions, and save a lot of energy compared to regular air water towers and ground guns—cutting air costs roughly in half. "We feel this is major for people that want to or have to make snow at marginal weather conditions," says Ron Ratnik.
The new Baby Snow Giant Ii+II and Double Baby Snow Giant II+II can make snow at up to 31º F wet bulb. The new Baby converts up to 100 gpm to snow, the Double Baby, up to 200 gpm. Each can save 40 percent or more on compressed air compared to older models, and the Double Baby can reduce the number of hydrants and guns needed. Both guns can mount on either sleds or towers.
Ratnik also rebuilds Snow Giant II and Snow Giant II+II guns, which can cut compressed air use by 40 to 50 percent.
SMI
The really new items here are in mounting platforms for fan guns. The new Delta lift frame and Omni platform were both developed in response to specific customer requests; SMI simply crafted versatile solutions to suit a range of locations and operating conditions.
The triangular-shaped Delta eases access on steep slopes, as it can be picked up from three sides. It offers significant flexibility and height adjustment, to adapt to changing snow depths, and the center of gravity is closer to the lifting brackets for ease of transport. The Omni platform can be for either towers or sleds, and converts quickly and easily from one to the other.
As an example of its efforts to improve its guns, SMI has modified the nozzle configurations of its PoleCats to increase the maximum temperature to 30º F wet bulb, to produce drier snow at higher temperatures, and still provide maximum production at colder temps.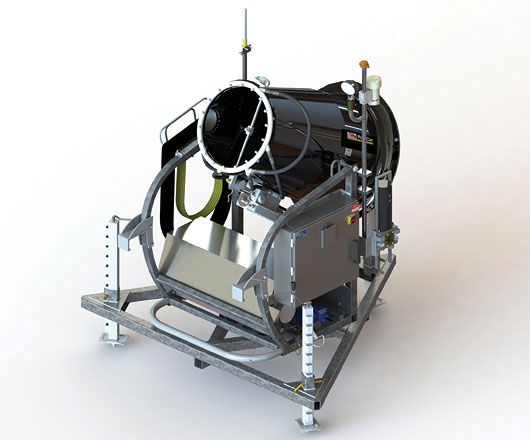 For useful versatility, SMI is now offering the triangular Delta tower platform (shown) and the Omni mounting platform, which can serve as either a sled or tower mount.
SNOW LOGIC
This four-year-old Salt Lake-based newcomer continues to push the envelope for low-e. Its unique design allows for efficient snow production with 5 cfm of air. Efficiency Vermont has tested it several times, and head to head comparisons at several resorts have verified its performance. And it's not just for the slopes, either. "For tubing hills, we use so little air, resorts can use smaller compressors, so they don't get the big power spikes," says founder Mitch Dodson.
How did Snow Logic get cfm down to 5? "We've looked at the system, started with a clean slate, and designed it tip to tail. It's in the nucleation technology and spray nozzle technology, and the way it's configured. Sort of like Col. Sanders' secret recipe."
The gun comes in two versions, 4-step and 6-step. The 6-step tower, which aims to be competitive with fans for throw, came first. The newer 4-step is lower-priced, more in line with other stick guns. After Park City Mountain Resort asked for a sled mount, Snow Logic created one for each gun. The smaller 4-step sled can be towed by a snowmobile.

Snow Logic Six-Step Stealth can operate with as little as 5-8 cfm of air; plume shown from below.
SUFAG
At press time, the new company was still finalizing its product line, which it intended to unveil at the Grenoble show in late April. It's expected to incorporate towers and tower tech from Snowstar, primarily, and Sufag, and fans with tech from Sufag, primarily, and Areco.
The new fan line will likely include the Power, Compact Peak, Silent (which has a perforated barrel and sound-deadening foam to limit noise) and a new model, called Access—the Areco standard barrel on a Sufag chassis. The fans will have a variety of nozzle configurations. The Areco Supersnow and Standard, rebranded as Sufag, will be available as long as supplies last. The various fans will be available in portable, tower, and convertible versions.
Sufag-branded stick guns will be based on the former Snowstar-branded Folk, Street, and Phoenix models.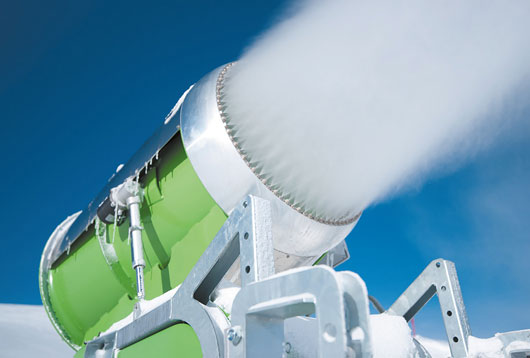 The Access, which combines technology from Sufag and Areco, is Sufag's newest fan model.
TECHNOALPIN
The new TF 10 fan gun achieves production that's 150 percent that of "a normal 'workhorse' fan," says Smith. It's a bigger gun, taller, wider, beefed up. "You need a gun in some places—pipes, parks, breakovers—where you can't make too much snow," he adds. "It follows a little bit what we've seen in grooming tractors, with the big high-performance mega tractors finding a place in many fleets. In terms of kW per gallons of output, even though it consumes slightly more kW [about 30 kW], it is our most efficient fan gun."
On the air water side, TechnoAlpin offers the former MyNeige models, but at lower prices. "The pricing of our air water line is much more competitive now," Smith says.
Older guns can be upgraded with current technology, including the latest software, automatic valves and controls. The original Rubis made almost 20 years ago, can be easily retrofitted with a more efficient Evo head, "and 70 percent of the value of the gun is retained," Smith notes.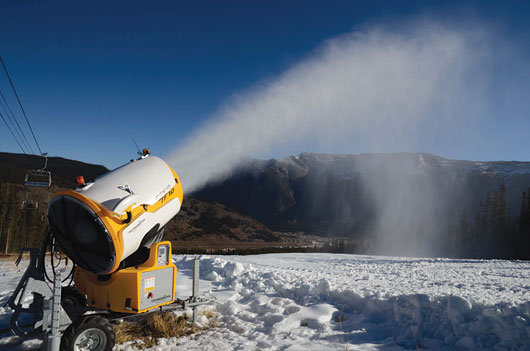 TechnoAlpin's new high-capacity TF-10 fan gun was tested at Copper this past season.
TOPGUN
Company founder Troy Jervas continues to seek the sweet spot in low-e for his guns. The biggest change has been a switch to internal nucleation. Jervas figures this will allow his guns to operate on about 30 cfm of air, rather than the 45 cfm for his external-mix low-e towers.
"The design of the gun is the same, my focus is on the nucleation for stage 1. To go to 30 cfm, we went from external mix to internal mix; we'd about reached the limit with external. We wrapped up testing in late March, and will put an internal mix gun into production for next year." TopGun also continues to develop its low-energy fan gun, which was involved in demos in the Midwest this past season.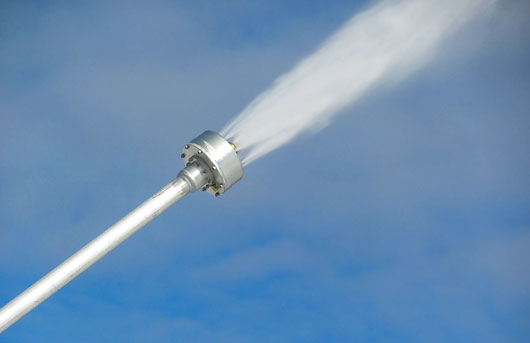 TopGun is switching to internal-mix nucleation in its new nine-stage tower gun, which can operate on as little as 30 cfm of air.
Click Here To Order