What if We Aren't Charging Enough for Lift Tickets and Skiing?
Submitted on 11/12/2013 - 3:10pm

September 11, 2013 - Gregg Blanchard
Ask a skier what's wrong with skiing and they'll tell you, in a resounding chorus, "it costs too darn much!" What's the solution? "Lower ticket prices," they say, "make it more affordable."
Revenue is a matter of price times volume. If you lower the cost, you have to make up for it in number of skiers. More skier mean longer lift lines (lower skier satisfaction) but more ancillary spend. There's definitely a balance.
If only we could look to another industry for an example.
The Story
My family is going to Disneyland next year. As we planned the trip, I was informed that a Disneyland pass now cost $92. How could that be? When I went in 2001, I was certain it cost around $45. That's almost as big of a jump as…wait a second…
lift tickets.
Fortunately, many Disney buffs have kept up records of historical ticket prices which is easy because there's only one Disneyland, CA to keep track of. It also helps that eBay listings of vintage Disneyland tickets have the price and year stamped on them. Unfortunately, such meticulous records are missing for the ski industry. Not so, however, for New England.
While it's only a corner of the industry, New England Ski History's record (that includes over 65 resorts for some years) turned out to be a surprisingly accurate reflection of the industry as a whole.
Ticket Prices
So, I decided to look at ticket prices for skiing vs Disneyland. The records I found went back to 1962 – five years after the park opened. Here's how it shook out leading up to 2010.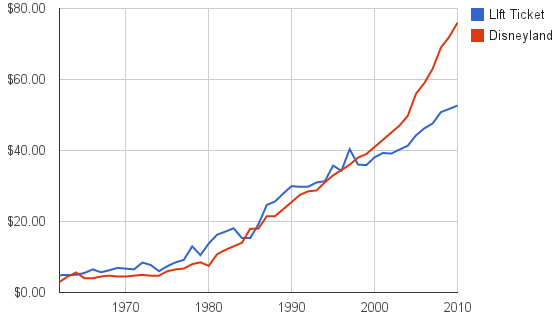 What's crazy to me is how closely the two prices followed each other. That is, until around 2000 when Disney's expenential growth continued and skiing's ticket prices started to be a bit more linear.
That's ticket prices, what about visitation?
Annual Visits
Unfortunately, NSAA didn't start tracking skier visits for the industry until 1978, but here's how it looks with the vertical axis in millions and annual skier visits divided by 5 to match the scale of Disneyland.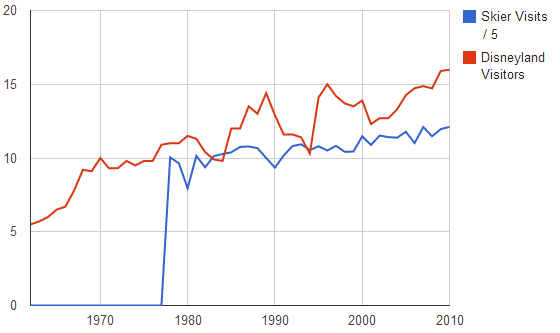 Both grow at a fairly linear rate, but Disneyland's line is a bit steeper than that of skiing. Especially when you consider that annual visitation the last few years is 3x what it was during the early 1960s.
Combined: Revenue
So, if you multiple visits by ticket price you get a little thing that's good to know called revenue. Now, Disney is charging more and growing faster than our "visits / 5″ comparison for skiing, so I suppose it's no surprise that we see this.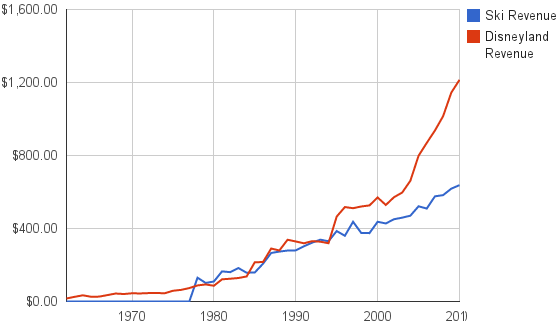 Interesting, no?
What This Means
Now, let's go back to that initial idea of "lower prices to help the ski industry."
Just looking at what we have here, Disneyland is raising their prices faster and growing their visitation faster than skiing. Let me say that again, Disneyland is looking for the same families that skiing is and they are growing faster than skiing either because of, or inspite of, exponential growth in ticket prices.
Which leads me back to the beginning. What if we aren't charging enough for skiing? What if the data are telling us we need to charge more? I'm not saying it's the answer, but I am saying that before skiers cry "lower prices" again, we should at least consider the data.
» Check out
SlopeFillers.com
for a complete list of Gregg's posts market analysis