WATERVILLE VALLEY, NH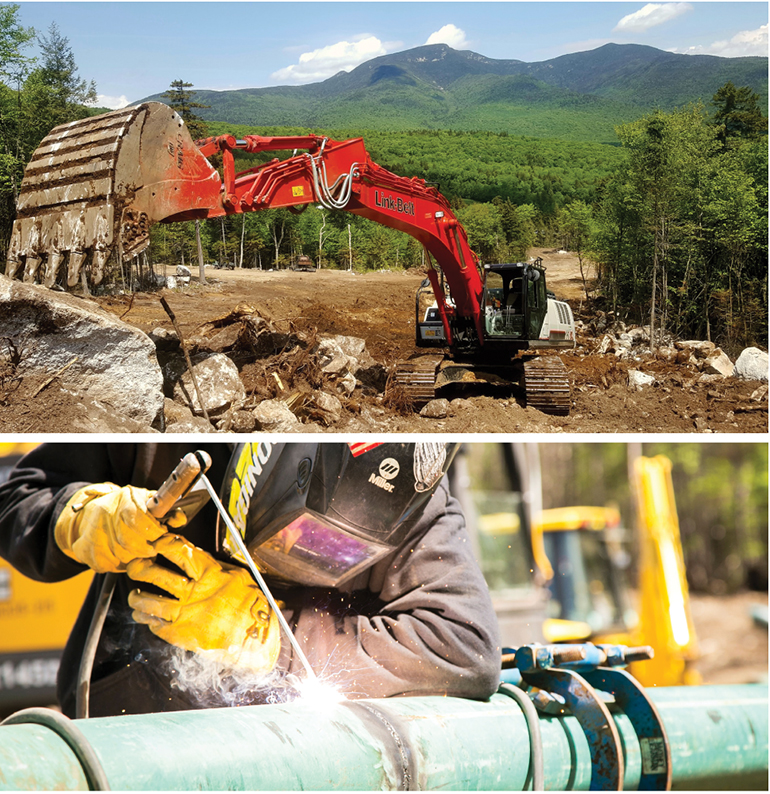 Waterville Valley continues to develop Green Peak, which added a second peak and 45 acres of terrain in 2016-17. The two-year Phase II of development will include other new projects throughout the resort, as well as the completion of the Green Peak Expansion. This year's $2.1 million budget includes additional trail clearing on Green Peak and installation of roughly 100 snow guns and six miles of pipe. Upgrades to existing snowmaking infrastructure on Mount Tecumseh include another 200 to 250 guns—mostly low-e sticks and a dozen or so fan guns. Also in the works: the first phase of an overhaul of the beginner experience. The goal is to separate lower-level and higher-level classes, and provide a better learning experience for kids. This year's work involves re-grading the egress from the lodge and replacing existing J-bar and conveyor lifts with two new conveyors. Next summer, the resort will relocate and redesign the rental operation to simplify life for beginners. Other lift enhancements and base lodge renovations are also part of the two-year development package, as are new summer activities such as disc golf and, possibly, Resortboards and a climbing wall for this summer. Larger attractions, such as a coaster or adventure park, could be over the horizon.
STEAMBOAT, CO

Steamboat has added a Wiegand mountain coaster, mini golf, and more to its already extensive base area summer offerings to create the new Coca Cola Adventure Zone at Steamboat. The Outlaw Mountain Coaster, which will operate year-round, descends 420 vertical feet with a riding length of more than 6,280 linear feet (2600 feet uphill and 3680 downhill), making it the longest mountain coaster in North America. It winds around and under the Christie Peak Express lift. A barn-shaped bottom terminal fits the Steamboat theme and houses carts overnight. At press time the coaster was scheduled to open in mid-July. The new mini-golf course's front nine is on level ground, but the back nine is tiered into the slope underneath the Christie and Preview lifts. It features ponds, waterfalls, and other obstacles. Other additions include a three-story-high climbing wall on the side of the gondola building, summer tubing off a conveyor lift, and a ropes course. The entire base-area site has been carefully landscaped for aesthetics and functionality. One example: There's a paved, heated walkway up to the coaster, mini-golf, and new summer tubing hill. It will enable non-skiers to access the coaster for night riding during the winter when night skiing is also underway. Biggest challenge, says VP of skier services Jim Schneider, was designing the path of the coaster, which passes over and around ski terrain and lifts, plus electrical and gas lines, snowmaking and other infrastructure. The route was re-staked several times, and in the end Steamboat relocated some existing infrastructure to make everything fit.
GATLINBURG SKY LIFT, TN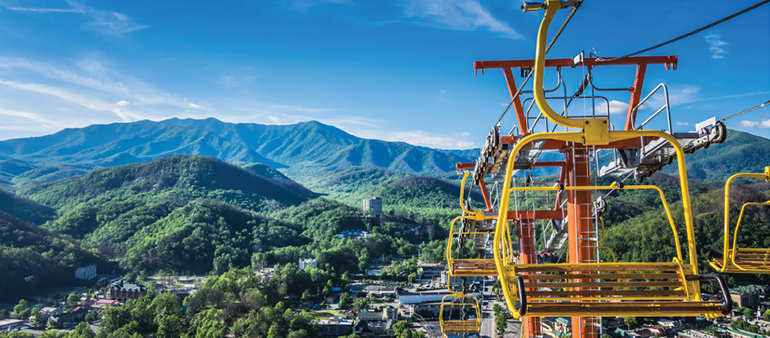 Six months after a wildfire in and around Gatlinburg, Tenn., destroyed Boyne Resorts' scenic Gatlinburg Sky Lift and gift shop—along with 2,000 other structures—a new Sky Lift reopened in late May. It took two and a half months to install the new $2.4 million Doppelmayr Alpenstar triple, which replaces the scorched Riblet double that had been installed in 1991. A Heron double recycled from Sugar Bowl was the first lift at the site, installed in 1954. The new lift recreates the Sky Lift's retro appearance, with 11 orange towers and 92 yellow chairs, and with oak slats rather than galvanized ones. The chair is just 1,400 feet long but rises nearly 500 vertical feet above town. "It's steeper than Challenger at Big Sky," says Boyne SVP of ops John McGregor. The lift has bottom drive and tension and a 75 hp AC drive. Capacity is just under 1,000 riders an hour: it runs at 175 fpm, with 32-foot chair separation and an 11 second loading interval. The diesel evacuation drive runs at 100 fpm. Some top terminal work remains; the observation deck/patio won't be complete until Labor Day. Until then, there is no unloading at the top. The rebuilt gift shop will open this winter. Boyne declined to discuss annual ridership, but when Boyne sold and leased back the Sky Lift operation in 2005, it attracted 400,000 annual visitors and was valued at $19.9 million. With Anakeesta (see below) planning to open this summer, Boyne plans to develop an aerial adventure park on 16 acres at the top of the lift. Among the features: the longest cable bridge in North America, at 700 feet, part of a walkway/skywalk around the property perimeter, plus zip lines, jump towers, and activities for kids.