If you could magically see the inner workings of a resort that manages to focus on big ideas for the future amid the distractions of winter operations, would you be interested in its secrets?

Heck yeah. We all know that from ramp-up through closing day, resorts are focused on day-to-day operational challenges. Collaborating, innovating, and facilitating the next generation of strategic ideas is on hold.

Sure, leadership reviews tactics daily and weekly to make course corrections. At meetings, managers anticipate near-term challenges and work to advance preset goals. But "strategy" is usually relegated to some time in the future when leaders can focus on the big picture.

If you want to improve your business planning cycle, you'll want to capture the best ideas for next winter as they pop up. And that process starts right now. Your end-of-season review and strategic planning meetings are part of a year-round meeting cycle (see diagram at right).

The most common errors? Not doing a post-season review at all, or failing to employ a systematic approach. That is, you should have all departments report in the same manner. Make it clear what you're looking for.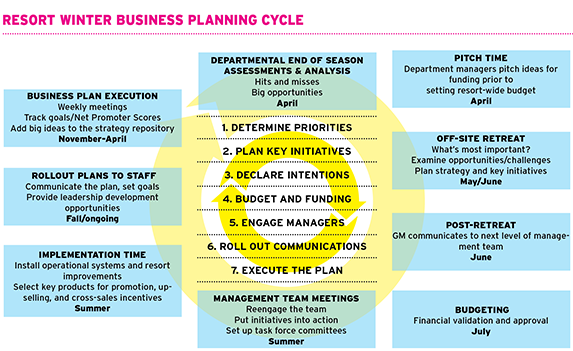 Step 1: Capture Your Ideas
Whenever we say, "I've got stuff on my mind," it's because we haven't had the space to think through next steps, resolutions or conclusions. The solution is to park those ideas in a safe place to revisit when we have the capacity to fully engage.

That applies to organizations, too. People need a place to discuss and grow the next big ideas for your resort. They need to park their thoughts in a "repository" of strategic ideas as they occur.

How are you currently capturing this valuable insight from managers? Consider installing a reliable mechanism that ensures managers will be heard at preplanned intervals in a transparent, non-secretive annual planning cycle. One way to do that is adopt the weekly meeting checklist we presented in "Meetings That Work" (SAM September 2016).
Step 2: End of Season Debriefs
Similar to the surveys you use to learn more about your guests, feedback from your department leaders is also foundational for improvement and generating ideas. It's critical for senior staff to review each department's "hits and misses" of the season in April or May, while they're still fresh and big ideas are top of mind. Each department manager should be invited into the management tent to deliver their insights.

This has multiple benefits. Senior team members are exposed to the nuances of resort operations outside of their own departments and can consider resort-wide ideas prior to budget planning and approvals. That helps prioritize initiatives and agenda items for the big planning meeting. Department managers get face time with senior leaders, celebrate their successes, and have the chance to present opportunities. Seasonal team leaders know their input will be considered in operating budgets. And all managers gain an understanding of their part in the overall business.
Step 3: Setting Expectations
The data you collect during the end of season meetings can be voluminous, so instruct presenters to prepare easily absorbed bullet points. You'll want each live debriefing organized on the same visual structure (PowerPoint or Prezi) of less than 10 slides. Presenters should keep it simple—no complex spreadsheets, for example. Establish a reasonable time limit for each presentation, and cluster smaller, related departments together.

• In mountain operations, assess each department's service, safety culture, guest experience, environment, and risk. Departments include snow quality/grooming, guest services, parking, lift ops, lift mazes/ticket checking.

• In revenue generating departments, assess products, revenue, product delivery, and guest experience.

• For supporting departments—HR, accounting, IT, purchasing, marketing/sales—asses their internal services.

Ask each manager, "What three goals/successes are you most proud of?" Also ask for their suggestions on improving their three most glaring misses. Use this exercise to build pride and acknowledge successes, as well as missed opportunities.

Allow sufficient time for managers to pitch their ideas for new opportunities. Require them to think through (perhaps with the help of their senior manager) and justify what they want to do by doing RORI research (return on resources invested). Try using the filter below for each new idea, and include them in your senior staff off-site retreat.

This segment of EOS download is the most satisfying and affirming for mid-level managers. Instead of looking in the rear-view mirror, you'll be looking at the road ahead together!
Step 4: Identify Future Leaders
This review is not just about operations. It is also the time to hear about high potential talent at all levels in each business unit. Department managers know better than senior staff who is ready for more responsibility and what type of training and development their teams need. Understanding who is in the pipeline is key to your succession planning efforts. Department managers should also discuss their plans for staffing and recruitment for the following season.

Prepare a template on which managers can capture data and ideas for next season, including space for a "repository" of big opportunities that are tabled for strategic planning. Refine your EOS process each season as it gets more sophisticated.

When your planning cycle is non-secretive and department managers can see the next benchmark, they are aware of when you will reengage with them on approved ideas in late spring.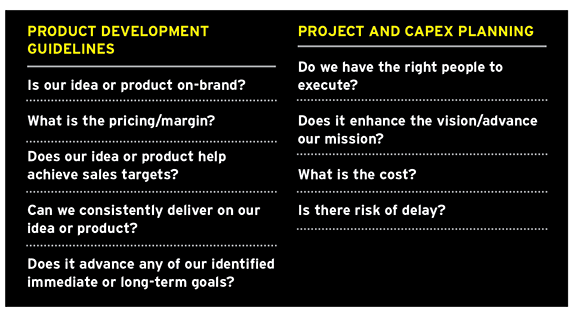 Step 5: Plan the Off-site Retreat
Now it's time for the off-site—where senior management can really come out of the trenches, stretch their managerial muscle and collective intellect to collaborate and innovate. There's great value in getting off-site, and you don't need to spend a lot of money to do this well.

It's best to do this between May and mid-June, after your team has had some time off. If they haven't had time to regroup, they are not likely to come to this working session refreshed and energized.

To ensure that this investment meets the expectations of senior staff, determine what you will achieve in advance—and allow plenty of time to achieve it. In my experience, resort leaders try to do too much in too little time. This is where a facilitator can help.

Make sure the purpose of the retreat is clear to all. Often, it isn't. Leadership must declare its intentions, reengage the management team, and make decisions to fund projects. You must also settle on and clearly state your strategy before marching orders and resources are deployed, typically between June and October.
Step 6: Nail the Landing
Your off-site retreat isn't just a longer-than-usual tactical meeting with a laundry list of to-dos. This is the time to:

1. Determine your readiness to fully address what's most important right now. Before you can tackle your business objectives, your team may need to build bridges to foster harmony, trust, and productivity. These are built on a track record of delivering, and also a history of working together. Since people think differently, allow disagreement to break down the silo mentality. If everyone participates, you get better thinking, and greater buy-in.

2. Determine how you will invest your time, attention and energy. Ensure you have enough time to get work done. Balance relaxing, charging hard in the meeting room, and enjoying the features of the location. Hiking to the top of the mountain before dusk might exhaust energy you'll need to be mentally tough in the boardroom.

3. Establish and clarify team purpose. This isn't just for the senior team. It provides a sense of unity, shared mission, and clarity for everyone downline. This is the foundation for establishing interdependent goals, expectations, standards, and rules of engagement.

4. Find the right venue and location. Choose your location based upon the overall quality of the experience offered, not just the price. Make sure it has enough space so you don't get claustrophobic, and that there is additional space for breakouts. Post visual progress and action items on white board, flip charts, or with interactive technology.

5. Set a realistic agenda. Customize your retreat based upon what's most important to achieve. You may want to survey participants in advance so you don't miss what's really on their minds. Then, distribute the agenda in advance so you can hit the ground running.

6. Bring information. Determine which targeted information attendees should digest in advance. Print anything that's hard to see on a screen, like complex spreadsheets, or arrange for access to electronic information that can be readily shared on laptops.

7. Provide breaks and brain fuel. Break time allows team members to reflect and informally build on ideas. Don't cut that short. Provide healthy snacks and keep hydrated.

8. Manage social connections. Create mingling opportunities, from stand-up cocktail tables to sit-down dinner to après, but also limit the consumption of adult beverages.

9. Engage an experienced facilitator who understands your business and brand. A facilitator can set the rules of engagement and manage the process of team building and goalsetting. This person can help narrow your focus, challenge your thinking, and push you to greatness.

One might argue that everything we do as leaders falls into two buckets—creating the strategy, and executing it. Which of these is more difficult? Execution, of course. At the end of the retreat, like any good meeting, you'll need to commit to what must happen next.

Choose to improve by installing a transparent planning cycle. It will help you roll out communication and execution expectations following your next awesome retreat, and ensure ongoing collaboration, innovation and execution of ideas all year long.