Boyne Resorts' Sky Lift Severely Damaged in Tennessee Wildfire
SAM Magazine—Gatlinburg, Tenn., Dec. 20, 2016—Gatlinburg Sky Lift, a Boyne Resorts-owned scenic chairlift attraction in Gatlinburg, Tenn., was in the path of the wildfire that spread through the popular resort town on Monday, Nov. 28. The chairlift's upper section and upper terminal experienced significant damage, the degree of which is being evaluated. The facilities on the upper viewing deck, including the gift shop, are a total loss. The street-level building that houses ticket sales, offices, and a maintenance shop, as well as the lift's bottom terminal, were completely unharmed.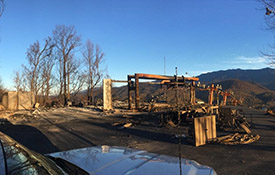 According to the company, efforts to determine whether the lift can be repaired or will need to replaced are currently underway. Nonetheless, Boyne said it plans to reopen the Sky Lift sometime in the spring of 2017.
The nearby Ober Gatlinburg ski area, which is separate from the Boyne operation, escaped the fire largely unscathed.