SAM Magazine—Denver, Jan. 26, 2017—During yesterday's National Ski Areas Association (NSAA) board meeting in Denver at the SIA Snow Show, NSAA president Michael Berry informed the board that he is retiring at the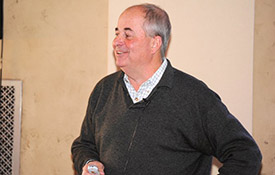 end of this calendar year. Berry has been president of NSAA since January 1993.
The board plans to detail the process for finding Berry's successor next week, and also post the position description and the type of experience candidates will need to possess. The board's executive committee intends to lead the search for a new president itself. NSAA hopes to solicit applications over the next two months, and begin the selection process in April.
Prior to NSAA, Berry worked at several U.S. ski areas including Hunter Mountain, N.Y., Keystone and Vail, Colo., Sun Valley, Idaho, and Kirkwood Mountain, Calif., where he was president from 1985 to 1992. He began leading NSAA shortly after it was reconstituted following the breakup of the United Ski Industries Association (USIA).
Since then, he has been instrumental in turning NSAA into the strong organization it has become. Under his watch, NSAA developed the Model for Growth, a major research endeavor designed to help attract and keep new participants. The project has guided many of NSAA's programs for more than a decade, including Learn to Ski and Snowboard Month/Bring a Friend. In addition, he frequents Washington, D.C., to monitor legislation that affects the ski and snowboard industry, and works directly with the U.S. Forest Service on matters involving the several ski areas that operate on public lands.
Berry currently serves on the board of directors for several non-profit organizations, including the United States Ski and Snowboard Association.
While it's still a year away, all of us at SAM would like to wish Michael the best of luck in retirement. We will do a look back on Michael's career, and his thoughts on the future, in an upcoming issue of SAM.