Power Failure Shutters Jackson Hole Through This Weekend
SAM Magazine—Teton Village, Wyo., Feb. 8, 2017—A massive power outage overnight Tuesday has left Jackson Hole Mountain Resort and Teton Village without power, and the resort will be closed at least through the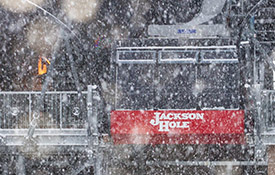 weekend as a result. At present, the resort is targeting Monday, Feb. 13 as a possible reopening date.
The power failure stemmed from a massive windstorm Tuesday night, which knocked down or damaged a significant number of power poles along Highway 390, causing Teton Village to lose power. "This power outage is being addressed by Lower Valley Energy, but the significance of this damage will be impacting Teton Village for up to seven days," the resort said on its website. All events scheduled for this week and weekend will be canceled, including Skijoring and Special Olympics.
The resort plans to refund guests and will manage that "as soon as possible," but no details are yet available. The Jackson Hole Chamber of Commerce and Jackson Hole Central Reservation will be assisting with lodging and travel options for displaced guests. Airline partners United Airlines, Delta, and American Airlines, due to winter weather impacts, are issuing travel wavers for customers in Jackson Hole. The resort is asking guests to contact their airlines for details.
In the meantime, for safety reasons, JHMR is asking for only specific operational staff to come to Teton Village through the weekend, and for others to avoid unnecessary travel to Teton Village, as another winter storm approaches. The area had already received nearly 30 inches of snow in a storm that lasted into Wednesday; the next storm could bring a mix of snow and rain to the base area. Warming temperatures could result in possible flooding in the valley, making conditions challenging.
The area further warned, "there is no uphill travel at this time, and JHMR is seriously enforcing this policy and asks everyone to stay off the mountain during this incident."
Nearby Snow King Mountain was not impacted by the power outage and has remained open.
JHMR will continue to update information as it is available on jacksonhole.com and on social media channels.