SAM Magazine—Broomfield, Colo., March 13, 2017—Vail Resorts fiscal 2017 second quarter results for the period ending Jan. 31 show growth in just about every category compared to the same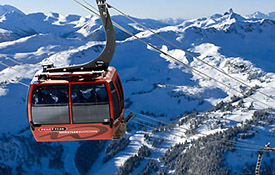 period last year, with Whistler Blackcomb driving much of the increase. The slow start to the winter season in Colorado dragged the results a bit for the rest of the company.
Total net income for the company was up 27.5 percent to $149.2 million. Including Whistler Blackcomb, total lift revenue was up 24.5 percent (up 7.3 percent without W/B), visitation was up 15.7 percent, and effective ticket price was up 7.7 percent. Dining and retail/rental revenue were each up around 20 percent, but would have been down around two percent with Whistler Blackcomb taken out of the equation. Ski school revenue was up a total of 25.9 percent, and stayed on the positive side without W/B, up 1.3 percent.
"Results from Whistler Blackcomb in the second quarter of fiscal 2017 were stronger than our initial expectations and helped to offset the slower start at our U.S. resorts," said Vail Resorts CEO Rob Katz. "The resort has benefited from good conditions throughout the season, a low Canadian dollar versus the U.S. dollar, and the outstanding brand and guest experience delivered by the Whistler Blackcomb team."
Katz said Park City has seen the strongest growth of its U.S. properties. The Colorado resorts are "in line" with last year's second quarter results. And the historic snow in California makes for good conditions, but he said it created challenges due to road closures.
He added that international visitation to VR's U.S. resorts was down year-over-year, impacted by the strong dollar and a "notable decline in Mexican visitation."
The company reported $140.9 million in cash at the end of Q2, and Katz said he expects to one day offer "multiple choices" for Epic Pass-holders in New England, implying that Vail Resorts' pending acquisition of Stowe Mountain Resort in Vermont won't be the company's last in the region.
VR plans to invest approximately $103 million during 2017, including several new chairlifts at its U.S. resorts, with $6 million going toward its summer Epic Discovery program, and $17 million for the Whistler Blackcomb integration.