SAM Magazine—Denver, March 20, 2017— The list of accessible ski areas on the M.A.X. Pass continues to get longer, with six new properties hopping on-board for 2017-18, including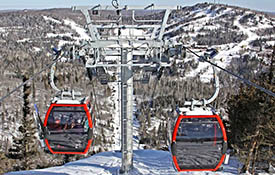 Windham, Belleayre, Gore, and Whiteface in New York, Lutsen in Minnesota, and Granite Peak in Wisconsin. That brings the grand total up to 44 ski areas in roughly 22 states and provinces that M.A.X. Pass-holders will have access to next season, with five unrestricted days at each.

"Now with 44 mountains on its roster, the M.A.X. Pass has added 20 resorts since its inception two years ago and we're continuing to raise the bar and provide M.A.X. Passholders with unparalleled value, access and flexibility to ski throughout the season both close to home and at destination resorts across North America," said Tom Marano, CEO of Intrawest.
In August, SAM reported on the alliance adding ten more ski areas to the roster, and a commenter on saminfo.com expressed how much she enjoyed the product before concluding with, "My hope is that mountains from the Poconos and NY are added." Good call, Liz.
The pass is $629 for adults when purchased by May 1.