Kässbohrer ATV to Move Regional Headquarters to Lost Valley, Maine
SAM Magazine—Auburn, Maine, March 30, 2017—Kässbohrer ATV, Inc., the North American Division of German parent company Kässbohrer AG and distributor of PistenBully snow grooming equipment, has chosen Lost Valley ski area in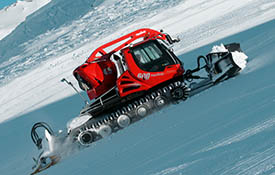 Auburn, Maine, as the site of the company's future regional headquarters, which will include construction of a new facility.
"Lost Valley is a unique location with alpine skiing, Nordic skiing, and snowmobile trails, all located on site with a facility to host an array of people and business opportunities," said Josh Nelson, KATV regional sales and operations manager. "This facility will change the way we approach every aspect of our business. We will have the ability to offer new options for service and knowledge that have not been possible until now."
The history between Kässbohrer and Lost Valley goes back almost 50 years, to Valley Engineering and its introduction of early snow grooming implements—called "snow farming" at the time— on the trails of the ski area. Kässbohrer Germany liked what it saw in the grooming implements being designed and built by Valley Engineering, and entered into an agreement to distribute the machines built in Germany with the implements produced in Maine on a worldwide basis. In late 1979, Kässbohrer bought Valley Engineering and created Kässbohrer North America.
"Lost Valley has a history of being innovative in the ski industry, including Valley Engineering grooming implements, the first snowmaking system in Maine, and the first night skiing in Maine," said Lost Valley owner Scott Shanaman. "The partnership with Kässbohrer fits in with our vision of returning Lost Valley to the cutting edge of the ski industry, and provides us and other local service providers with additional business opportunities. More importantly, it means additional jobs are being retained and created here in the Lewiston-Auburn Area. It's awesome to have the history, and now future of snow grooming coming right out of Lost Valley."
Site development, planning and permitting for the new facility, as well as meetings with city officials, are all in progress. Kässbohrer hopes to have the new facility up and running by spring of 2018.