Killington Anticipates World Cup to Return for Two More Years
SAM Magazine—Killington, Vt., April 4, 2017—[UPDATED] Killington has entered into a two-year agreement with USSA to get a FIS World Cup event back to the resort over Thanksgiving weekend in 2017 and 2018. The spot on the race schedule has not been firmed up by FIS yet, but the resort hopes FIS will confirm it as a stop on the calendar at the federation's meeting in May. This comes after a tremendously successful initial foray in 2016, when the event drew an estimated 30,000 spectators.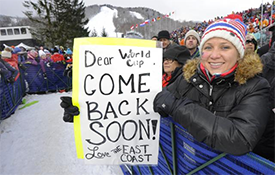 Solimano made the announcement during an event at the resort on Monday that had several local community leaders and business owners in attendance. "We wanted to announce it to the community first," he said. "A lot more details to come, we're looking to make it bigger and better than it ever has been."
"Our partnership with Killington and POWDR Corp. to bring ski racing back to the east coast produced one of the most successful event weekends we've seen," USSA vice president Calum Clark said in a statement. "The prospect of returning for events during and after the Olympic season gives us the opportunity to further build on that success and grow the event's impact."
Killington had been rumored to be the choice venue for the Thanksgiving weekend event, and rumors gained traction after FIS declared it would not return to Aspen, the traditional Thanksgiving event site, due to what the organization said are needed infrastructure improvements.
The 2016 event cost the resort $2.5 million to host, with $1.3 million offset by revenue, mostly from sponsors. But all those visitors gave a jolt to the local economy, and that helps offset the cost as well. To help with the expense of the 2017 event, Killington town residents approved a budget measure on town meeting day that included $100,000 to expenses related to the World Cup. If the event doesn't happen, that money will stay in the town's coffers.