SAM Magazine—Denver, June 15, 2017—Colorado Ski Country USA's (CSCUSA) 22 member ski areas totaled 7.3 million visits during the 2016-17 season. That's down slightly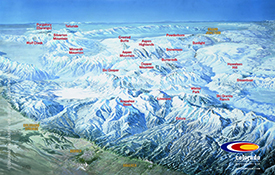 from last year's record 7.4 million. It is estimated that after final numbers are tallied, the 2016-17 season will be the state's second best season on record. This year's season total was up six percent over the five-year average, marking the fourth consecutive year that skier visits at CSCUSA resorts have outperformed the five-year average.
"This season had a little bit of everything," said CSCUSA president and CEO Melanie Mills. "A warm fall kept skiers away from the high country early in the season, but deep snow totals in December and January attracted record numbers of guests during the busy holiday period. These are very strong numbers, especially considering the warm start to the season."
The 2016-17 season kicked off with Arapahoe Basin becoming the nation's first ski area to open on October 21, 2016. The season also saw the return of the Winter Park Express in January and the World Cup Finals at Aspen Snowmass in March, the first time the event has been in the U.S. in 20 years. The season ended on a strong note with heavy snow totals allowing for season extensions at four CSCUSA resorts.
CSCUSA visitation numbers do not include the state's Vail Resorts-owned properties (Vail Mountain, Breckenridge, Beaver Creek, and Keystone). While VR did not break out attendance for its Colorado resorts in its latest quarterly report, visits likely tallied between 5 and 5.5 million, putting the state's total visits somewhere in the mid-12 million range.