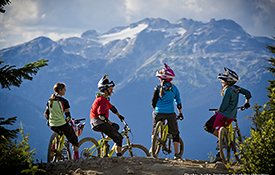 SAM Magazine—Jackson Hole, Wyo., June 16, 2017—The MTBparks Pass, which offers lift and trail privileges at more than 30 bike parks across North America, is the first and only one of its kind for mountain bikers. Now in its fourth year, the pass gives members one free day of riding at each park, as well as additional benefits such as discounts on lift tickets during subsequent visits at many participating parks, deals on bike shop retail and rentals, and more.
"Lift-served mountain bike parks have become a huge part of summer business for ski resorts and the bike industry, and our goal is to help drive more riders, as well as those new to the sport, to resorts offering an assortment of trails, camps, clinics, rentals, and more," said MTBParks founder Michelle Good.
The pass, she noted, "Gives riders the opportunity to check out different resorts in their own region or plan an epic road trip to ride the places on their 'bike-it' list. And it pays for itself in a matter of days." The MTBparks Pass retails for $200, and is available at MTBparksPass.com.
Good added, "We're extremely grateful to have so many world-class resorts supporting a product that allows us to continue to improve MTBparks.com as a comprehensive rider resource."
Beyond the one day of free riding, many resorts offer 50 percent off any return visit during the 2017 season. Among them: Trestle Bike Park, Colo.; Bike Granby Ranch, Colo.; Angel Fire Mountain Bike Park, N.M.; Grand Targhee, Wyo.; Big Sky, Mont.; Pajarito, N.M.; Snowshoe Bike Park, W.Va.; Massanutten Bike Park, Va.; Bryce Bike Park, W,Va.; Attitash, N.H.; Bretton Woods, N.H.; Windham, N.Y.; Thunder Mountain Bike Park, Mass.; Mt. Snow, Vt.; Killington Mountain Bike Park, Vt.; and Sugarloaf Bike Park, N.B.
2017 PARTICIPATING BIKE PARKS
(more parks may still be added)
Western Canada
1. Whistler Mountain Bike Park, BC
Northwest U.S.
2. Silver Mountain Bike Park, ID
3. Tamarack Bike Park, ID
4. Sun Valley, ID
5. Big Sky Resort, MT
6. Discovery Bike Park, MT
7. Grand Targhee Bike Park, WY
Rocky Mountains / Southwest
8. Trestle Bike Park, CO
9. Granby Ranch Bike Park, CO
10. Snowmass Bike Park, CO
11. Keystone Bike Park, CO
12. Steamboat Bike Park, CO
13. Purgatory Resort, CO
14. Powderhorn Bike Park, CO
14. Angel Fire Bike Park, NM
15. Pajarito Bike Park, NM
Midwest U.S.
16. Spirit Mountain Bike Park, MN
17. Crystal Mountain Bike Park, MI
18. Little Switzerland Bike Park, WI
19. Boyne Highlands Bike Park, MI
Eastern Canada
20. Sugarloaf Bike Park, NB
Northeast U.S.
21. Attitash Mountain Resort, NH
22. Killington Mountain Bike Park, VT
23. Mount Snow Bike Park, VT
24. Thunder Mountain Bike Park, MA
25. Whiteface Mountain Bike Park, NY
26. Windham Mountain Bike Park, NY
27. Greek Peak Mountain Bike Park, NY
28. Sunday River Bike Park, ME
29. Evolution at Mount Sunapee, NH
30. Bretton Woods Adventure Center, NH
Mid-Atlantic / Southeast
31. Bryce Bike Park, VA
32. Massanutten Bike Park, VA
33. Snowshoe Bike Park, WV
34. Blue Mountain Bike Park, PA