Bob Parker, Key Figure in Vail's Early Days, Dies
Robert Ward Parker, a 10th Mountain Division veteran who became a major figure in the post-World War II ski industry, died June 29 in Grand Junction, Colo., at the age of 94.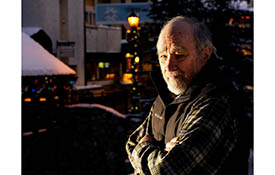 Much of his life was involved with skiing, from his childhood in New York and Wisconsin to training for mountain warfare in the Alps. Later, after working as a mountain guide and a ski journalist, he helped create Vail's position in the ski world.

During World War II, Parker enlisted in the 87th Mountain Infantry Regiment, which became part of the famed 10th Mountain Division. The 10th trained from late 1942 to early 1944 at Camp Hale, a short distance from what became Vail.
After the war, Parker earned a bachelor's degree in English. In 1950, he moved to Europe, where he became European correspondent for National Skiing, a trade publication, in 1952.
In 1955, after moving to Denver, he served five years as editor of Skiing magazine. In 1962, after an argument with publisher Merrill Hastings, he quit and immediately went to work for Vail, which opened the following season, as assistant GM and publicity director.
As Allen Best has described in Skiing History, Parker proved a most capable promoter. By the time he retired in 1987, 25 years after he started, Vail Mountain was doing more than a million skier days per winter, tops among North American ski areas. At the time of his retirement, he was the last of Vail's original full-time employees.
Parker viewed the ski world broadly. Following the great publicity that flowed from the Squaw Valley Olympics in 1960, he organized major ski races and tapped his media contacts to gain national and international attention. He was among those who lured Pepi Gramshammer, a famous Austrian ski racer then at Sun Valley, to relocate to Vail. Later, he helped establish the Town of Vail.
As affordable, long-distance airplane travel began to make destination ski travel possible, Vail under Parker created the first resort joint marketing program, working with American Express and two airlines. He reached out to markets as far afield as Australia and Mexico. In that same vein, he helped form "Ski The Rockies," which expanded the joint marketing concept to include several major Western resort destinations.
Parker coined the phrase "Ski Country USA" for Vail, but allowed it to become the moniker for Colorado's skiing trade organization, which he eventually served as president. Within CSCUSA, he pushed for 12 years for an economic impact study; skeptics said it couldn't be done, but "The Contribution of Skiing to the Colorado Economy" became a landmark in the industry.
Parker always remembered what made skiing special. He said to Pam (Conklin) Pettee, in a SAM article in 1984, "It would be a serious mistake to turn our backs on all the things we have going for the sport. ... We have fallen into the trap of thinking about our sport as a product ... we must also continue to enhance those key attractions unique to the sport.
"Skiing means fun, excitement, good looking, healthy, compatible people, comfort, après ski, fine food, and the gemütlich spirit of a ski community. Those are the reasons people ski. ...
"If there's one thing that we in skiing must never forget, it is to keep the fun and friendliness in our sport. The first thing that probably attracted all of us—beside the physical exhilaration—was the feeling of being among a special kind of people. The extent that we manage to preserve that feeling will determine our continued success."
For all he accomplished, Parker was inducted into the Colorado Ski Hall of Fame in 1980 and the National Ski Hall of Fame in 1985.
Read more about Parker's accomplishments and legacy in Skiing History and SAM's 1984 articles.
Parker is survived by his son, Guy Parker, daughter-in-law Lori Parker, grand-daughters Chandler and Arden, and also by daughter Katherine Parker and a son-in-law, Mark Mikow.
Memorial services are pending.