Grouse Mountain (B.C.) To Be Sold
SAM Magazine—North Vancouver, B.C., July 17, 2017—After its owners put it on the market last year, Grouse Mountain near Vancouver appears to have found a buyer. Citing sources familiar with the transaction, The Globe and Mail reported last week that the China Minsheng Investment Group, which is connected to the Chinese central government, is buying the resort for $200 million. The transaction is expected to close in the coming days.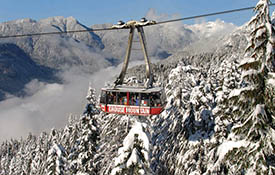 A statement from Grouse's management in response to the report read, in part, "We can confirm that there has been an agreement reached with a potential purchaser on a pending transaction. The transaction is expected to close in the coming days. While the transaction is being finalized, we are unable to disclose further information about the buyer. At this time, we can say that the current transaction will see no changes to staff, management or operations."
The locally-based McLaughlin family has overseen the operations at Grouse Mountain since 1974, and purchased total control of the resort in 1989. District of North Vancouver Mayor Richard Walton told North Shore News the McLaughlins have long invested in and improved the resort, and maintained a sense of local ownership—a dynamic that will clearly change with overseas owners.
"If we're changing into another era right now, then obviously I think the concerns in the community would be that the new owners would recognize the fact there's a sense of community ownership, and certainly access to the North Shore Mountains is broadly enjoyed by people in the district and Metro Vancouver for hiking and recreation," said McLaughlin. Grouse Mountain sees a reported 1.3 million visitors annually.
Potential future improvements outlined in marketing materials provided to potential buyers include a mountaintop hotel, spa facilities, and lift-served mountain biking.