2019 World Championships Awarded to Park City
Publish Date
06/05/2014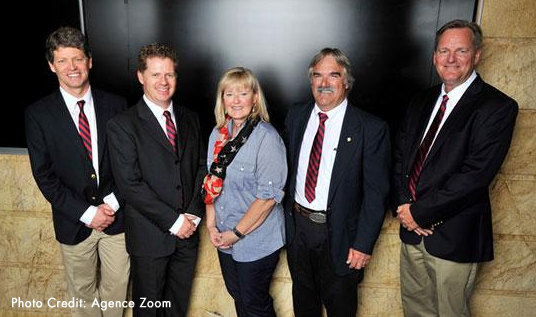 The 2019 World Championships bid team, including (from left) Tiger Shaw, Calum Clark, Jenni Smith, Bob Wheaton and Mike Goar, poses after its successful presentation to win the event for Park City.
SAM Magazine--Barcelona, Spain, June 5, 2014--The International Ski Federation (ISF) announced today that the U.S. Ski and Snowboard Association (USSA), in partnership with the Olympic community of Park City and State of Utah, has been awarded the 2019 World Championships for freestyle, freeskiing and snowboarding. The bid featured a partnership of three resorts—Canyons Resort, Deer Valley Resort and Park City Mountain Resort—for an event that will host at least 12 competitions over 10 days in February 2019. Deer Valley will host the freestyle skiing events of moguls and aerials, which is in keeping with its snowboarding ban. Park City Mountain Resort will host halfpipe, slopestyle and big air skiing and snowboarding. Rounding it out, Canyons will take on the skicross and snowboardcross.
"The 2019 World Championships will be a major global event featuring the largest showcase of winter action sports outside the Olympics," said Tiger Shaw, the newly-installed president and CEO of USSA. "Our partnership with FIS and other athletic sanctioning bodies, together with the State of Utah and Park City community—especially Canyons, Deer Valley and Park City resorts—will help to shape this as an historic event in freestyle, freeskiing and snowboarding."