Arapahoe Basin First to Open in North America
Publish Date
10/13/2006
SAM Magazine-Summit County, Colo., Oct. 13, 2006-This is what they were hoping for when they installed snowmaking four years ago. And today, for this year, they are the champions. Colorado's Arapahoe Basin beat out perennial champion Loveland for the first time, chalking up the earliest opening ever for the 60-year old area and claiming boasting rights as the first ski area to open in North America for the 2006-2007 season.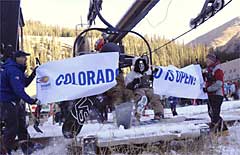 Loveland, which plans to open Saturday, has dominated the race, taking "first to open" honors for the past six seasons. In fact, prior to Arapahoe's recent challenge, the only real competition to Loveland was Keystone, which had the distinct advantage of being able to switch on the resorts night skiing lights and thus fire up the lifts prior to sunrise. That sneaky tactic, combined with a sophisticated snowmaking system, allowed Keystone to claim bragging rights seven years ago. Recently, however, Keystone has left the competition to A-Basin and Loveland.
"It's been a really close race," A-Basin spokeswoman Leigh Hierholzer told the Denver Post. "It has been a real nail-biter the past 24 hours, seeing if we could pull it off."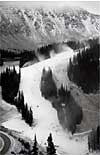 Snowmaking on the High Noon run.
As one would expect, available terrain is very limited. Arapahoe plans to open the Exhibition chair, which will serve the High Noon run. The mountain is reporting an 18-inch base, with a small terrain park as well.