Arizona Snowbowl and Aspen Respond to Government Shutdown
Publish Date
10/03/2013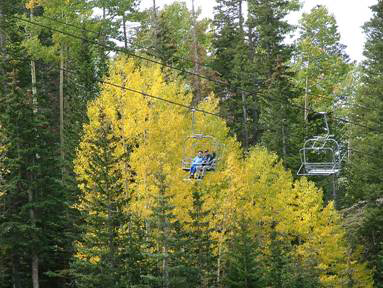 SAM Magazine--October 3, 2013--In a clever move, Arizona Snowbowl and Aspen/Snowmass are spinning lifts for tourists who are shut out of national parks. Thanks to the government shutdown, national parks are closed across the country, so the ski areas decided to offer alternatives for tourists. Arizona Snowbowl is extending its scenic chairlift operation to October 13, allowing tourists a spectacular view of the autmumn colors (pictured here). As local hotels are filling up and tourists are looking for activities, Arizona Snowbowl is also opening up its Peak Side Café and is offering disc golf.
At Aspen, management announced that it will run its Silver Queen gondola for free this weekend and the restaurant at the top will be open with a live band. Aspen tourists hoping to get to the Maroon Bells will instead enjoy foliage on the mountain.
"We are pulling together our staff to operate the chairlift every day, instead of just on weekends, in response to those who may looked forward to their trip to places like the Grand Canyon and Lake Powell only to find these attractions closed because of the government shutdown," says GM J.R. Murray.
"The Bells may be closed, but the bucket's open," says Rich Burkley, VP of mountain ops. "We know people come to Colorado from all over the world this time of year to see the stunning scenery and with the road closure and the difficulty of access for many people, this gives our guests a chance to view forests blanketed in gold and crimson from the summit of Aspen Mountain."