Aspen Names Knapp VP Of Marketing
Publish Date
07/27/2011
SAM Magazine-Aspen, Colo., July 27, 2011-Aspen Skiing Company has appointed Christian Knapp as vice president of marketing. Knapp received a SAMMY Award last May as one of the future leaders of the ski industry, and has held a variety of marketing positions within Vail Resorts since 1998.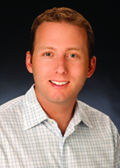 Knapp got his start in the ski/snowboard industry in 1996 at Mt. Bachelor. At Vail Resorts, he was instrumental in executing the Vans Triple Crown of Snowboarding, Superpark, Cutter's Cup and setting up Breckenridge's first Freeride Team. He served at both Vail Mountain and Beaver Creek and, since 2007, has headed up marketing efforts for Keystone Resort.
Knapp was also appointed by Colorado Gov. Bill Ritter as an at-large Board Member at the Colorado Tourism Office (CTO) in January 2010. He chairs the advertising, marketing & public relations sub-committee, which oversees $10 million in annual marketing expenditures.
For more about Knapp's SAMMY
click here