I Am A Snowmaker Award Winner Announced
Publish Date
04/17/2014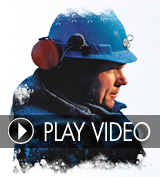 SAM Magazine—Woodbury, Conn., April 16, 2014—
SAM
Magazine and HKD Snowmakers are proud to announce that Ken Mack of Loon Mountain, N.H., is the winner of the inaugural HKD Snowmaker's I AM a Snowmaker Award. Mack, a 14-year snowmaking veteran, received the most votes of all nominees for his personal stories and reflections on his life as a snowmaker. More than 6,000 votes poured in from industry professionals and ski and snowboard enthusiasts to vote on the snowmaker who's "I AM" moment inspired them the most.
"I like working outdoors, at night, as a team, in adverse weather conditions," said Mack. "There is an unspoken and inspiring camaraderie that grows from that. Working through problems, celebrating minor victories that, when the sun comes up, no one will even know about." To see Ken's full profile and video, as well as those of the other five snowmakers, visit
www.saminfo.com/iam
.
Launched in November 2013,
SAM
Magazine and HKD Snowmakers created the I AM contest to recognize six outstanding snowmakers from mountain resorts across North America. These unsung heroes were asked to share their stories—their hardships, their successes, and their passion—and that one moment that made them say "I want to be a snowmaker."
"As the last few years have shown us, the role of snowmaking in a resort's overall success cannot be overstated," said
SAM
publisher Jennifer Rowan. "It was time to show snowmakers how much we appreciate their efforts."
The six snowmakers recognized this season include Corey Peterson of Steamboat, Colo.; Jason Seal of Massanutten, Va.; Mack; Ray Weller of Breckenridge, Colo.; Senath Morrill of Sugarloaf, Me.; and Tim Whorl of Roundtop, Pa.
"All six snowmakers show true passion and dedication for the art of snowmaking and work tirelessly through the season to ensure our skiers and riders have the best conditions possible," said Charles Santry, president of HKD Snowmakers.