JOHN FRADO: 1944-2012
Publish Date
07/04/2012
SAM Magazine--July 5, 2012--John J. Frado, Jr., 67, died at home on June 20 in his wife's arms (Cross Country Ski Areas Association President Chris Frado) as a result of complications from a traumatic brain injury incurred in December while building a barn.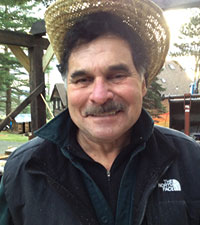 John was a visionary who enjoyed planning and creating, whether it was a multi-million dollar, four-season, multi-use recreation trail system or designing and building a driveway for a friend's home. He was instrumental in the founding of Cross Country Ski Areas Association and the development of the Nordic divisions of the National Ski Patrol and the Professional Ski Instructors of America.
Donations in John's memory can be made to the Brain Trauma Foundation (
www.braintrauma.org
).
A celebration of his life, "John's Last Hurrah" will be held on Monday, July 30, 3 p.m. at the Northfield Mountain Pavilion (designed by John), next to the Riverview Picnic Area in Northfield, Mass. All are welcomed to come join in celebrating John's life and sharing pot-luck desserts.