More Resorts Opening This Weekend
Publish Date
11/10/2011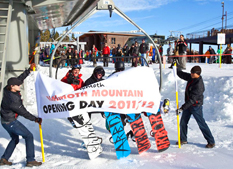 Opening Day at Mammoth Mountain
SAM Magazine-West Vancouver, B.C., Nov. 10, 2011-Cypress Mountain, B.C., opened Nov. 8, its earliest date ever, highlighting a week in which several Western areas are launching the season, along with a few others around the country. La Nina has brought early natural snow to the West Coast, from B.C. down to southern California, and across much of the Rockies as well. All that has helped several areas launch their seasons.
In the western U.S., areas that are initiating operations for the season include Brighton, Utah, which kicks off its 75th season today, and Solitude. In California, Mountain High has been open for a few days of daily operations after opening for a few days in late October. Also open as of today are Snow Summit and Bear Mountain in the greater L.A. area, and Mammoth, which opens today. Two areas are cranking up the lifts tomorrow, Nov. 11: Breckenridge, Colo., which is celebrating its 50th anniversary, and Marmot Basin, Alberta. And Winter Park, Colo., is pushing up its opening by a week, to Nov. 12.
In the East, Sunday River begins daily operations today, and Mont-Sainte-Anne, Quebec, starts up on Saturday, Nov. 12. Cataloochee, N.C., also hopes to open Nov. 12, weather permitting.
In the Midwest, Trollhaugen, Wisc., hopes to operate this weekend starting Friday night; if so, it will join Wild Mountain, which is opening again for the weekend.