Retail Sales Reach $3.4 Billion in 2012-13
Publish Date
05/10/2013
SAM Magazine—McLean, Va., May 10, 2013—For the season, August through March, winter sports retail sales grew 3 percent over the prior year to $3.4 billion, according to RetailTRAK data released by SnowSports Industries America and Leisure Trends Group.
As has been the case for several years, accessories and apparel led the way. Accessories sales increased 6 percent, to $1.1 billion; apparel was up 4 percent, to $1.46 billion; and equipment sales were flat compared to the 2011-12 season, at $841 million.
Retailers struggled during the first half of the 2012-13, in response to the snow-starved 2011-12 season. But when snow began to fall in late December, sales picked up, and sales in January, February and March beat the four-season average in every category. The momentum in sales and participation at the end of the season should translate into stronger sales next fall.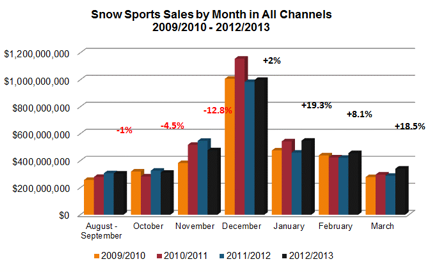 One sour note: inventories—particularly equipment inventories—are even higher than even the elevated levels of a year ago. This overstock most likely will depress pre-season wholesale orders in most hard goods categories, and result in fewer new choices for consumers next fall.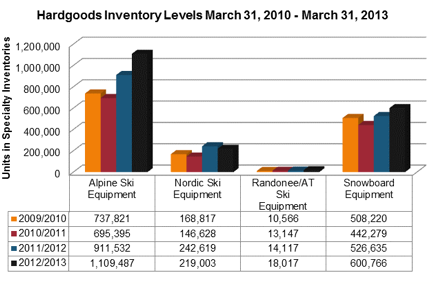 Sales continued to shift toward the Internet. Specialty shop sales totaled $1.9 billion, up about 1.5 percent. Internet sales rose 10.5 percent, to $810 million. Chain store sales were flat at $746 million. Apparel accounted for more than half (55 percent) of chain sales, where accessories accounted for another 37 percent. Equipment sales were a mere 8 percent of chain sales.
Overall, equipment sales declined slightly in units, though dollar sales were flat. Alpine ski equipment brought in more than 60 percent of sales, which rose 2.6 percent. Snowboard equipment sales were down 7 percent, to $255 million. XC gear posted a 6 percent gain, with Alpine Touring gear up 22 percent, to $18 million.
Two hot product categories: alpine/AT boot sales more than doubled, to 77,000 from 29,000. And action camera sales soared 50 percent, to 123,000 units and $43 million in sales.