Did Violets Hardware + Software Home Run Create the Best Resort Webcam Ever?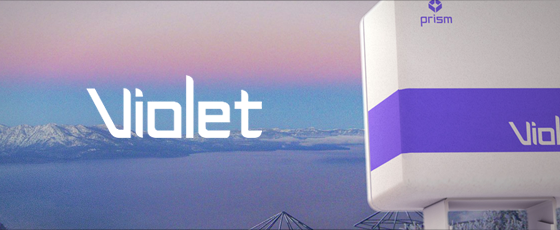 February 25, 2014 -- Gregg Blanchard

As Tahoe struggles with another rough winter, a new technology has helped them put their best foot forward – whatever mother nature dictates that is.


That technology is a webcam, but not just any webcam, it's a system called Violet that uses professional hardware in tandem with customized, auto-HDR settings to account for changing light, weather, and sun-position to automatically create consistently amazing images.



Wanting to learn more about this company, their technology, and their plans, I reached out to Prism's Brandon von Guenthner for details.
---

Gregg: I've seen a lot of webcam systems over the last half-decade, but Prism/Violet stands out for good reason. Every web cam is made up of hardware and software, but clearly the Prism's photos are head and shoulders above the rest. Let's start with the hardware. What did you guys do differently that other cams didn't?

Brandon: Although Prism is relatively new as a company (incorporated in June 2013). We have actually been in the hardware game quite long. Our first hardware camera was engineered over 8 years ago, 4 prototypes later we built our production unit we call Violet. Violet was always about superior image quality and over the years we have really pushed that envelope.

When we built Violet we decided that mass market security cameras would never yield the image results that we desired or were necessary to fulfill our business model, so our hardware mirrors professional photography sensors and glass. Violet is a completely proprietary system and our engineers will not stop until we have images that are in an art gallery.

Gregg: Talk more about the software and the use of what appears to be some subtle HDR to enhance images. What is going on behind the scenes to make the most of the images the hardware side is capturing?

Brandon: We take a very custom approach to each client and ultimately what the image lighting conditions are. The goal is to have the highest quality image while maintaining trust and transparency for the end viewer. There is a lot we can do to an image to make it perfect, but we focus on ensuring it looks as if you were there.

Each camera has custom profile settings that are developed for each field of view and we continue to make refinements and adjustments to manage harsh or perfect lighting conditions. We have made leaps and bounds in the last year with our post production settings and we will continue to make further subtle refinements, the rest is up to mother nature and she has produced some awe-inspiring moments, thus far.

(all of these were taken automatically by the same camera in the same location)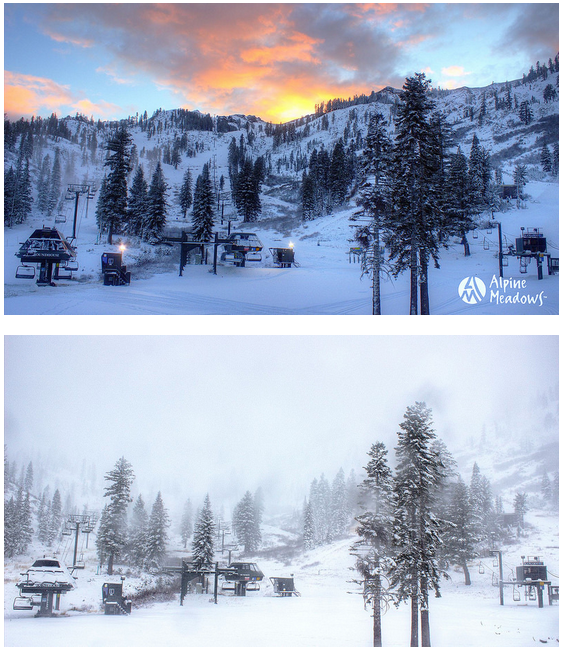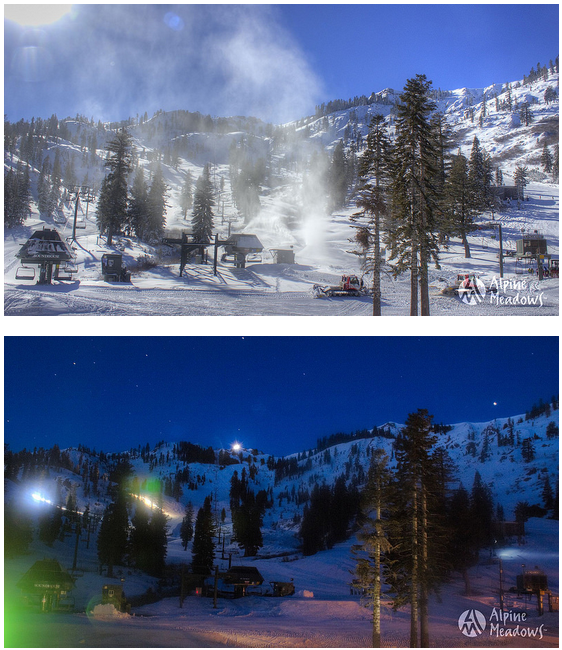 Gregg: I'm not an expert in photography, but most HDR images seem to work best when they include colors, especially in the lights and darks. Tahoe is blessed with amazing sunrises and a beautiful blue lake, so what can Violet do for a resort that has more overcast days than bluebird? Or a resort that doesn't overlook that kind of vista?

Brandon: We have come to a realization early on in the game that we are not for everyone. Prism's entire business model is to inspire travel and help premium brands share the beauty of their experience with the world. We call it dynamic "Place Branding". Every travel experience has a signature shot that over time will tell an incredible content story. We do a significant amount of research and spent a lot of time ensuring we get that shot.

Most webcams go up where it is logistically easy to accommodate and to be honest the quality never necessitated a need for the workflow to be image driven. We help our clients use content from Violet for all marketing efforts (i.e Social, digital, print) if we can not find a shot that our clients are not be proud of we are the first to tell them we are probably not the right fit.

Gregg: Talk more about this "Signature Shot" you work for. Maybe give me an example from a Tahoe resort and walk me through some of the conversations that were had as you made that decision.

Brandon: The majority of our clients are not in the ski industry and never thought about a webcam or considered it apart of their marketing arsenal. This forced us to think like marketers and learn/understand the value of content. The beauty of travel is there is never a lack of inspiration and most good marketeers have already done the work and know what shot best represents their product. We then have a process were we validate their thinking or add to it by developing a storyboard using social and digital insight and understanding how the lighting conditions will change throughout the day and over seasons.

We then usually have a list of 2-4 shots we like, from here we work with IT teams and figure out how to make it happen. The Ski Industry is pretty talented at making things happen in difficult logistical conditions so we are excited to see the end result of every camera that gets installed.

(more impressive – automated – photos from Diamond Peak)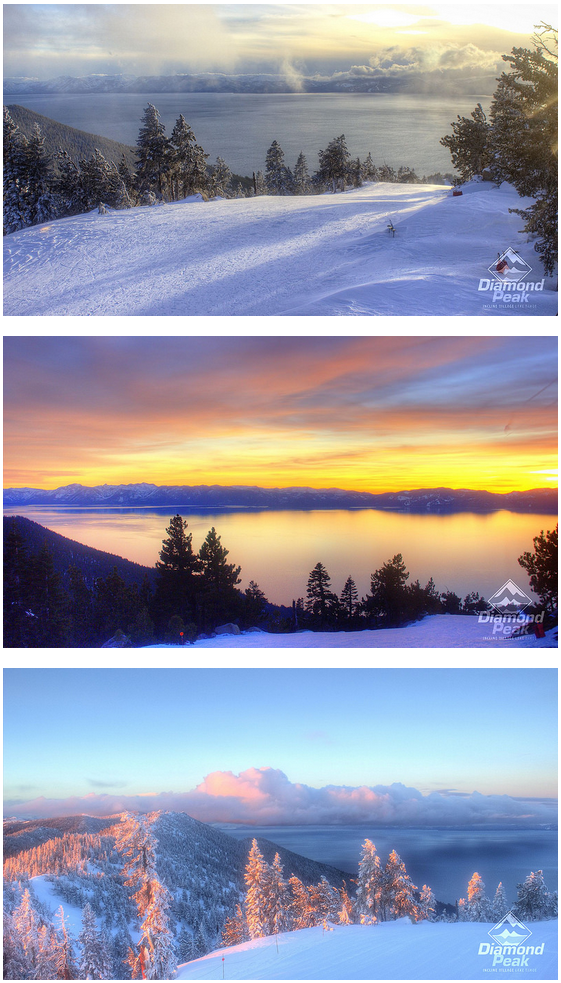 Gregg: Let me jump back a bit to something you said about social integration. I see a lot of photos from Violet's show up in my feeds. With such high quality imagery readily accessible, what have you done to facilitate that sharing – particularly from the brand itself but also from followers?

Brandon: Our company tagline is Share Your Place™ so sharing content is a very important element of our business. The consumer can share imagery directly to Facebook or Twitter right from the interface on the clients website. Our back-end web-based system allows our clients and any strategic partners (news media, travel resources etc.) to pull real-time images or images from up to two weeks past. We also take a very pro-active effort to help clients find the best images possible. Prism is a Software as a Service business we continue to put significant development in to this area of our business to make it easier for everyone to find the best content possible and at the most relevant times.

Also as we continue to scale we add strategic partners that our clients may not have had the chance without Violet to have sharing imagery through. Our Lake Tahoe clients see imagery shared at local (Tahoe South), regional (Reno Tahoe) and State (Visit California/Travel Nevada) levels. Our clients own the content and have unlimited license use of it and we support and encourage sharing.

Gregg: What have the results/feedback been from your ski clients so far? Any metrics or stats you can share?

Brandon: We just launched a client-installable model 3 months ago, so prior to that we did all the installations ourselves, which put our focus on California over the last 2 years. As an annual lease model, we have never lost a client and continue to add ski resorts in California. We take a lot of pride in this as we have worked hard to develop new ways to leverage content that is not dictated solely by whether it snows or not.

When it is snowing or there is a blue-bird day it is easy to create buzz and engagement. New creative ways all the other times to keep the brand in front of customers is what we strive to accomplish. We are seeing images performing upwards of 200% better then the average content posts and clickthroughs to the camera page as low as .05 cent. Every client is different and we measure and track everything.

To quickly wrap this up I want to clarify one thing. When Brandon says clickthroughs cost .05 cent, he really does mean 1/20th of a cent.

That number is "(camera cost / camera views)" and is not only an incredibly impressive number on it's own, but a very telling stat that they measure to such a granular level and can prove their model so clearly.

Definitely worth a look.

>> To join the discussion, CLICK HERE. For a complete list of Gregg's posts and market analysis, visit www.slopefillers.com