NEW ENGLAND SUMMIT, SUNDAY RIVER, ME, SEPT. 13-15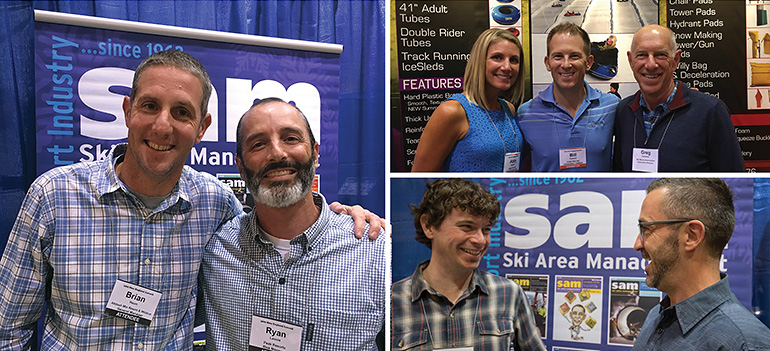 This year's New England Summit attracted nearly 420 ski industry personnel, exhibitors, and speakers to Sunday River in Newry, Maine, Sept. 13-15. Left: Wildcat, N.H., general manager Brian Heon hangs out with Peak Resorts' risk manager Ryan Lavoie at the SAM booth. Top right: Tube Pro's Abby and Bill Pawson catch up with Ski Maine executive director Greg Sweetser (right). Bottom right: NE Summit's Bo Bigelow chats with SAM senior editor Dave Meeker at the SAM booth.
MSAA ANNUAL TRADE SHOW, SHANTY CREEK, MI AUG. 21-24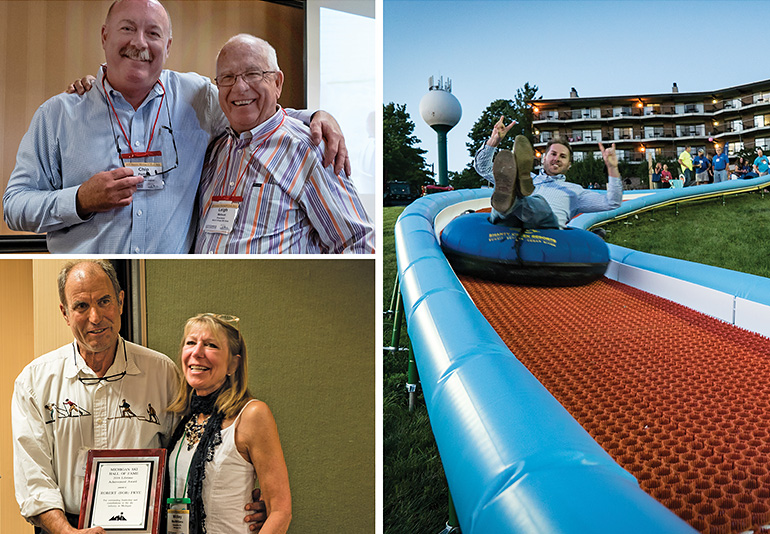 About 400 ski area and supplier members attended the 2016 Midwest Ski Areas Association Annual Meeting and Trade Show, Aug. 21-24, at Shanty Creek Resorts in northern Michigan. Top left: Chip Perfect of Perfect North Slopes with Leigh Nelson of Welch Village. Top right: Show attendees enjoy a sunset ride on the mSnow Tubing demo. Bottom left: Bob Frye poses with Mickey MacWilliams, executive director of Michigan Snowsports Industries Association, after being inducted into the MSIA Hall of Fame.
SUMMER OPS CAMP, CANYONS, UT, SEPT. 14-16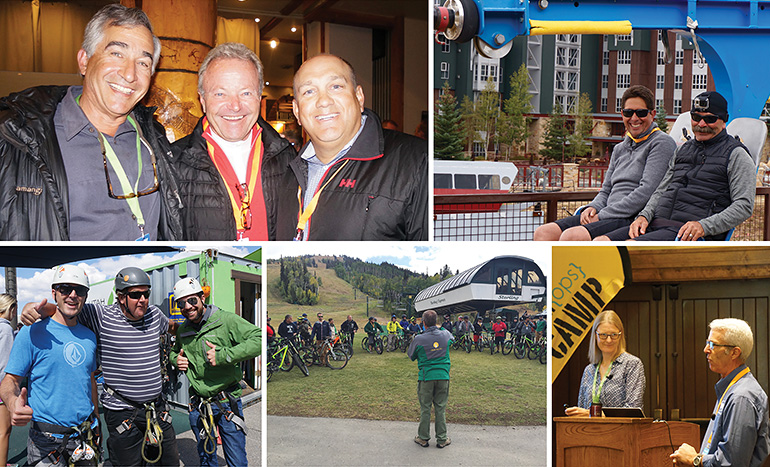 More than 160 operations managers, vendors, and experts gathered at the Canyons Grand Summit in Park City, Utah, to play, discover, and profit at SAM''s 7th Annual Summer Ops Camp, Sept. 14-16. Top left: Michael Friedman of Adventure Partners Attractions with John Fagan of Duane Morris, LLP, and Park City COO Bill Rock. Top right: Ski Apache's Justin Rowland and Fred Pavlovic get ready to ride the Soaring Eagle as the camp checked in to Park City's adventure park for lunch and demos. Botton left: Jay Scambio, Boyne Resorts, and Robert Hendricks and Jacob Huxman of Big Bear Mountain Resorts get ready to experience Utah Olympic Park's many aerial activities. Bottom middle: Deer Valley's Chuck English talks to attendees about the resort's new beginner and intermediate Gravity Logic flow trails in its downhill mountain bike park. Bottom right: SE Group's Claire Humber and Brad Wilson of Bogus Basin held forth on strategic capital deployment.
SANY-PSAA EXPO, HOLIDAY VALLEY, NY, SEPT. 19-21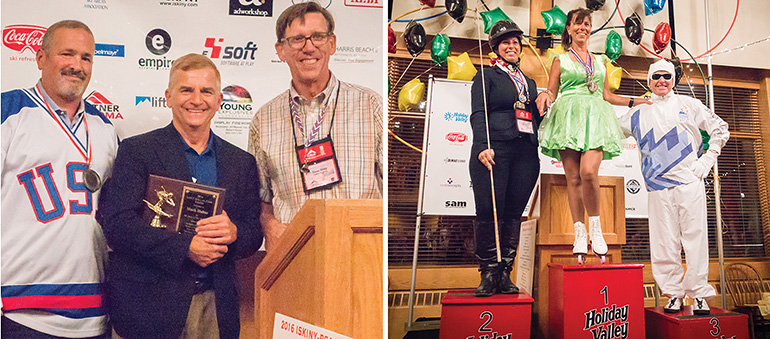 The annual SANY-PSAA Expo, Sept. 19-21, 2016, at Holiday Valley, N.Y., attracted more than 345 ski resort personnel, vendors, and guest attendees. Left: SANY president Scott Brandi (left) and SANY chairman Dave Riley of HoliMont Ski Area (right) present Mark Halter, formerly of Kissing Bridge, the SANY Ski Hall of Fame Award. Right: The expo's Olympic theme was played out in full (down to the passing of the torch to Camelback, Pa., the conference location for 2017).