SUNKEN LANES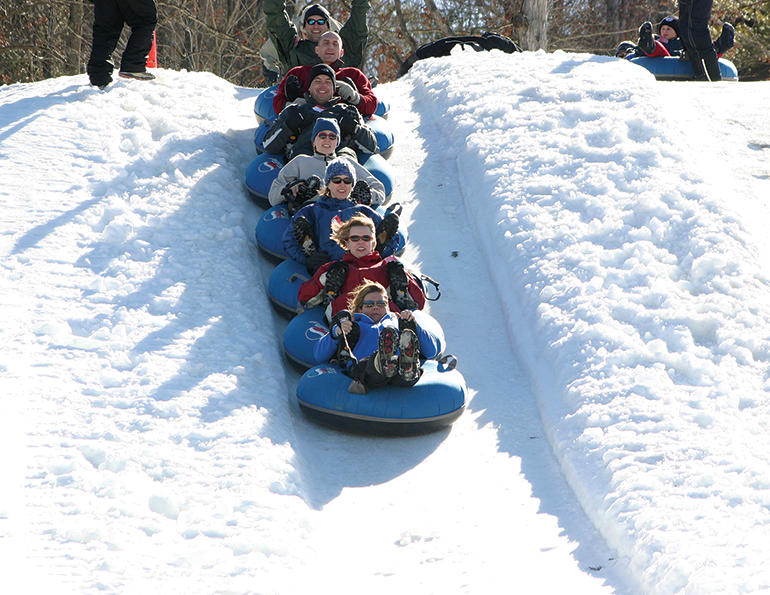 Implemented by Jay Roberts at Wintergreen Resort more than 10 years ago, this idea is still timeless and can be picked up by any resort, large or small. Ryan Locher, mountain manager at Bryce Resort, Va., recently borrowed this technique. "We took a straight tiller and cut it down to 52 inches. We also made a 52-inch steel blade that attaches to the main blade of the snow cat. This blade sits 16 inches below the front blade and allows us to cut a 52-inch lane, 16 inches deep, and the tracks of the snow cat ride at snow level," say Locher.
Nashoba Valley, Mass., will implement the idea this season using a tiller that was custom-built for it by Prinoth, along with its own retrofitted blade to carve lanes 52 inches wide, narrowed from 96 inches. That reduces berm-to-berm width from 14 feet to 9 feet, allowing room for roughly 50 percent more lanes.
SAFE CLEARING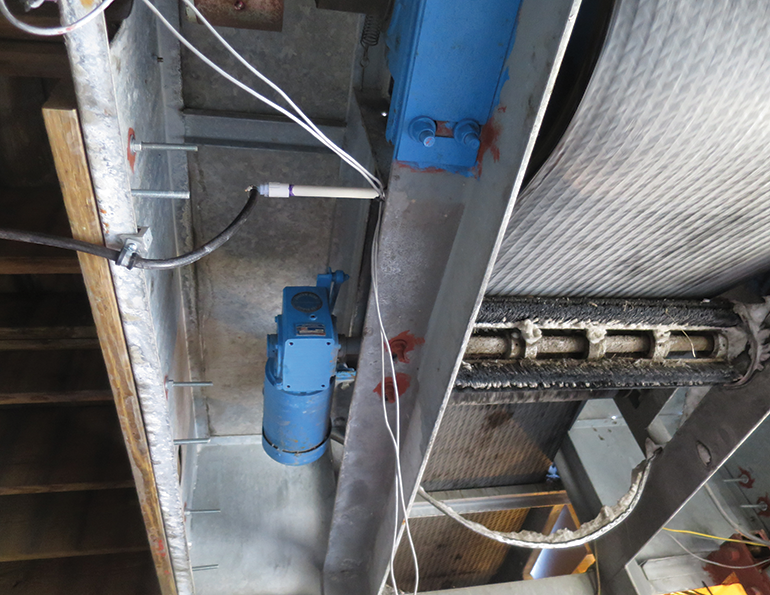 "With the extreme cold we've experienced over these last few winters, we have been dealing with ice issues on the underside of our conveyors. We were using regular pump spray bottles for de-icing, but devised an easier solution for about $200 in parts, a spare 12-volt battery, and charger. We mounted the spray bar a few inches back from the head pulley, with four holes to cover the whole drum. It simultaneously de-ices the belt going into the pulley and out and from there transfers de-icer onto the G.T.U. pulleys. With a one-inch return line back into the tank, and flow valves on both the spray and return, we can run it continually for about an hour with a 25-gallon tank. We mounted a stop button control for it from one of our lifts and can now safely walk in, push a button to run the de-icer, and not have to climb around all the machinery."
—Tim Bayer, Lift Maintenance Supervisor, Camelback, Pa. Now the lift maintenance crew can get the beginner areas up and running, regardless of the temperature.
PLUGS DO IT ALL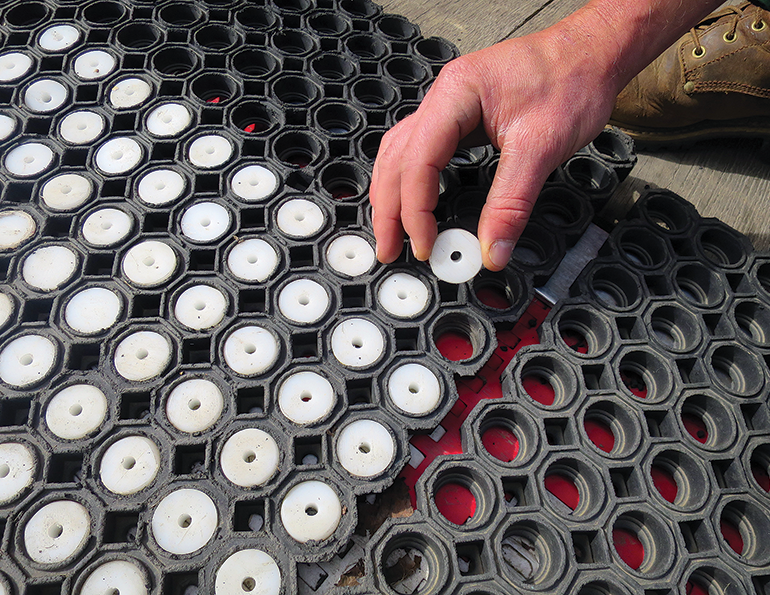 Rubber mats are nice at summer chair lift load areas except for two problems. One: They grip a person's foot when loading, and mountain bike clip-ins can get caught, making loading a hazard. Two: it's hard to mark a "load here" location in the rubber. To solve both problems, Stan Young, Bryce Resort, Va.'s ambassador-at-large, came up with an idea to cut USB 40 poly (the same stuff used for terrain park features) the size of the holes in the rubber mat. A hole saw blade installed in a drill was mounted in a drill press, and bingo, a bunch of "plugs" made in a short time. The white poly plugs mark the loading point and make bike clip-ins and shoes slide when the chair scoops up the rider.