Table of Contents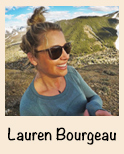 Lauren Bourgeau
Marketing Project and Content Manager, Sun Valley Resort, Idaho
Age: 29
Hometown: Ketchum, Idaho
Words to live by: "Life moves pretty fast. If you don't stop and look around once in a while, you could miss it." – Ferris Bueller

Lauren Bourgeau aims to "push Sun Valley into the future" while still maintaining "that message of history, tradition, and authenticity." Her roots in Sun Valley are deep—it's where her mom was born, and where Lauren grew up skiing. Her affection for the area is obvious. Lauren started working at the resort three years ago, after obtaining her degree in business and marketing from the College of Idaho and taking some time to work and travel in Australia. She says it's "kind of the perfect fit."
What is your favorite job perk?
I love living and working in a place where people love to vacation. And I love the opportunity to be able to ski. It's really easy to just head out in the winter for a couple of laps and still make it into the office for the day.
What's a hot button topic in your department right now?

We are constantly working on new ways to push Sun Valley into the future, through the technology we invest in, our presence on social media platforms, the voice we use in our brand, and trying to nail down what our brand means in the industry and what it means to our customers. We are really just trying to engage that new market of Millennials as the Boomer demographic continues to age.

How do you see resorts tackling the issue of catering to Millennials in the next 10 years?
I think collaborative ski passes, which many resorts offer, have been a pretty good answer to try to encourage more skiers back onto the hill and encourage new skiers into the industry.
And we want to encourage more international visitors, who have the means and the time to travel. During our slower season in January, when not many people from our key market in the States are coming to visit, that is a big time for Australian travellers—they have a holiday during that time. So, we are gearing ski packages toward them to encourage them to book a winter ski destination vacation in Sun Valley.

Tell me about a marketing initiative you've worked on that's been impactful.
We utilize Salesforce Marketing Cloud, and it gives us the ability to really dive into our data so we can see our customers' buying patterns. We get a 360-degree view of the customer. Do they rent skis with us and take ski school lessons every time they come? Are they staying at our property? Being able to delve into that data and really understand who we are talking to has helped us to reengage customers that have been sitting stagnant for a while.
What do you think is the next marketing frontier for ski resorts to conquer?
Mobile platforms—being present where it is convenient to the consumer.
We find that a lot of our consumers are digesting their Sun Valley content via mobile devices, so we want to be accessible to them through that device. We are working on geotargeting and setting up beacons around the resort. So if a guest steps into the base mountain lodge, maybe he or she gets pinged with a message on their mobile device that welcomes them to the lodge and lets them know what the ski conditions are that day. We are trying to enhance the customer experience while they are on resort property as well as pre- and post-stay.