Table of Contents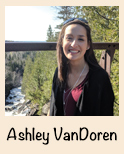 Ashley VanDoren
Human Resources Coordinator, Lutsen Mountains, Minn.
Age: 23
Hometown: Lutsen, Minn.
Words to live by: Believe in yourself, dream, try, do good.

Ashley VanDoren excels at Excel. She has created and operates a massive spreadsheet that allows her to optimize the scheduling of Lutsen Mountains' entire staff. But she isn't just at the computer; she's also got her boots on the ground. Ashley understands the resort on the macro and micro levels. A Lutsen native, she grew up in Lutsen's "blink and you've missed it" downtown. She moved to Duluth for college, but after graduating Ashley came back to the resort, where she now enjoys getting out to ski on those quiet spring days and taking season pass photos for familiar faces.

How did you get into the industry and what keeps you here?
Lutsen is one of the bigger employers here in Cook County. I was in high school when I started, and I was just working at the front desk as a summer job. When I came back from college, I was looking for something that was more of a profession. I worked with our group sales director. And I grew within the company and found my way into human resources.
I really like how different everyday is. Here at Lutsen we have both a winter season and a summer season. And the people I work with are great.

What's a hot button topic in your department right now?
A big topic on my end is visas—H2Bs, J1s, that kind of thing. It keeps me on my toes with the different laws, different applications and all the stuff that keeps changing. It's something we have to address each season because, with this being a seasonal business in a rural area, a lot of times we need that extra help during our peak seasons.

Tell me about the scheduling matrix and staffing templates you developed.
What I spend a lot of my time doing is pumping in equations and seeing what they churn out for staffing. I have a lovely, humongous Excel spreadsheet with each of the departments and then equations in there to trigger staffing numbers. It is all varied in there by department and based on past data for that day of the week or that holiday period. I focus on that to create our centralized schedule here because we have a lot of people who work in and out of different departments.

We have people who are cross-trained and willing to go to our food service for lunch because that is where clients are now, and then they go back to their primary department at the end of the day. In this area, not everyone wants to drive 20 miles to come in for a three- or four-hour shift in the ticket office to then drive home. We play on that to both fill our needs and make sure we are adequately serving our customers and fulfill an employee's expectation for his or her workweek.

You also jump between departments at peak times—what are the benefits?
From a scheduling standpoint, it is really important for me to know what these departments are looking like and what the traffic looks like. And one of the things my dad taught me is that "You cannot ask someone to do something you aren't willing to do." So I want to make sure that I am willing to do that half shift that I am asking someone to do, or I am willing to move across departments as I am asking these other people to do