Table of Contents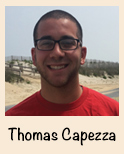 Thomas Capezza
Mountain Operations Supervisor, Mount Peter, N.Y.
Age: 25
Hometown: Warwick, N.Y.
Words to live by: The only person you should try to be better than is the person you were yesterday.

Back when he was 12 years old and working at Mount Peter in a very unofficial capacity, Thomas Capezza used to accept food as payment. Now, as a full-time, year-round mountain ops supervisor, Thomas is more official, but he still loves the food. Thomas grew up near the mountain in Warwick, where he likes being close to his family and appreciates the small-hill, family-friendly vibe at Mount Peter. While he's skied all over the place, there is nowhere else he would rather work.
What is your favorite job perk?
I love my bacon egg and cheese in the morning. The café staff is awesome. They treat us mountain ops guys really well. We get an excellent discount on food.
How did you get into the industry and what keeps you here?
I love to ski. I learned how to ski at Mount Peter. I've been skiing since I was three years old. My mother got a job at Mount Peter, and I started going to work with her. At the age of 13, I started working in rentals as a boot kid. When I was 17, I became the rentals manager. At about 20-years-old, I started helping outside as a mountain ops guy. Nowadays I work on the ski lifts and make snow, that kind of stuff.
The customers are what keep me in the industry. And I love the cold weather. I'd rather it be winter than summer.
What do you think is the biggest issue facing the industry?
Insurance companies and what they try to make you do, especially in rentals. They are pushing for more safety regulations. In New York, the helmet law is a big thing right now. How do you patrol your hill to make sure that kids are actually wearing helmets? And in mountain operations, what you have to pad and not pad, and rope off, and provide signage for—that is becoming more of an issue. Instead of laying fault with the customers, it is always the person at the ski area's fault.
How do you manage these safety regulations?
For us, we make sure we abide by everything they ask for and then go a little beyond that to cover it. And then we perform routine maintenance on everything. Mainly lifts for routine maintenance, to make sure everything is up to code and working properly.
I hear you enjoy learning and implementing new things—what is something new you learned at the mountain this year?
I started to learn how to groom. It is one of the things I've always wanted to learn. We only have one groomer—he's excellent. I've done a bunch of rides with him over the winter while I make snow, and he's been teaching me how to groom and push snow.

Mount Peter doesn't have summer operations, but you are full-time, year-round. How does your role on the hill change depending on the season?
I'd say it's a little more relaxed in summer, but it really isn't. Instead of dealing with customers, I am more of a mechanic. I do a little bit of everything. My job covers such a broad range because we are such a small mountain. I get the best of both worlds. I wish we could make snow all year round, though.