Table of Contents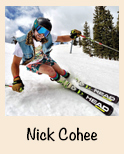 Nick Cohee
Director of Skiing, China Peak Mountain Resort, Calif.
Age: 29
Hometown: Gardnerville, Nev.
Words to live by: "Our greatest glory is not in never falling, but rising every time we fall." —Confucius

If you ask Nick Cohee how he got into the snowsports industry, he'll laugh and tell you he "had no choice." His father, Tim Cohee, has been an industry professional longer than Nick has been alive. But Nick has embraced his fate. He had an impressive ski-racing career that took him all over the world, and after Nick hung up his GS skis at 26, he joined his father at China Peak. "The gear shift to the operational side was a natural transition," says Nick. As China Peak's director of skiing, he does "a little bit of everything," especially marketing and events.
You're often the talent in China Peak's video content—what makes for a compelling marketing video?
It can be a lot of things, but the most important element is the story. That can mean your trip up in the morning—going to your local coffee place, getting up to the mountain, pulling your skis out of the car or off the rack, and going and having a good day—to that extreme, deep, deep snow with big cliffs and back flips. There is always a good story to be told.
Tell me a good story.
Last year, we were setting up for a race, and my buddy was riding with Andy Finch. Andy was an Olympic halfpipe skier—grew up in Fresno, lives in Truckee now—and China Peak is his home resort. We linked up, and [Finch] basically showed me all the nooks and crannies and all the natural features. It was a great day.
What do you think is the biggest issue facing the industry?
Retention, for sure. We spoke about it at the NSAA meeting last year. The skier visitation number has flatlined and/or declined over the last ten years, and it is important that we grab the market share and that we keep reinventing ourselves and stay relevant in the action sports industry.
How do you see resorts tackling retention rates in the next decade?
I think just staying relevant and reinventing ourselves, getting creative with terrain. I sat in with Snow Park Technologies—they did a retreat. We are not building huge things in terrain parks anymore. I think it is important to cater to the "dad park."
The Millennial market is the biggest population in the world right now, and these Millennials are having kids. So maybe get creative with learner-based terrain and fun flow-y parks. Mountain biking has been doing really well over the last couple of years with building parks and really catering to every rider.

What are your thoughts on mountain biking?
China Peak started putting on the California Enduro series a few years ago, and we are considered the crowd favorite. Mountain biking is one of the fastest-growing sports right now. It's something that the ski industry should really pay attention to. We should decide whether we're going to jump on board and invest in our mountain bike parks and extend our mountain bike season.

What's a hot button topic in your department right now?
Drones. China Peak has a firm drone policy, however we regularly see people abusing this policy. They sell some of the top-of-the-line drones in Costco now. You can get a drone for $300 or $400. Everybody wants to be a hero and get a cool shot of themselves skiing down their favorite mountain. On one side, you have risk; on the other side, you have free marketing. If you're going to fly a drone without permission, tag us!
So that's a hot topic. Drones or dogs. Everybody wants to ski with their dog now. We allow dogs, but they must be on a leash and accompanied by their owner. Dog-friendly businesses are on the rise. I'd love to see the resort offer "dog days" in the springtime, or maybe even some uphill skiing events that are dog friendly.