Table of Contents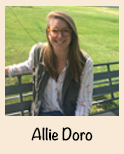 Allie Doro
Director of Snowsports, Holiday Valley Ski Area, N.Y.
Age: 28
Hometown: Ellicottville, N.Y.
Words to live by: Have patience. Be kind. Find a way to laugh.

Allie Doro's nametag reads "Boss Lady," but she really wants one that says, "Leader of Fun." A former NCAA Division I rower and an avid skier, Allie followed her passion for snowsports to Steamboat and Aspen before returning east, to her hometown, where she is climbing fast as a new member of the PSIA-E Development Team and the director of snowsports at Holiday Valley. At the resort, Allie strives to foster an environment where "you can laugh at yourself" and people are excited to come to work everyday.

How did you get into the industry and what keeps you here?
I don't even remember the first time I skied. My whole family grew up skiing—I'm one of six kids. I think what has kept me in it the most is continuous learning. It is one of those sports, like golf, where even if you think you are good, there is always something you can get better at. It's fun to always be learning. It keeps things fresh.

You recently made the PSIA-E Development Team—how does this support your role at Holiday Valley?
I want them to see me struggling and achieving successes.I hope it leads to inspiration for my staff to keep pushing their skiing and riding, teaching, and understanding of their sport. I want to be in it with them, fighting to improve as they go through their certifications.

How does a strong snowsports school support a resort?
One of the biggest misconceptions people have about ski schools is that they just teach you how to ski. I would love to see the trend move to, "Everyday, I could go with an instructor and get better and look at the mountain in a different way." A snowsports school can support the mountain by encouraging guests to look at the mountain differently every time they are on it, always creating excitement and a new experience for clients every day. We are not just here to teach you how to put a ski or snowboard on your foot for the first time.
What is your favorite job perk?
I really like getting to know the insider perspective on what products are coming out. I have worked with a couple different ski companies, and I really enjoy seeing what the next big trend is.

What's a hot button topic in your department right now?
I see a lot of people hiking back east, which I hadn't seen as much in the past. There was a big uphill action when the resorts closed and lifts stopped running. And all winter, a lot of the locals will hike up before the lifts open. That was really cool to see. It's a local camaraderie thing. In a town where we are so guest-centered, it was nice to see us treat ourselves to a little bit of fun in the morning.

What do you think is the biggest issue facing the industry?
These pass package deals are a huge part of how people are connecting with the ski industry right now, and we need to make sure we are looking at that trend and trying to figure out the best way to respond to that.
What do you talk about over après beers?
We are ski geeks. Of course we all go talk about skiing.
<