Table of Contents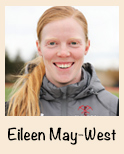 Eileen May-West
Program Manager, Wasatch Adaptive Sports, Utah
Age: 29
Hometown: Southington, Conn.
Words to live by: Be fully present in each moment; it's the only one you have.

After an internship with US Paralympics, Eileen May-West realized she wanted to build a career in adaptive sports. A collegiate lacrosse player, Eileen coached lacrosse while earning her Masters in Recreational Therapy. A summer internship took Eileen to Utah. She decided to stay and work with Wasatch Adaptive Sports for a winter. After 700 inches of snow fell that year, she made the move permanent. As the program manager for Wasatch Adaptive, Eileen facilitates year-round recreation for people with disabilities.
How did you get into the industry and what keeps you here?
A volunteer position with Adaptive Sports Partners of the North Country at Cannon Mountain [N.H.] was really my first experience with the ski industry. My main passion is for adaptive sports and helping people with disabilities find recreation passions. Wasatch Adaptive's main focus is independence. We teach skiing to people with disabilities. We don't really teach adaptive skiing. I love their philosophy.

What's a hot button topic in your field right now?
Adaptive skiing is growing like crazy, and more people are aware that they can come skiing. The hot button topic is how do we serve them? Is it by just providing a fun experience? Or is it by really teaching them how to ski independently?
What do you think is the biggest issue facing the industry?
Our early season lack of snow was a big challenge for our programs. And I think that climate change and shifting temperatures and seasons are something we are trying to plan for, in terms of what terrain we can use and where snowmaking is. And accessibility is always in the forefront of what we are doing.
How do you see resorts tackling these issues?
The best way to tackle any problem is to focus on what you can control. Whether it is technology or terrain improvements, or technology on the adaptive equipment side.
How do you view partnerships between ski schools and adaptive programs?
We really couldn't do what we do without Snowbird: we are housed here, they provide us an office, and they provide in-kind donations to us in terms of logistical support. But it is hard to see it as feasible for every ski resort in the country to have an adaptive program, just from a resource perspective. We also provide lessons at Alta and Sundance. And in the same sense, if there is a small resort nearby that is closest and easiest for someone to get to, us being able to travel there and support a client is huge. Ultimately, we want the access for people with disabilities to be as equal as possible to what you and I have.
What is something you would like people to know about adaptive sports?
The importance of universal design. There are people with disabilities that access every aspect of a ski resort. In your marketing materials, do you provide closed captioning for someone that is deaf? Or one example I like to give is, if you have a ramp outside your front door and stairs, why do you shovel the stairs first? People always say, "More people use the stairs." But the people that use the stairs can use the ramp. So, it is universal access to do the ramp first.
What is your favorite job perk?
Our students' smiles are pretty much all the reward I need, but getting to go on early trams at Snowbird doesn't suck, either.