Table of Contents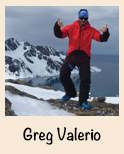 Greg Valerio
Bike Park & Mountain Sports Shop Supervisor, Windham Mountain Resort, N.Y.
Age: 29
Hometown: Windham, N.Y.
Words to live by: There is no limit on how amazing life can be; no best days, only epic moments that drive you to be humble, live deeper, and go further.

Greg Valerio recently won a trip to go backcountry skiing in Norway. That made him a little nervous because, well, he's a snowboarder. Greg started working at Windham at just 14 years old. After college he moved to Tahoe, and then left the snow to live in Hawaii where he learned to surf. Eventually, though, he made his way back to Windham. Now, he is full-time at the resort as the bike park and sports shop supervisor. Somewhere in all of this, Greg found time to learn to ski. And although he is comparatively new to alpine, he'll be clicking into a pair of planks for his trip above the Arctic Circle.

What brought you back to Windham?
When I left there wasn't a lot going on here. What brought me back was the growth in my hometown. More people are starting to live here, and the events the town puts on are awesome to see because they're bringing in so many people. There is an event that our local shop puts on called The Best Cyclist in the Universe. It is a three part cycling event: you do a downhill at Windham's bike park, a 30-mile road ride, and a 15-mile cross-country race on the community trails. I competed last year. It's a really fun race.

You're a local. How important is it for mountains to have a strong relationship with their local communities?
I think it is huge. When I grew up, the mountain was a huge part of my life. We had this program called Ski Tuesday, and that is what got me into the whole world of snow. I think bringing the community up into the resort is a great way to spread the word and get people hyped on the season. And a lot of people in the community have businesses, so they become marketers as well.

What do you think is the biggest issue facing the industry?
The biggest challenge is to keep up with the weather and what Mother Nature throws at us.
How do you see resorts tackling the issue of unreliable weather in the next 10 years?
Doing exactly what we are trying to do here—adding other interesting and exciting options outside the ski world. In the spring and the fall, you need to figure out other things to do with your facilities. A bike park is right up that alley. The idea is to bring in other streams of income in the off-season. I feel like a successful summer operation will make it less stressful going into the winter season.

What's a hot button topic in your department right now?
Trail expansion. Because we had our trails for the UCI World Cup already established, we decided to develop our expert terrain from the top of the mountain and gather those already experienced riders. We wanted to get them to come regularly. Now, we are expanding out to the learning terrain.
What is your favorite job perk?
My favorite parts of my jobs are on hill. In the winter, I get to go ski and test things for our demo center. In the summer, I have to get out there and see how the bike trails are breaking in and what maintenance we need to do.