HOLIDAY VALLEY, MY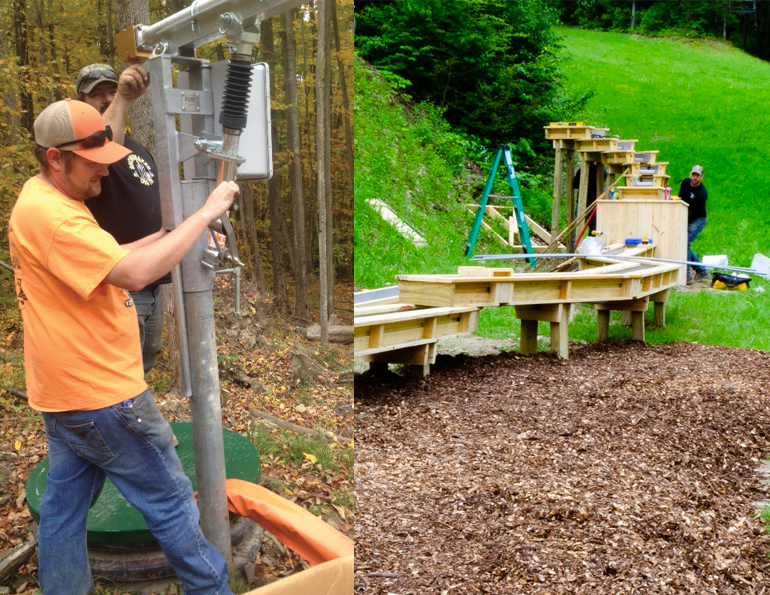 Holiday Valley is in the midst of a $3.2 million upgrade. Highlights include expanded automated snowmaking, a conveyor lift on the beginner terrain that replaces a handle tow, and slope work including several "tree trails" for kids and a new shuttle van. Summer projects at Sky High Adventure Park include a Tarzan swing on Riptide in the Aerial Park, and creation of the Happy Holiday Gem Mining Company at the base area for Sky High. HV dedicated $250,000 to automated snowmaking improvements. Holiday Valley has been installing HKD Klix automated snowmaking since 2011 and expanding the system each year, creating one of the largest and most powerful automated systems in the East. The Klix system's weather stations monitor temperature and humidity so the guns can automatically and individually adjust to changes, producing a better quantity and quality of snow while using less energy. Trail crews are cleaning out downed trees and branches in the woods between the slopes this summer to increase opportunities for gladed skiing and riding. They will also be creating "Tree Trails" that wind through the woods designed to give kids (of all ages) fun adventures off piste. For 2019, HV is planning to develop a Family Golf and Fun Center, to include mini-golf, video games, a snack bar, and other family friendly activities.
COCKAIGNE, NY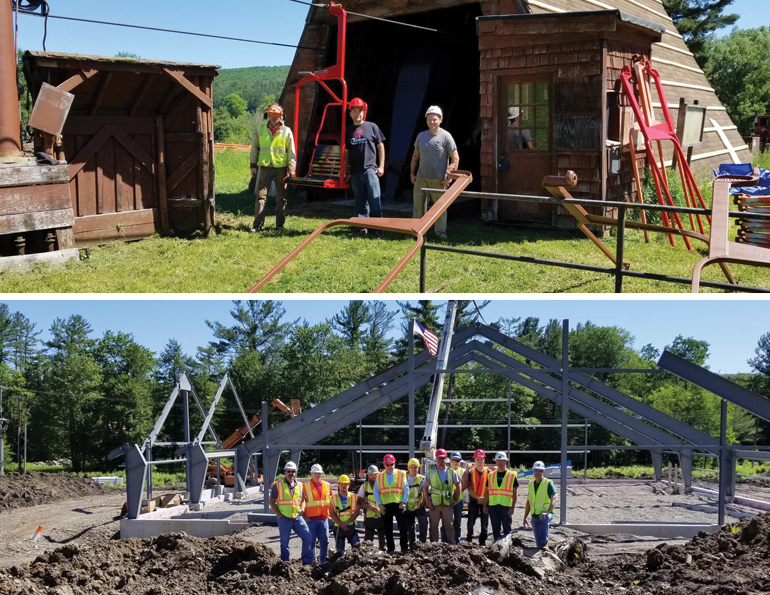 Seven years after a fire destroyed its base lodge and led to the resort's closing, Cockaigne is poised to reopen. New owners are transforming Cockaigne into a year-round destination with music festivals, concerts, and other family activities in summer, which will complement skiing and riding, tubing, snowmobiling, and more in winter. Cornerstone is a new 10,000 sf base lodge, relocated to the beginner area to ease access for newcomers. While it won't have the iconic stature of the original—which served as the Austrian Pavilion at the 1964 New York World's Fair—it will have a modern, rustic look that fits with the A-frame style of the resort. It will house rental, retail, ski school, cafeteria-style restaurant, and full service bar. Ski school and rentals will be side by each, so instructors can easily help with the rental process, and the beginner area is right out the door. A 3,000 sf outdoor stage is nearby. In addition to servicing the resort's existing three Hall chairlifts and a J-bar, the area is adding a beginner-area conveyor lift, a 10-lane tubing hill with its own conveyor lift, and adding 8500 feet of new snowmaking pipe along with 30 new hydrants and 10 new fan guns. The multiple snowmaking pump houses will also be getting a face lift, rehabbing the pumps and giving the buildings a new look. Crews are clearing a new terrain park slope. Last but not least, parking lots and the water system are being updated. The area will also offer access for snowmobiling in winter and mountain biking in summer. A campground with 380 sites, including hookups for RVs, is also in the works.
SNOW BASIN, UT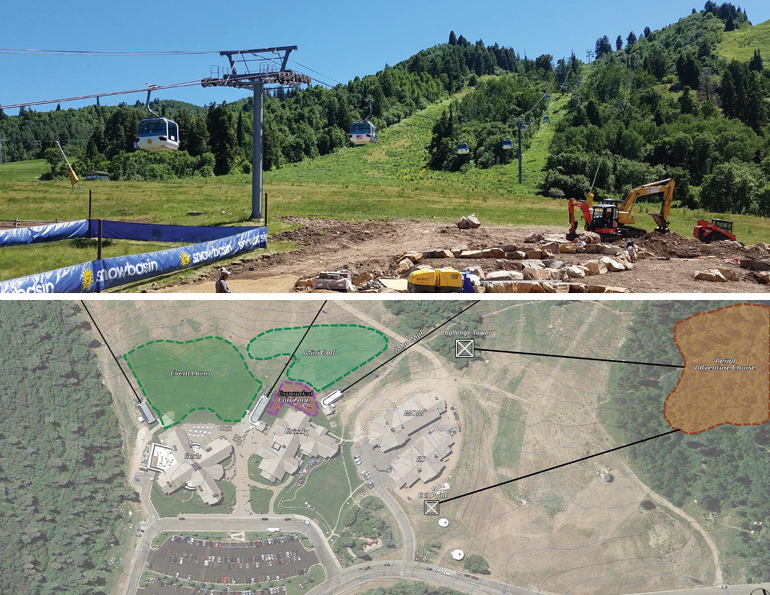 SNOWBASIN, UT The area is adding a slopeside mini golf course and kids' adventure course to its existing summer operations to increase options for families and corporate groups. Construction will also begin on an adventure trekking tower and an aerial adventure course, expected to open in summer 2019. The miniature golf course will be located in the base area between the Needles Gondola and John Paul Express loading areas. Its 18 holes are terraced into the hillside and landscaped to blend with natural flora. In the winter snow will cover all retaining walls and holes, as the placement is an active ski run. The course location is adjacent to Snowbasin's summer concert venue and also abuts the kid's adventure zone, which consists of a challenge course, a 4x bungee trampoline, and an auto belayed climbing wall. The Kids' Challenge Course will feature six small elements intended for ages 4-8. The larger aerial trekking course, developed by Bonsai Design, will be located near the base area in the woods. A zip line entry to the aerial course will start from an approximately 70-foot tower located just uphill from the base area. The course will have three ability levels, with multiple zip lines, more than 15 unique high rope elements, viewing platforms, and suspension bridges. It will also incorporate a 930-foot racing zip line exit from the challenge course that terminates back in the base area.
POWDER RIDGE, CT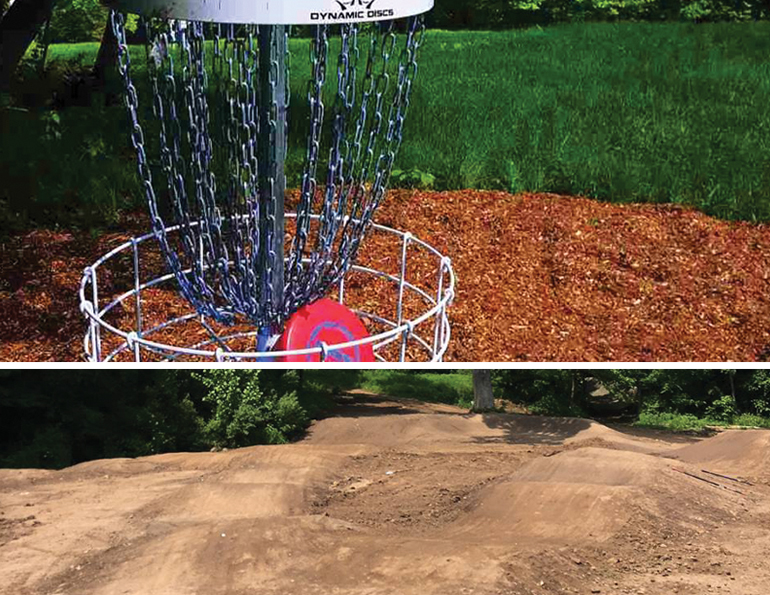 Powder Ridge Mountain Park & Resort aims to have southern New England's most complete mountain bike park, one that will engage every level of biker and many different disciplines. Facilities at buildout will include at least 10 lift-served downhill trails—three of them new, the rest expanded and upgraded—plus a 50,000 sf beginner skills area with berms, rollers, rock garden and features, a BMX/dirt jump park area with three lines over 750 feet long, and a pump track. Dirtsculpt LLC is handling the design and build. A rainy spring delayed work until mid-April, when revamping existing trails began. By early June, four flow trails and two rake-and-ride trails were done, and the jump line was ready to debut. By late September, the seven original trails will be transformed into all-level, rider-friendly flow trails, with both wood and dirt features on all, ranging from berms and jumps to wall rides and drops. The three new trails will include one each for green, blue, and black level riders. The resort will offer both group and private lessons and is expanding its rental fleet. Powder Ridge CEO Sean Hayes says, "We are an urban ski area, we're trying to get the population back into some of these sports." The expanded bike park complements the area's other summer activities: tubing, skiing and riding on 365 Synthetic Snow, a new 9 hole lift-served disc golf course, and two new 1,400-foot racing zip lines.
SNOWBIRD, UT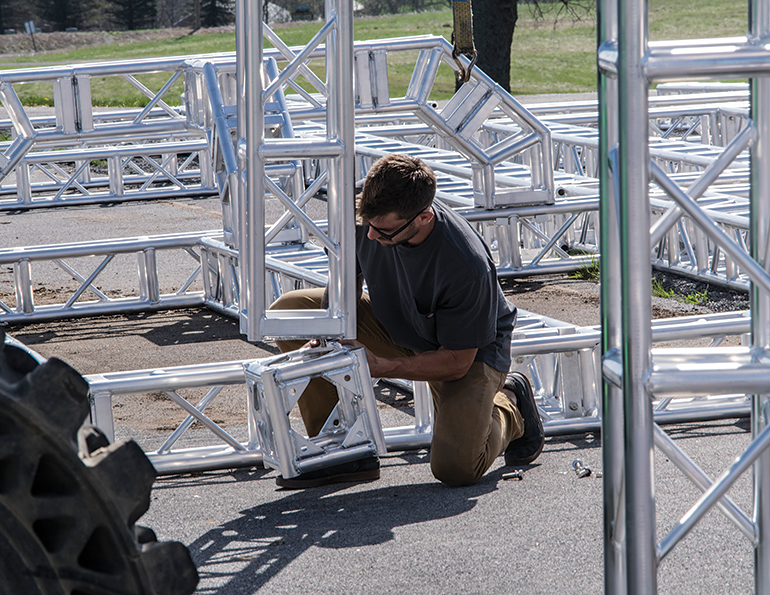 Snowbird is adding a Woodward WreckTangle, an outdoor ninja obstacle challenge for both kids and adults, and summer tubing to its already diverse summer activities. The WreckTangle, located at the Pond Lot at the Snowbird Center, includes 10 obstacles, ranging from balance beams and rope swings to a half pipe and more. With its sound system, brushed aluminum towers and black and yellow interior, the elevated 100-foot x 50-foot course is highly visible. It can challenge or accommodate a wide range of ability levels, and suits individuals, families, and corporate teams. In late June, the new Summer Tubing hill was to be installed on the Chickadee slope, right outside the Cliff Lodge. It will use a Neveplast surface, with a conveyor lift to return tubers to the top.