Table of Contents
BREAD & BUTTER

1. TRANNY FEST SPRING PARK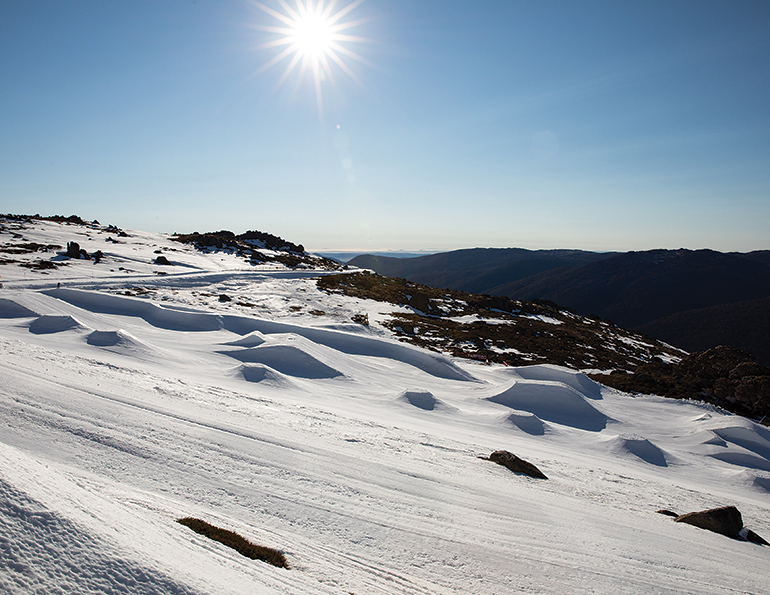 The Tranny Fest Spring Park at Thredbo, Australia, was originally built for a snowboarding event. Once the event concluded, everyone from "grommets to grandpas," skiers and snowboarders, dove in to ride it, so the resort kept the park up for the last three weeks of the season. The setup consisted of three transition zones: a main bowl and transition area, a boob/nipple/volcano zone, and a roller/side hit zone. For the main bowl, four cats spent a day farming snow. Two park-cat operators then worked for five days shaping and building the other two zones, and an excavator spent four of those days shaping the course. Six hand-shapers spent five days polishing all of the transitions. The unique setup allowed terrain park newbies to learn how to ride transition and generally feel comfortable in a terrain park. Core park rats and elite snowboarders and skiers loved it too, taking on different lines, gapping and going huge.
2. BOX OF MAPS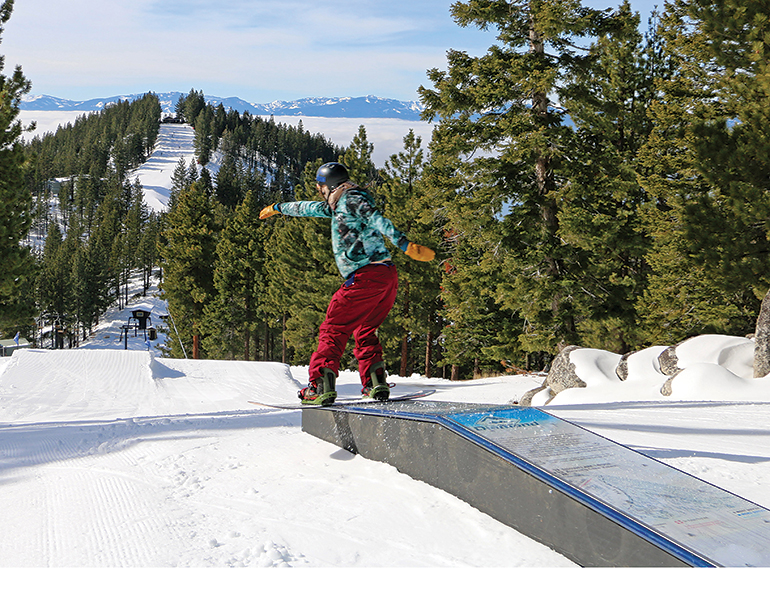 Diamond Peak, Calif., debuted its Lakeview Park on Jan. 30 last season with all-new features built by the resort's slope maintenance team. Matt Melilli crafted this 15-foot flat-down box, using recycled trail map boards underneath the clear Lexan slide surface. This reduced waste and gave the feature a one-of-a-kind look. It was one of the most popular features for all abilities. Use of repurposed materials was one of many practices that helped Diamond Peak become STOKE Certified for outstanding sustainability initiatives, and one of the two U.S. resorts to achieve this certification. Rider: Ryan Petrocco Photo: Jaclyn Ream
3. HAND-SHAPED MINI PIPE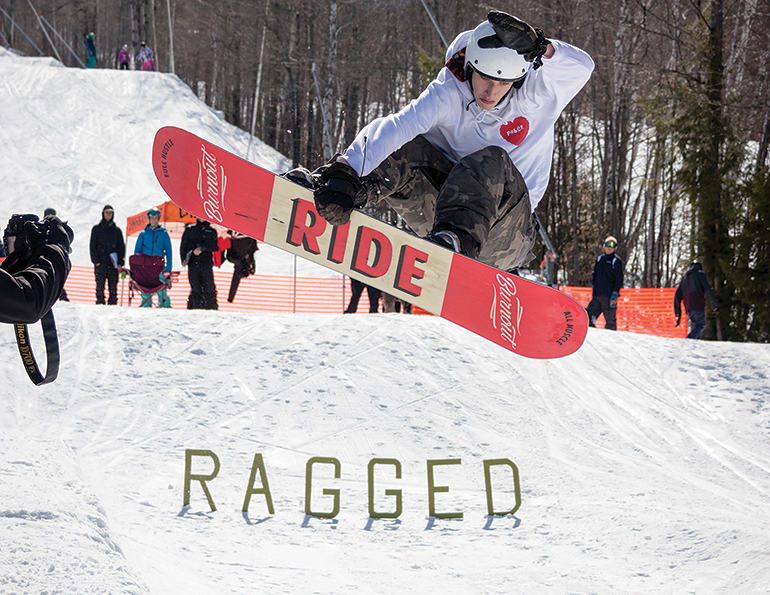 Ragged Mountain, N.H., built a hand-shaped mini pipe for its throwback Back In The Day halfpipe snowboarding event. It quickly became the most popular feature in the park thanks to its approachability for novice park-goers and fun factor for core park rats. The best part, says Ragged's Ben Hall, "has been watching the progression of local kids over the past few seasons as they've made their way from the very first drop-in to sending it above the lip." The pipe is roughly 7 feet tall, 200 feet long, and 35 feet wide from lip to lip. The build takes the park groomers and staff about four days. During the first two days a Prinoth Bison X shapes the decks and flat bottom. Then a rope line set along each lip guides a chainsaw cut with relief cuts every foot or so. Finally park staff with flat shovels, rakes, and transition shovels works the snow from the lip to the flat bottom where it's cleaned up with the cat.
4. ROLLER SNAKE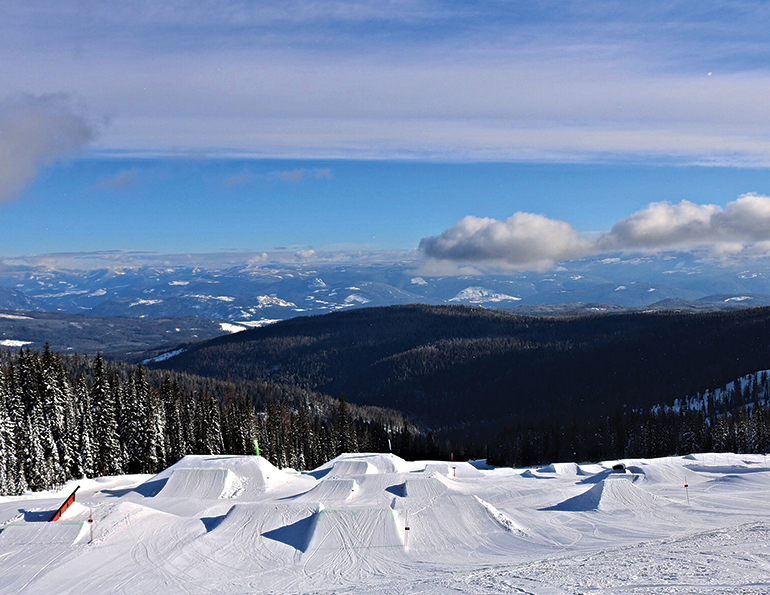 In a typical winter, the crew at SilverStar, B.C., farms snow from an area between its large park and its Peanut Park for beginners. With last season's record snowfall, this area was ripe for building., too. So, along the fence line between the two parks, the crew built mirrored roller/snake lines—with the bigger line in the big park. Terrain park manager Paul Kenward says this allowed friends and family of different abilities to ride side by side on suitable features, and people who normally avoided the park lined up to enjoy it. "This gave me and the crew a new perspective on park building, and a greater desire to build more features that will bring newcomers to the park," says Kenward.
5. THE PINBALL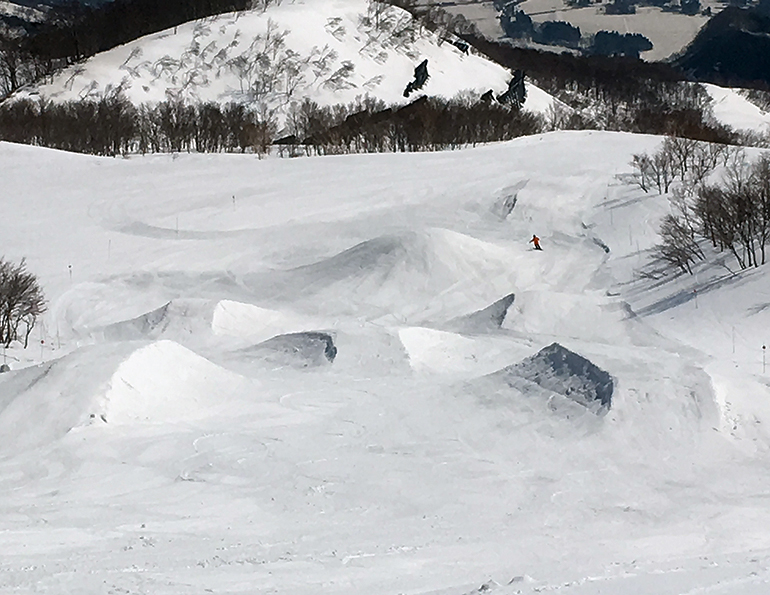 The Pinball at Area51s in Japan's Mitsumata area is built annually to cater to all levels of skiers and riders—from "alpine skier father to freestyle snowboarder children," says builder Katsuhiko Yabe. The park flows down what Yabe calls a "liberal line in snowball Pinball." It has four banks, a 36-foot kicker, mini-pipe, four hips, tabletop jump, butter table, volcano, wave, mini tabletop jump, deformation bank jump, and sidewalls. The build took Yabe three days in one cat, a total of 15 cat hours, to complete. Pinball was open for 64 days last winter, and thanks to its flow and consistent maintenance, Yabe reports not one guest was injured using the park.
6. KIDS PLAY PARK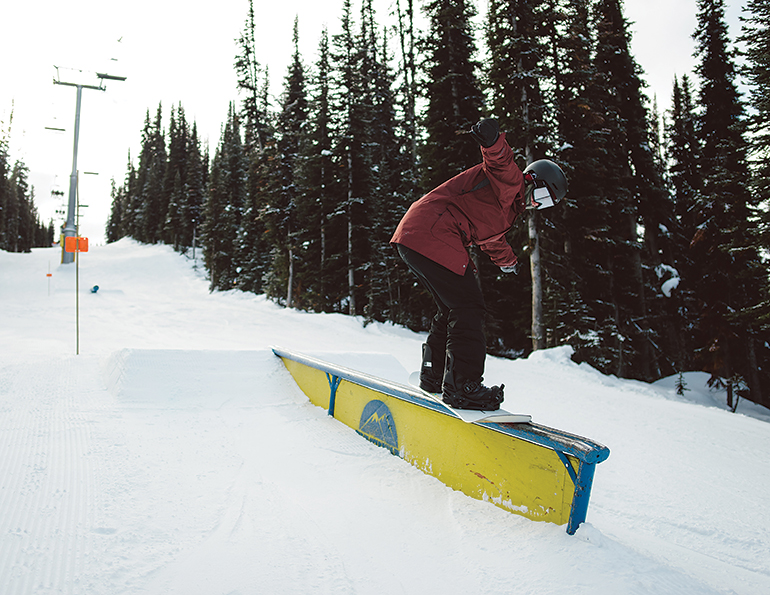 Sunshine, Alberta, was inspired a few seasons ago by the Terrain Based Learning discussion at Cutter's Camp to build its Kids Play Terrain Park—and it was a good decision. Located in Sunshine's Kids Play area, the park starts off with a few butter boxes and progresses into some small rails by the bottom of the run. It's sheltered from the elements, which makes it great for young skiers and riders, but even advanced riders like mini jibs. Sunshine also hosted the Nikita X Rude Girls ride day at the beginning of the 2017-18 season there. "Hands down the Kids Play Park has been one of the best additions to our terrain park system!" says park designer and builder Ben Suurallik. Photo: Jessika Hunter
7. ENCINO MAN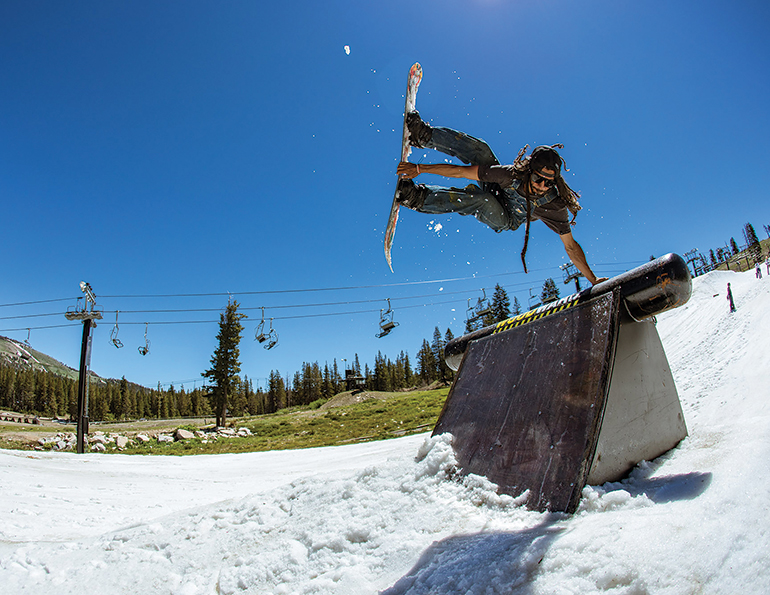 Encino Man was Boreal's (Calif.) most popular feature during the 2017-18 season. Any ability level can ride it with the same level of enjoyment. Encino Man is versatile, and used year-round—it's used for Woodward Tahoe summer camps, photo shoots, and was up all winter in the terrain park. The feature is a 4' L x 4' W x 4' H A-frame wall ride with a 10-inch round snowmaking tube on top as the coping. It took three days for Woodward fabricators to build it, and just 30 minutes to install. Photo: Mary Walsh
8. THE WHOLE PARK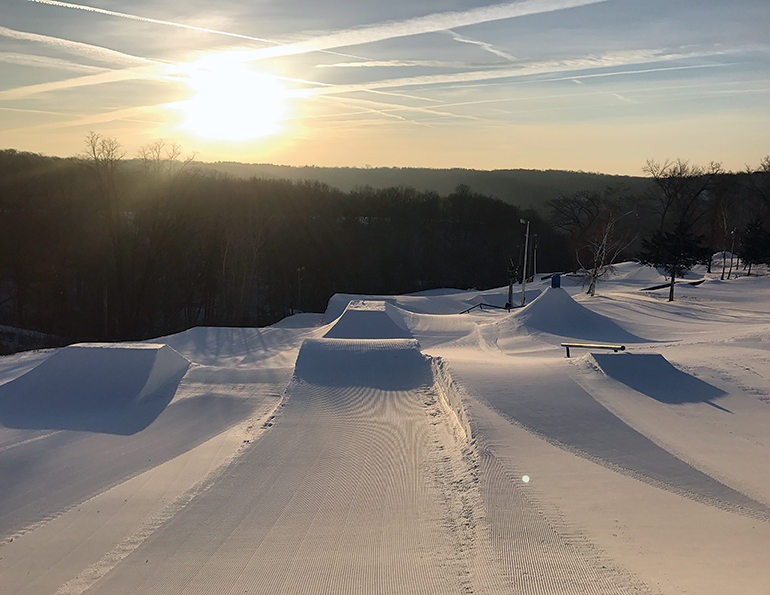 "I would have to say the new category was made for our park as a whole, it is pretty much the basis of our park layout as you make your way through it," says Dave Geary of Chestnut Mountain, Ill. One line is packed with straight intermediate/beginner boxes, rails, and jumps. Start just a little further over one way or the other, and riders can weave around the park that is full of side hits, bonks, and hips for the more advanced set. The hip at the bottom of the run gets the most use out of everything, because everyone can hit—beginners can take it up a couple feet, and advanced riders can send it over it. Geary says it's a fairly high maintenance feature, "but if you spend a half hour every night tuning it up with the cat, it is good to go."
9. DOG HOUSE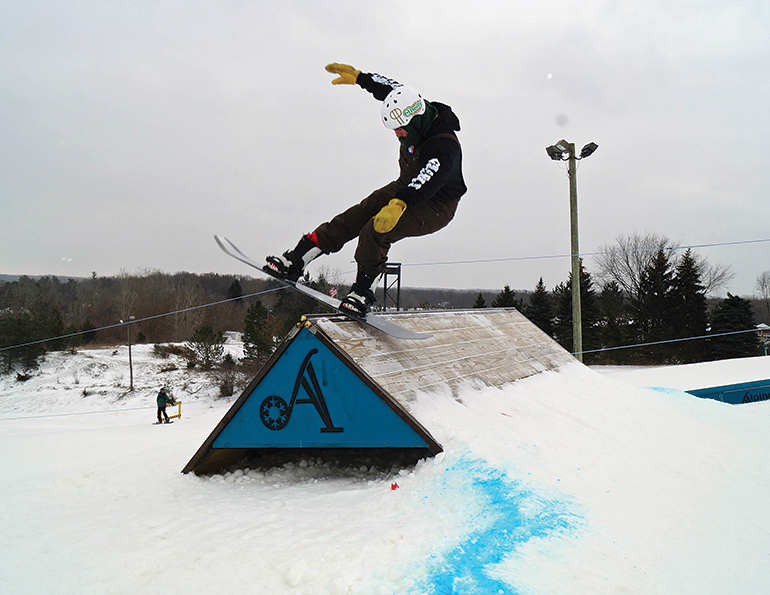 The Midwest park scene is legit, thanks largely to easily accessed parks with a variety of features that all can hit. At Alpine Valley, Mich., marketing and freestyle terrain director Brian Snabes took 8-10 hours to build this doghouse out of 1.5-inch square tubing and angle iron for the frame, and treated wood decking for the sides. The result was a 12' W X 3' H feature that would make Snoopy howl for more laps. Snabes says it was by far one of the park's most popular features, drawing everyone from Midwest pros to park newbies. Rider: Eric Finn Photo: Brian Snabes
10. BURN RUBBER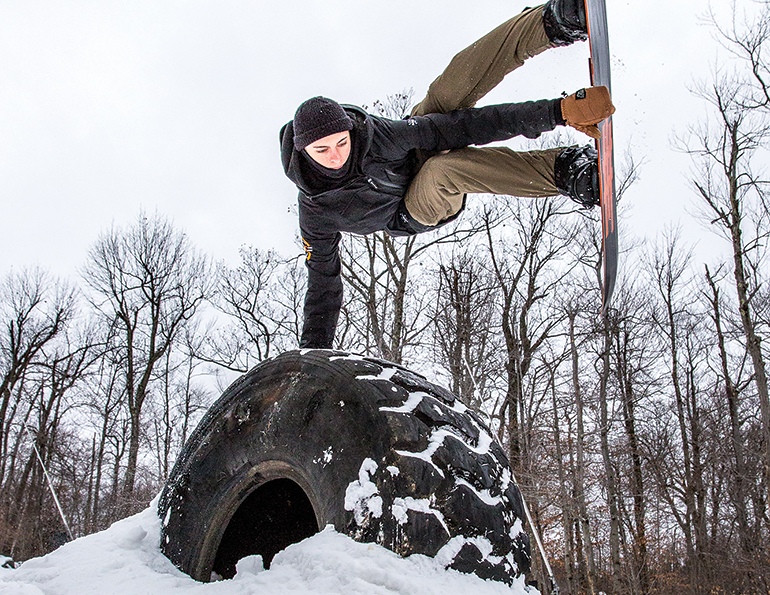 Most ski areas have a few worn-out loader tires lying around from seasons past. Most folks see it as trash, but the Wachusett Mountain, Mass., parks crew saw treasure, and turned some weathered rubber into a fun new park feature. Build costs were virtually zero, other than time to install a 33" x 12" tire on the mountain, which was done with one cat and a few members of park staff. The tire bonk has become a crowd favorite because it stands out, can be set up a variety of ways, and is approachable for all levels of skiers and riders.
11. MEGA RAINBOW BOX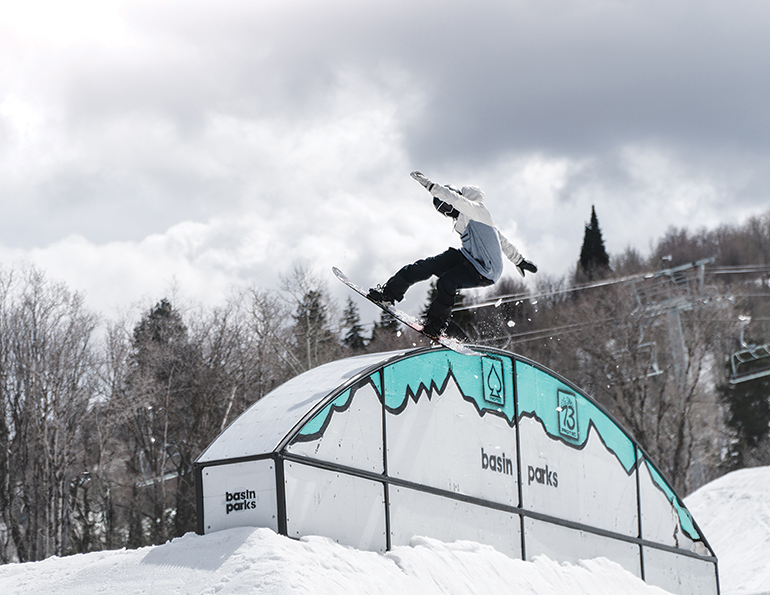 The most popular feature in the terrain parks at Snowbasin, Utah, is the medium-sized Mega Rainbow Box, which delights kids as young as five and adults up to 65 years old. It is 30 feet long, 2.5 feet wide and 7 feet tall at the peak. That may sound big, but according to Snowbasin's Megan Collins, the wide travel path makes it less intimidating, and novice park riders can easily go straight over it. It took the staff three days to build and has been included in the Basin Parks setup for the last four seasons. Inspiration came from the "double rainbow" viral Youtube video, and also witnessing a double rainbow over the mountains at Snowbasin.
12. PIPE FOR ALL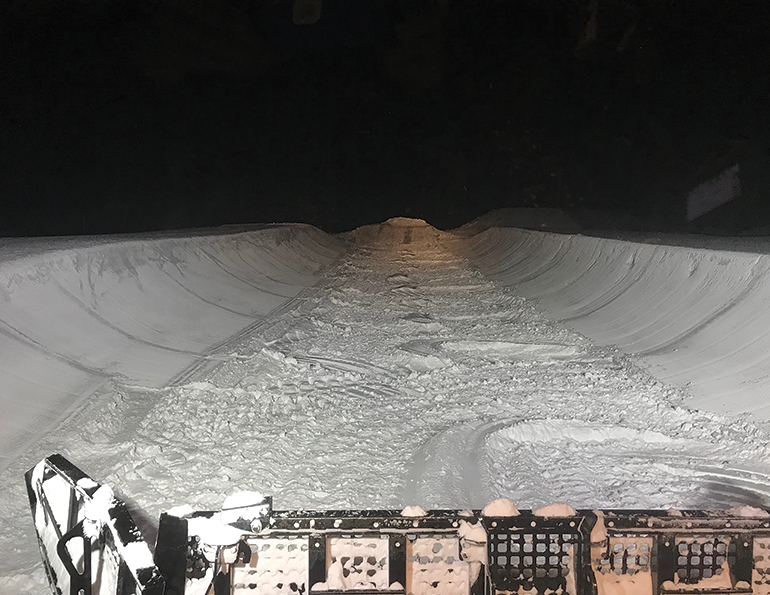 Big Sky, Mont., no longer has a pipe cutter, but that didn't stop the park crew from building a 110-foot-long, five-foot-tall mini pipe. Two long chainsaw cuts at 75 degrees and 12 hours time in a PistenBully Park Pro was all they needed to bring this one-size-fits-all creation to life. Terrain park manager Adam West says, "This mini pipe has been a huge addition to our mountain." Located in a medium park in the base area, the pipe has quickly grown in popularity, overtaking the small jump-line as a favorite among families and park regulars, whether they are "keen to pop and press, or just looking to make turns on the steep walls," says West. West did the cat work, and credits park supervisor Zach Johnson for holding the angle steady on the backbreaking saw cuts.
13. BREADS AND BUTTERS
"A full terrain park may seem like a strange submission [for "Bread and Butter" feature], but this one should make the cut," Jon Regenold of Spirit Mountain, Minn., told us. Like many parks in the Midwest, the Lone Oak terrain park is loaded with features that are all incredibly popular, are hit by park goers of all abilities, and drive progression. Lone Oak is roughly three feature pads long by four features wide at each pad, and includes a medium jump. Plus, it overlooks Lake Superior, and the Main Chalet sits right at the bottom, so mom and dad can chill with a toddy while watching the kids shred.
14. TANKED DOWN UNDER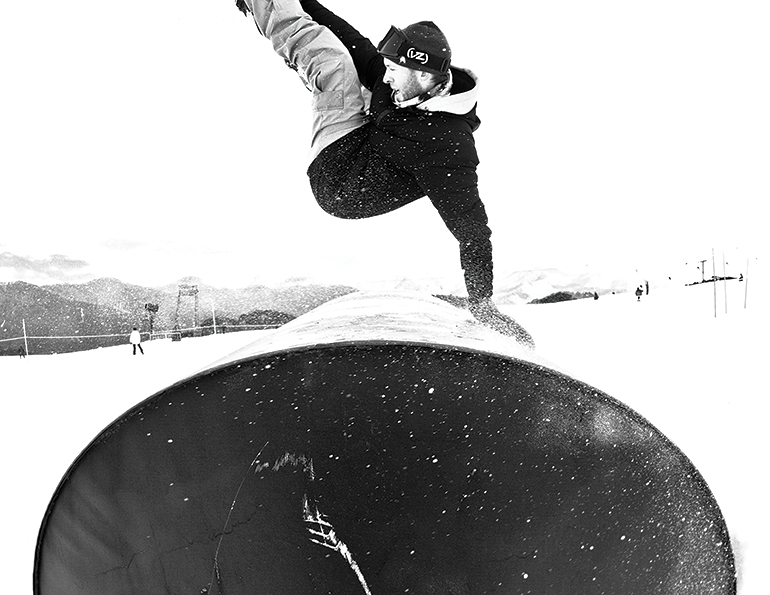 Mt. Buller, Australia, acquired an old underground fuel tank from a local service station, and it now sees more action than 7-Eleven on a holiday weekend. The park crew installed steel skids, so the tank can be easily towed to different locations around the park. It takes a mere 90 minutes to build a pad with a cat, drag the tank into place, push show around it to set, and for final handwork done by the park crew to smooth the transitions. Beginners love it because of its low intimidation factor, and experts can flex some technical skills on it all day. Rider: Tyson Pollard Photo: Markus Deutinger
15. SNOWCANOS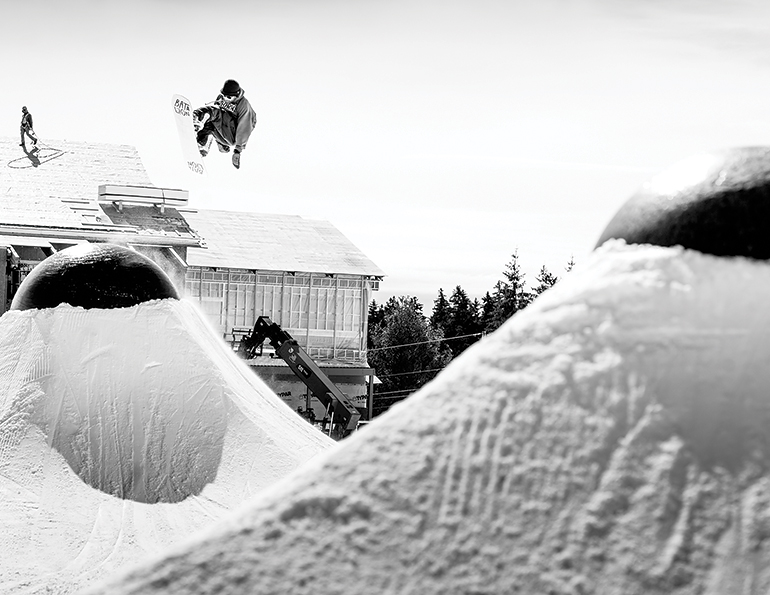 At the base area of the Carinthia Parks at Mount Snow are four snowcanos, cone-shaped features that are relatively accessible to all ability levels. Two are smaller sized, with propane tanks buried vertically in the mounds with only a round end exposed. Two are medium-sized, one with a 10-foot round fiberglass tank half-buried on top, the other with a flat top snow surface. All have 360 degrees of transitions, and were set in a cross-type layout. It took five cat hours for park manager Benny McGinnis to build and shape the snowcanos, and the Carinthia crowd erupted with joy when he finished. Rider: Shaun Murphy Photo: Mike Dawson