Table of Contents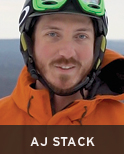 AJ STACK
Senior Marketing Manager, Camelback Resort, Pa.
Age: 29

"There's no better feeling than being on the mountain," says AJ Stack. He caught the bug when he joined his college ski club, and the launching point for his career in the industry was his quest for a free season pass. He joined Seven Springs as the marketing photographer, and his bosses quickly put Stack's creativity to use as the events manager. In 2017, Stack moved to Camelback to serve as the events and promotions manager and was named senior marketing manager last summer. In that role, Stack helmed two campaigns that were 2019 NSAA Marketing Awards finalists.

What was your most defining career moment?
When I got my new position. I've always wanted to run a marketing department. So, when this opportunity came up and I got to lead my own team and really show what I could do with my ideas and creativity—that was definitely the biggest moment for me.

What was your most memorable working moment on snow this season?
In the middle of the year we actually decided to open up a new trail, Basilisk, where our old alpine slide used to be. That was one of those things where we had our whole campaign behind it and got to be involved in the naming of it. That trail is part of Camelback now, and it was awesome seeing it grow from an idea to it actually happening, and now we have a trail that will be there forever.

Describe a challenge you encountered this winter and how you overcame it.
In Pennsylvania, we are really at the mercy of the weather. We opened early, but leading into Christmas week we had 60 degrees and rain for two weeks straight. So we had to do everything we could to positively promote still coming out during the holiday season. We got out there and we filmed videos and did Facebook live to show people the conditions we actually had. So even though none of the surrounding areas had any snow and were having very warm temperatures, we got out ahead of it.

What makes for a killer social media post?
We've found real success with videos. So we have a killer video team and they come up with some great creative ideas. They did an awesome job creating these very cinematic, big, almost movie style trailers to convey the image of skiing. We are marketing in New York City, so it has to be big, loud, and extravagant.

What is something interesting that you do outside the ski industry?
I am a DJ and a musician. I got into DJing because of the ski industry. It started at ski bars but has taken me to New York and New Jersey. And I'm in a metal band, Cyr/s. I've been playing guitar since I was 10.