Table of Contents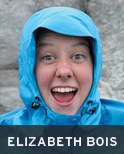 ELIZABETH BOIS
Assistant Ski Patrol Director, Pats Peak, N.H.
Age: 25

Elizabeth Bois didn't really get into skiing until she was in college studying outdoor leadership, but an auspicious internship with the Pats Peak ski patrol led to a job offer and, well, Bois has been there every winter since. "The people definitely keep me around," she says. And Bois loves to learn. During her five-years in the industry, she earned her NSP Alpine Senior certification and moved steadily up the patrollers' ranks. Her skill, enthusiasm, and dedication have earned her the role of assistant ski patrol director.

What was your most defining career moment?
I think it was during my internship at Pats Peak. Learning so much in such a short period of time and knowing that the education part never stops made me excited about it. I was like, "I am going to turn this into my career if I can."

What was your most memorable working moment on snow this season?
I had the opportunity to travel to Virginia one weekend to attend a She Jumps Wild Skills Day. Young girls came out to Wintergreen Resort to learn some of what it takes to be a patroller. We spent the day going over toboggan handling, skiing, and avalanche rescue. She Jumps is an incredible organization with the goal of encouraging young girls and women in outdoor activities.

You run the nighttime patrol shift—how do you keep staff motivated?
That can definitely be a challenge some nights because it is dark and colder and the weather isn't always great. But I think having a positive attitude and being kind and respectful and remembering that everyone is at a different place in their life makes the difference. And I try to make projects and training fun.

What's a hot button topic in your department?
I know retention of skiers and employees seems to be hard—just how difficult it is to find people who are committed to taking the emergency course and then move through the mountain protocols. The number of people who go through beginning to end has dwindled over the years. And then the people who do make it through often only stick around for a season or two, so we are always in the process of training new patrollers.

Tell me about pursuing your NSP Alpine Senior certification.
I wanted to do it because it was another challenge, and it was a step in the right direction to make patrolling a career. I actually didn't pass the first time, but I went back last winter to give it another go and passed. It was really fun. It's a great program.

What is something interesting that you do outside the ski industry?
I really like to travel. I just got back from a two-week solo road trip in California. It was really fun and eye opening. Everything you do because you decided to do it—there is nobody else to bounce decisions off of.