Table of Contents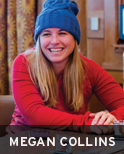 MEGAN COLLINS
Communications Coordinator, Snowbasin, Utah
Age: 29

Megan Collins was studying to become a math teacher, but she realized early on that she'd rather be in the ski industry. So, Collins finished her mathematics degree at the University of Colorado but spent her free time cultivating snowsports industry connections. Collins grew up skiing Alta, where her father has worked for 32 years, but still, she says, "with a math degree it was challenging to convince the ski marketing and PR world that I had some knowledge." She persuaded them, and an internship at Colorado Ski Country USA and a three-year stint at Crested Butte led Collins happily back home to Utah and her current role at Snowbasin.

What was your most defining career moment?
The day I went into the office of Connie Marshall, who is the director of PR and marketing at Alta, on winter break and asked her, "How do I get your job?" She invited me to shadow her on a press trip to see if that's what I really wanted. Shadowing her really sold the deal for me, and I was determined to make it my career.

Describe a challenge you encountered this winter and how you overcame it.
We were actually able to open earlier than projected. It became the earliest opening ever at Snowbasin. I tried to sneak in a vacation right before we opened, and while on that quick vacation, I got a phone call saying, "Mountain ops says we are ready to go. Can you get that message out?" Luckily, I was in an area where I had internet.

You work a lot with social media. What role does it play in your marketing strategy?
My favorite part of the social media realm is the engagement aspect. It takes a lot of time, but to be able to engage with the audience really creates that brand loyalty. It really starts to build the guest's feeling that they are part of the family.

Are there any developments that have you stoked about the future of the snowsports industry?
I am on a team at Snowbasin where we have a strong emphasis on that "newcomer." We have this "Learn and Earn" program. It's a three-year program that focuses on building people into our resort. We want to grow the sport and this program is doing that. With the success of that program, we won the Conversion Cup last year. We are in our fourth year, and our retention rate is about 80 to 90 percent.

What role do you see the industry playing in combatting climate change?
In the past couple years it's been interesting to see the resort industry come together with one voice. In the years to come, I think that united voice is going to be very strong and resorts will also be working individually. At Snowbasin, our green team is out there bringing our guests into the sustainability efforts.

What should you have been voted in your high school yearbook?
The Energizer Bunny.