Table of Contents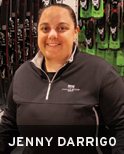 JENNY DARRIGO
Resort Rental Manager, Mount Snow, Vt.
Age: 29

One of six, Jenny Darrigo comes from a big family of snowsports enthusiasts. Her race coach dad taught her to ski as soon as she could walk. At fourteen, she took her first job in the industry as an instructor. And when it came time for college, Darrigo sought out Lyndon State; at the time, it offered the only four-year bachelor's in ski resort management. Her final internship was at Mount Snow and, after joining the team full-time, she quickly worked her way up to manager. High-volume and high-pressure don't faze her, and her enthusiasm for the work is clear—"it's my lifelong thing at this point," she says.

What was your most defining career moment?
My defining moment was probably when things were shifting in the rental department and I took on more than the scope of my job and proved myself. Now, I'm resort rental manager.

You manage five rental shops and an online rental database—what are your keys to keeping things running smoothly during peak periods?
The biggest thing for me is organization. I can't be in five places at once. So I make sure we are all organized on Friday afternoon or Saturday morning. I have different charts that I've made and am always trying to think of things that would make different staff members' jobs easier. And training from day one is what keeps my staff from all the shops on the same page.

What was your most memorable working moment this season?
We had this mother come in after her kids were already out. Her skis didn't fit. Her bindings didn't fit. She and her kid had switched equipment. She was ready to quit. She hadn't rented from us, but I got her new boots and different skis, got her some water and got her back on the snow. I come to find out later, she wrote a letter to the instructor saying it was the best experience and she was going to come back and would never rent anywhere else again.

Describe a challenge you encountered this winter and how you overcame it.
We have a rental shop that is a hub for group sales, and they had over four hundred rentals for this Saturday. The rental shop in that building doesn't have that many skis. So, I spent most of that week coordinating and thinking of ideas for how we could make this not a crazy mess because all these buses arrive at the same time. So, I thought about pre-setting and sales reached out with forms to the group's coordinator. Getting everything ready ahead of time worked out really well.

What is something interesting that you do outside the ski industry?
Golf. I started playing a year or two ago. Surprisingly, I have a lot more patience than I thought I was going to have for it.