Table of Contents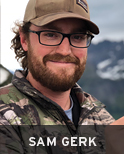 SAM GERK
Operations Manager, Echo Mountain, Colo.
Age: 29
A lifelong skier and fisherman, Sam Gerk has always loved the outdoor industry. Initially, he was in outdoor product at Under Armor. But recently, Gerk found himself curious about the business side of ski areas. He made the leap into ski area operations last spring after a friend told him about a job opportunity at Echo Mountain. There, Gerk has his hands in a little bit of everything, from re-vegetating the hill to setting up a new POS system. "No two days are alike," says Gerk.

What was your most defining career moment?
Over the holidays this season we doubled what we thought we were going to do in skier visits. On a lot of those days, we were understaffed. I spent a lot of time down in the rental shop helping folks get out on the mountain. And I think, for me, being a lifelong skier and seeing hundreds of new skiers—mostly adults—come through there and hearing their stories about skiing makes it all worth it.

Describe a challenge you encountered this winter and how you overcame it.
We had a day right at the beginning of our Christmas holiday when there was a disconnect between our payment processors and our new POS system. We could not take payment and sell products. We had people going down to rentals and out on the mountain on an honor system. We ended up working out the bugs. I think we were able to overcome it with patience and persistence. And it was relieving and rewarding to see that everyone we let out on the mountain without paying came back and paid their bill. It's something you could pull off only at a small ski area.

What's a hot button topic in your department?
One of things that a lot areas are focused on is "how do we get more dollars from that core skier?" One of the goals of Echo is to share our sport and get more people into the sport instead of focusing on that core skier. We have really tried to create an affordable product to get people into the sport. It's really about selling a welcoming skier experience that is not elitist.

Are there any developments that have you stoked about the future of the snowsports industry?
Something that we've been working on is trying to create better beginner terrain from top to bottom. We've worked hard to create a smooth transition from the beginner area to the rest of the mountain. And that has me excited because I hope that every guest will be able to realize excitement and enthusiasm for the sport.

What is something interesting that you do outside the ski industry?
Fly-fishing. It's not as thrilling as skiing down the mountain but it is a good way to slow everything down. It's very therapeutic.

What were you voted in your high school yearbook?
Most likely to be a soccer dad.