Table of Contents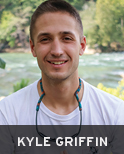 KYLE GRIFFIN
Staff Accountant II, Arapahoe Basin, Colo.
Age: 26

Kyle Griffin grew up working the floor of his family's ski shop. He's also a former racer and a PSIA level III certified instructor. He's worked in ski area marketing. He has an AAVI 2 certification and a finance degree. And now, you can find Griffin in accounts payable at Arapahoe Basin. But he's just as likely to be shoveling walkways, bussing tables, and selling tickets as he is to be at his desk—at least during operating hours because he's always happy to stay late to get the accounting done. That's because Griffin loves sharing snowsports with others. "I really believe that skiing, snowboarding and snowplay are the most incredible experiences," he says.

What was your most defining career moment?
Just after college I made some contacts and got a job with Mount Hotham Ski Company in Australia. That experience really opened my eyes to how much bigger the ski industry was. It was this multi-national perspective, and it just totally lit a fire in me.

You've worked in multiple departments—how do those experiences inform your current work?
We as accountants are a service department to operational departments. I think that's where being more informed comes into play. I worked last fall with our ski school director to develop some excel tools, trying to give him some metrics to break down the raw data in his profit and loss statements. That was certainly a challenge, but it was a challenge that I felt prepared for having had a ski school background. I could ask relevant questions and therefore develop better tools.

What was your most memorable working moment this season?
We had just opened, and I was rearranging some chairs on the patio deck at the A-Frame. A gentleman came up to me and was explaining that he was just in awe of what he was seeing. He had never skied and never seen snow in his life. And here we had this lovely white strip down the mountain. He was so inspired that he wanted to come back. It was incredible. You can't help but leave that interaction with a smile.

What role do you see the industry playing in combatting climate change?
The real opportunity that we have is as role models to guests, vendors, and even media outlets. We can lead by example by making more conscious impacts. And we can be advocates. We need to try to develop more favorable resolutions legislatively to protect the viability of our industry and the viability of our planet.

What is something interesting you've done outside the ski industry?
When I was a first grader, some people from the Cub Scouts came and talked to us. I still remember asking my dad if I could join. And that little question turned into a 12-year-long stint working with the Boy Scouts. It's an organization that has developed me into the person that I am today.