Table of Contents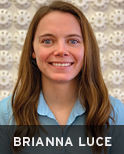 BRIANNA LUCE
Partner Services Specialist, Mountain Collective, Liftopia, Calif.
Age: 28

Brianna Luce has an impressive six associate's degrees. To finish her B.S. in business, though, she had to move far away from the mountains. Sierra-at-Tahoe, where Luce worked part-time in ticketing during college, was just too distracting. But she couldn't stay away from the snow for long. After completing her degree, Luce snagged a job with Liftopia and set up in San Francisco on Lake Tahoe's doorstep. She hasn't looked back since. "I'm in it for the long haul," Luce says.

What was your most defining career moment?
Last year, there was a Mountain Collective Summit in Taos. Being able to be around all the industry leaders and feeling comfortable talking to them made me feel like, "this is absolutely where I want to be. I want to fill their shoes someday."

Is there a hot button topic in your department?
Liftopia is expanding into summer operations, so parks and attractions. Mother Nature doesn't always play friendly in the winter. So, we're focusing on year-round revenue generation just like resorts.

Describe a challenge you encountered this winter and how you overcame it.
There were so many days when the roads to Tahoe or to Little Cottonwood Canyon in Utah closed. It made it interesting to try to streamline the process for when a resort closed. I was really excited because we were able to do that with Snowbird using Google Docs. It was an easy tool to make the process for compensating guests easier for the resort team and customers.

Are there any developments that have you stoked about the future of the snowsports industry?
I think making it easier for customers to purchase day tickets or season passes in a mobile environment is really exciting. I think that is personally exciting because I like taking friends to ski resorts. They get really excited after they've learned to ski or snowboard and are like, "What's next? How do I do this again?" If customers are able to purchase their season pass on their phone or purchase lift tickets for next time while they are having that great experience, I think that is really exciting and will continue to drive customers to come back.

What role do you see the industry playing in combatting climate change?
I think about that almost every day. I keep a notebook of things that resorts do really well that I really like and things resorts do that really make me scratch my head. One thing I've noticed that a lot of resorts are switching to is using reusable cups for water and reusable plates and silverware in their eating establishments. I would be very sad if not every resort is doing at least that in twenty years.

What should you have been voted in your high school yearbook?
Most likely to move to the mountains. I grew up in a really tiny town in Ohio, and I always wanted something more.