Table of Contents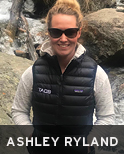 ASHLEY RYLAND
Assistant Risk Manager, Taos Ski Valley, N.M.
Age: 28

Ashley Ryland is often affectionately known as "the snack lady" at Taos Ski Valley. Once a month, she facilitates the distribution of more than 500 snack bags to employees. It's just one of the wellness initiatives she has been instrumental in running since she joined the team in 2015, fresh off her master's degree in sports administration. She's also launched Mental Health First Aid, free employee yoga and stretching, gym discounts, and a helmet policy, but Snack Day is still one of her favorites. "A lot of the programs are slower growing and take a little more time to establish," she says, "but people are usually pretty happy to have a snack!"

What was your most defining career moment?
When I finished my sports administration degree, I wasn't exactly sure what I wanted to do. I applied to Taos. Dawn Boulware, the chief administrative officer, emailed me and asked if I was interested in the wellness coordinator position they had just created. It was kind of the perfect fit, and each year it has evolved a little bit more.

How do you create a successful risk management culture?
I think the more people are involved in your business and engaged with what is going on, the safer they are. So offering these programs to help staff better themselves and show that we care about their wellbeing is huge. An engaged employee is less likely to get hurt at work.

Describe a challenge you encountered this winter and how you overcame it.
The helmet policy is an ongoing challenge. We'd never had mandatory helmets before, and, like a lot of resorts, we are having those growing pains. I knew folks weren't going to be happy with it and I was going to have to answer tough questions. It wasn't easy, but I think it was fairly well received. People here at Taos really appreciate when you communicate news to them directly rather than hearing through their supervisor or through an email.

What's a hot button topic in your department?
Workers' comp. We never want to see people get injured, and workers' comp is expensive. When you're a department that doesn't bring money in but is always asking to spend money to keep people safe, your savings aren't always seen. So fighting for that money in the budget and improving that safety culture can be a challenge, but we are working on it everyday.

Are there any developments that have you stoked about the future of the snowsports industry?
Here at Taos we have a new large construction project pretty much every off-season. We are starting to become that four-season resort with mountain biking, a via ferrata, and a ropes course. It is exciting to see it evolve because in the risk world you have to think differently. I also think resorts have recognized that having a four season resort is important to help us to continue to grow our business and be sustainable.